Traditionally, the "marketing funnel" has been a guide for marketers to move their prospects along a continuum from awareness to consideration to preference to purchase and finally to brand loyalty. According to Forrester Research, the funnel is obsolete and the Customer Life Cycle that applies to today's consumer is more like a circle of "continuous optimization," which flows back and forth from discovering to exploring to buying to engaging with a brand.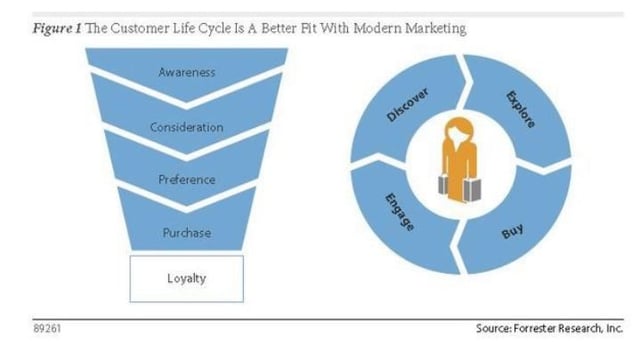 In CMSWire, "Forrester officially defines the Customer Life Cycle as 'Customers' relationship with a brand as they continue to discover new needs, explore their options, make purchases and engage with the product or service experience.'" For marketers who participate in trade shows, the Customer Life Cycle model means that you have to put marketing tactics in place to continuously keep touching your prospects and customers, before, during and after the trade show event.
Marketers can apply these four phases of the Customer Life Cycle to the typical trade show scenario. Ideally, you would communicate with your best prospects with pre-show marketing to prompt them to begin the discovery phase and investigate your booth at the show. If you wait to start marketing at the show, you can still employ smart tactics to ensure that your best prospects will discover your booth and explore your products or services. Depending on the lead time for your sales, you might even be able to close sales at the show. Following the show, you can continue to engage your best prospects and customers with more opportunities to interact with your brand. Through your ongoing marketing efforts, customers will likely buy more of your products and services, and the life cycle will continue!
So let's say that you have done your due diligence to determine the trade show events that are best for your market, which also may be based on your professional or industry association connections. For greatest effectiveness, your trade show marketing should focus on all four phases of the life cycle.
DISCOVER – dis•cov•er /dɪˈskʌvɚ/ v. to gain knowledge of (something unknown): to notice or realize; find out about
At a trade show event, your team has the opportunity to talk with a lot of prospects. Hundreds of potential clients are walking past your booth and all you need to do it reach out and grab them. RIGHT? NOT! Each person walking the show floor has a specific purpose for his or her attendance, but it might not match your purpose in being there. So focus on your best prospects by creating an environment that meets their objectives and catches their attention. One of the best ways to reach your prospects is with key messaging on your booth.
In the Tradeshow Network Marketing Group's white paper, Secrets of Successful Trade Show Exhibit Messaging, we analyze how every trade show is one giant competition for attention. Consider all the clamor and distractions that the average attendee experiences walking the aisles: booming presentations, flashing lights, streaming videos, and more. It can seem like so much screaming, so it is critical to work on the following points:
Understand your market and build on your brand.
Establish measurable goals for each show and speak to those goals.
Differentiate your products or services from the competition.
Speak to your target market's priorities.
Establish a personal connection with attendees.
Hone your message to a few key points and keep it simple.
Create a visual experience.
Use interactive technology to individualize the message.
Go beyond the booth to coordinate your messaging and branding.
Consult a trade show expert.
EXPLORE – ex•plore /ɪkˈsplɔr/ v., -plored, -plor•ing. to travel over (a region, area, etc.) for the purpose of discovery: to look into closely; investigate
At a trade show event, you want to give your potential clients different ways to EXPLORE who you are, what you do, and how you can help solve their problems. It is your opportunity to put your name into their database of companies that they need to investigate further. This is why you should always have demonstrations or presentations of your products and services that the client can touch and feel and EXPERIENCE. They need to understand the options that meet their needs and how you can provide them.
The work of creating a great presentation should begin long before the exhibition. According to our recent blog article on the subject, your presentation should include:
A summary of the features and benefits of your product and service
How your product relates to the issues most important to your best prospects
The voice of your brand
BUY - bī/ v., obtain in exchange for payment
At any trade show event, your potential clients have the ability to evaluate many options to determine what company and what product best meets their needs. That can be good or bad for your product, so make it good!
Do your research ahead of time to know your competition and be ready to demonstrate how your products and services are superior. What makes your product and services unique and stand out above the crowd?
If you plan to meet one-on-one with prospects and clients for the purpose of making sales, your exhibit should include a private conference area. Even if your sales cycle is long, you can begin to develop customer relationships at the show. We think the sales process needs to begin BEFORE the show, as you promote your presence at each show with prospective and current clients. You can use your website presence and digital marketing, as well as traditional marketing vehicles such as direct mail to generate momentum and reinforce your show floor selling techniques. Our recent article provides tips for effective selling, which include:
Qualify your prospects upfront to ensure that your company fits their requirements.
Ask about their specific business concerns.
Demonstrate how your product or service can meet the needs they have expressed.
Focus on making sales without being pushy.
ENGAGE – en•gage /ɛnˈgeɪdʒ/ v., -gaged, -gag•ing. to occupy the attention or efforts of; involve
In the Customer Life Cycle, the engage phase can come at any time, including at the trade show. Your exhibit should offer different ways of engaging with your product or service. Some exhibitors offer product samples or product demonstrations. If you have a great product, put it on display so that customers can touch it and experience it firsthand. Another option is to use interactive technology if your products are too large to bring to the show floor or if your company provides services, rather than tangible products.
Of course, it is critically important to engage your customer base in an ongoing effort to build brand loyalty. Make sure that your online presence is as engaging as your trade show exhibit. You may want to use the same video in your booth as on your website and in social media to reinforce your brand messages. As customer needs change, your ability to stay engaged with them depends on effective marketing to current customers at trade shows and through all other marketing channels.
As the CMSWire article points out, "Customers engage with a brand after making a purchase and marketers must ensure that engagement continues long-term through any and all channels of the customer's choice. Successful engagement can also lead to future purchases and complementary upsells, such as extended warranties and maintenance services."
Designing an exhibit that invites people to connect with your brand
Keeping the Customer Life Cycle in mind, your exhibit can be designed to effectively optimize your brand, your messages and the overall customer experience. The following worksheet can help you define your design parameters as you work with your exhibit firm.
Life cycle-driven display worksheet (submit form to get the ENTIRE worksheet in pdf form).
Optimize your trade show exhibit
As you evaluate your trade show schedule for the coming year, consider how your exhibit can be reconfigured to address the Customer Life Cycle. New graphics with stronger brand messages, interactive technology and unique trade show display features can easily be added to enhance an existing exhibit, or you can begin planning for an entirely new exhibit that will more powerfully address your prospects and customers at every phase of the Customer Life Cycle.
Source: CMSWire.com, "Ditch the Funnel, Go for the Customer Life Cycle" by Dan Berthiaume