A trade show is one giant competition for attention. Consider all the clamor and distractions that the average attendee experiences as they walk the aisles: booming presentations, flashing lights, streaming videos, and more. It can seem like so much screaming. "The conventional wisdom is that you get three to seven seconds of someone's visual attention from a trade show display, but I don't agree," observes Dave Brown, vice president of sales for Optima Graphics, which makes large-format graphics for exhibits. "It gets you one glance. If I glance at a booth and there is something visually striking, I'll stay." So how does an exhibitor communicate the right messages to the right people in a compelling way? Following are a few secrets of success from trade show experts.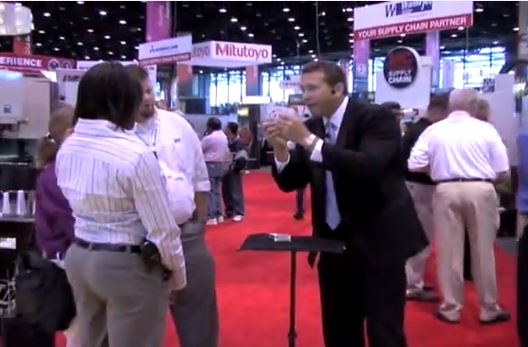 Understand your market and build on your brand.
At The Tradeshow Network Marketing Group, the first step in designing a new exhibit is a business review with the exhibitor. The review takes into account all the aspects of the brand and marketing messages, from the company's history to its overall business goals, products/services, target markets, competitors, sales process, brand image, and marketing communications. That information is then boiled down into a visual concept and messaging
"Some companies don't think of trade show exhibits as part of the big picture of branding and marketing," says Karin Roberts, director of marketing for The Tradeshow Network Marketing Group. "They may not have much experience with trade show marketing and think they just need a booth. But a company needs to present a consistent image and deliver a consistent message and brand identity, from your brochures to your booth."
Establish measurable goals for each show and speak to those goals.
The most effective messaging will be based on your business goals for the show. Are you trying to raise awareness of your company? Capture 100 leads? Sell 1,000 products from the show floor? Hand out 10,000 samples? As your goals differ, so should the messages and how you convey them. If you want leads, for example, determine your exact targets, how to qualify your leads, and what your best prospects need to hear from you.
Differentiate your products or services from the competition.
What is unique about your company and your products or services? Even if you have ten competitors at the same show who offer the same basic products, identify your unique selling points and make them stand out in your booth graphics and text.
"The worst thing you can do is put up a phrase like 'great customer service,''' says Brown of the generic selling points he sees as he visits trade shows. "Don't ever put your mission statement up." After all, if you only have a couple of seconds to make an impression, don't talk to yourself with a lengthy mission statement or use stale clichés.
Speak to your target market's priorities.
Let's say you are selling a technical product. Does your target market really need to understand the intricacies of how you manufacture your product or do they need to know what it will do for them? Will it help them make more money, save time, gain peace of mind, or operate more effectively? Avoid getting bogged down with product features and focus on the benefits to your customers and their needs. Market research can help you define those needs in their terms.
Establish a personal connection with attendees.
Anyone who has attended a trade show knows the feeling: the booth staffers are staring at you as you walk by and you feel intimidated by all the attention. According to Randy Bernstein, an entertainer and magician who specializes in trade shows and corporate events, the key is to engage people in your message on a personal level.
"People respond to people," he observes. "On the trade show floor, it's about leveraging their time." He uses his magic skills to draw a crowd and create curiosity among passers-by. Then he weaves the exhibitor's top three or four marketing messages into his presentations. "I want people to enjoy themselves, to be engaged and to be entertained so they will remember the emotional connection to the brand."
Bernstein has done presentations along the aisle or on a stage but the principles of engaging an audience remain the same. "Simplify the message and make it into a conversation that people can understand." He makes sure to use the company's name frequently, as well as make a smooth hand-off to nearby sales representatives when his presentation is finished.
Brown thinks that the emphasis in the U.S. on qualifying attendees as prospects upfront is a mistake. He sees a different emphasis in Europe, where booth staffers take the time to have a real conversation with those who visit. "In the U.S., with color-coded badges for attendees, a booth staffer might not speak to someone if they are wearing the wrong color badge. The tendency is to bring as many people as you can into the booth, tell them everything quickly, catch their contact data, and get them out quickly." He believes that U.S. exhibitors are missing the opportunity to make vital connections with people, who can turn out to be brand ambassadors for your company.
Hone your message to a few key points and keep it simple.
Experts agree that the biggest mistake you can make with trade show messaging is trying to say too much. "Exhibitors always want to put too much text on display walls and banners," says Roberts. "Marketers are attached to all their messages, but you cannot say everything in a booth. Don't put a complicated chart on a banner or expect to use a wall of talking points. The best approach is to use high-impact imagery and simple, catchy messaging to draw people into your booth and get them to ask questions – something that pulls on their heartstrings, their purse strings, and their attention."
Create a visual experience.
The same principle of simplicity applies to the graphics in an exhibit, which work best when they show, rather than tell, your products or services. Brown advises that your exhibit "create a visual environment" and that you show your product in use, rather than just display photos of the product itself. He sees design trends in exhibits moving to faux textures and optical illusions that capture the imagination of attendees. For example, he points to an exhibit that created the effect of a garden path and deck, with printed carpet and wood tones on the exhibit walls.
Roberts points out that a great visual concept can carry the messaging. On the show vs. tell side, The Tradeshow Network Marketing Group worked with one client to design a booth that would show the results of the company's product, through photos of weight-lifting equipment, rather than the nutritional supplements the company sells to bodybuilders. Another client wanted to recruit talent, so they displayed photos of their employees as local heroes in real-life situations. Rather than state that they were looking for great employees, they demonstrated that they have great employees and a supportive workplace.
Again, simplicity is key. "Don't overkill it with too many photos," Brown says.
Use interactive technology to individualize the message.
More exhibitors are employing high technology to get their messages across, using iPads, kiosks, giant video screens, and even interactive screens for customized messaging. Roberts and Brown both advise that exhibitors make their materials digital and make them accessible from the show floor. Having a library of digital information can help customers find exactly what they want. For follow up, exhibit staff can keep records on the specific interests of the leads they receive.
Go beyond the booth to coordinate your messaging and branding.
Consider that an exhibit is just one part of an entire marketing and branding campaign. As Roberts points out, if your company invests in an impressive new exhibit, it is important that all your materials convey the same look and feel. "If you have an outdated website, you don't want to start driving traffic from the trade show to your website and have customers be less than impressed," she says. In the same way, any collateral materials that you take to the show should complement the exhibit, using compatible imagery and messaging to drive your message home.
Bernstein calls good messaging and crowd engagement "the wow effect." When you invite your potential customer into a great experience at your exhibit, he says, they will remember, "There is something amazing about that brand."
Consult an expert.
The Tradeshow Network Marketing Group will be happy to consult with you on any aspect of trade show marketing, including effective messaging, graphics and exhibit design. Call Karin Roberts at 630-443-7007 or email Karin@thetradeshownetwork.com to learn more.
For that "wow effect" contact Randy Berstein at magicbyrandy.com!