How do you create a compelling, engaging—and even exciting —trade show exhibit about a sensitive medical issue, all within a few hundred square feet? Trade shows offer pharma marketers a valuable chance to showcase their companies' products and educate key prospects. But they also require large investments, and competition for attention on the show floor is fierce. While many pharma companies deploy visually impressive exhibits with a lot of graphics, too many leave a significant amount of creativity on the table and struggle to stand out to the key healthcare professionals at these shows. Pharma companies, of course, can't give away the promotional items and gifts that companies in other industries use to drive booth visits. So how do you engage these pharma prospects?
QUALIFY YOUR PROSPECTS.
The first thing you should do once you meet someone new is establish who they are (buyer, decision maker, supplier,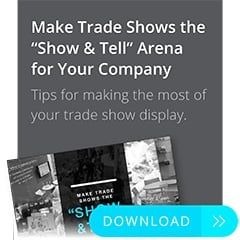 competitor, etc.) and where they're located. This way you won't end up spending important time with a person who isn't responsible for buying your product/service, or who is located in a region your company doesn't serve. You can find this information out by asking some key questions, looking at their badge, or requesting a business card, which will have the person's title and address.
ASK ABOUT THEIR CONCERNS. WHAT BROUGHT THEM TO THE SHOW.
Lest you appear too pushy, make sure to engage the prospect in conversation about what brings him or her to the show and what interests them about your products or services. Better yet, if it's a good prospect, start asking questions about what business problems they have that your products or services might solve.
Sample engagement techniques:
Establish eye contact
Have an initial question, observation or piece of research to engage
Introduce yourself and find out where they are from
Tom, what is your personal goal for attending this trade show?
Sue what is it that brought you to our booth today?
What aspects of our stand/offering particularly catch your eye?
Could I ask for your feedback/opinion/advise on X? (hold up samples/variations/ideas).
FOCUS ON MAKING A CONNECTION.
In Selling Power, Sondra Brewer writes about the importance of actually closing sales at trade shows: "Your final and most objective goal from a trade show should be to close new business either at the show itself or as a result of contacts made on the trade show floor." She recommends that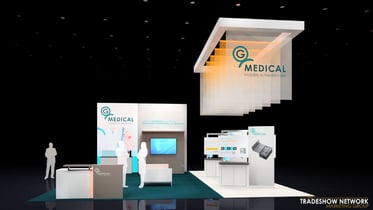 booth staff be chosen for their ability to represent your company well and sell effectively in the trade show environment. "A trade show is the start of a buying relationship. Select the booth staff with care. Choose your best sales and technical representatives. It should be an honor, not a duty, to be selected for
membership on the exhibit team. Make sure your booth staff is trained to sell and to give effective demonstrations on the trade show floor. Stress the team effort."
That's the challenge: trade show sellers must earn the right at each stage by making the next stage of the conversation even more interesting and alluring. If your goal is to pre-qualify and book an appointment, then think about the path with the least amount of hassle or confusion for the prospect. Then practice it and iron out the wrinkles.
ENGAGE YOUR BEST PROSPECTS AT THE SHOW AND AFTER.
Of course, closing a sale during the show may not be possible, depending on what you are selling and the client's purchasing process. While on-site sales may be your main goal, businesses with a longer sales cycle like in the pharma market may
find it challenging to close a deal with a prospect whose first interaction with their business/products is the event. But that doesn't mean the sale has to be lost. Don't be pushy with prospects who don't seem ready to buy on site; after the event has
come to an end, follow up with your leads, enter them into lead nurturing campaigns to make them readier to buy, and continue building the relationship with the contacts and leads you've interacted with on site.
If you have a longer sales cycle, come up with tactics that can engage your prospect and ensure they will respond positively when you get in touch after the conference. For example, you could make a special promotional offer to attendees of the show or offer to arrange a private consultation during the show. In addition to your booth area, you should reserve a room that is near the trade show floor/event to answer any remaining questions, talk about prices, and ultimately close deals. This will give you a chance to talk one-on-one with the people who are really interested in your product or service and give them the attention they need for you to close deals.
Rather than dump literature on a prospect or try to force a sale before the show closes, let them know you will be available whenever they want to know more. It's good manners. And it's good business especially in the pharma market.