Covid pushed society a decade ahead in terms of digitization, and many technologies are here to stay in the events and trade show industries, said Corbin Ball, a meetings technology expert, and owner of Corbin Ball & Co. However, even now that in-person events are back, health and safety remain a focus, with touchless technology taking center stage. But is it a flash-in-the-pan? "For events, mobile event apps with QR codes expedite contactless registration check-in, lead/business card exchange on the show floor, and literature downloads, and they are here to stay. Polling and Q&A are managed without touching a microphone and tracked via analytics, and paperless surveys can be performed while the impressions are fresh during the event," said Ball.
Touchless technology is growing exponentially because it helps keep hygiene and safety a priority and also helps streamline an organization's processes.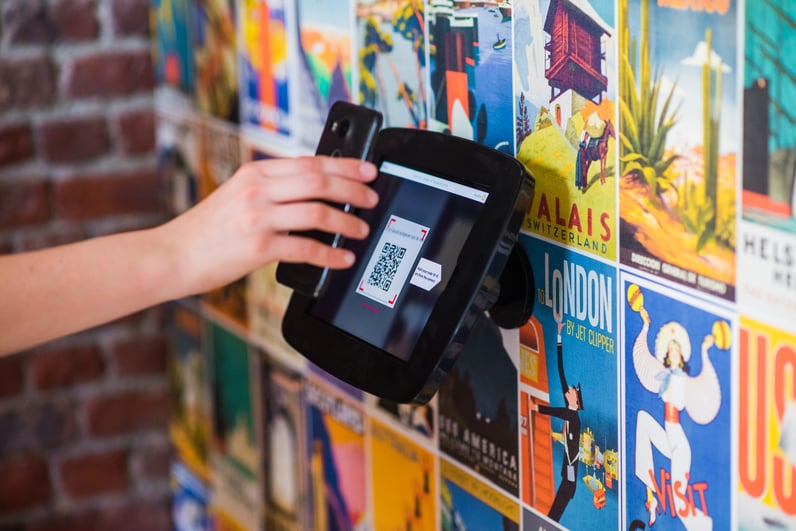 "The digital transformation of events has escalated, especially where it is focused on the customer and attendee experience," said Will Wise, a trade show consultant. "The use of QR codes is booming, as are touchless scanning devices used for self-service check-in or lead capture. A welcome evolution," he added.
According to Juniper Research, a U.K.-based consultancy, by 2025, a staggering $3 trillion – up 25 percent from $2.4 trillion this year – worth of spending will happen via QR codes. Click here for more on this report. The global growth in the value of QR code payment transactions is expected to increase 250 percent from 2022 through 2025.
Although far from a new trend, Ball uses QR codes to poll the audience during his presentations. "There was a time people complained about QR codes being clunky, but that is not the case anymore. Not only are they safer than ever to use, but they are easier than ever," he added.
Touchless ticketing and payment options have also become more popular due to the pandemic. Cashless tech reduces contact points and speeds up transactions which helps minimize crowds.
"If an attendee doesn't have to touch something, they appreciate that. There is no doubt that Covid has reset the bar on sanitation in general," said Wise.
There is also a sustainability benefit. "Rather than the big show guides of the past and exhibitors handing out large quantities of paper collateral, access to information now can be seamlessly provided in digital format via the event mobile app, QR code downloads, and online community sites. This can also enable a much higher degree of personalization," said Wise.
Even the digital badge has received a technological update with the addition of new near-field communication (NFC) to expedite information exchange without having to swap, swipe, or scan.
This technology is so valuable because it offers a great deal of analytical information about an attendee's journey. "Virtual meetings offer data down to very fine details. As we come back together meeting face-to-face, exhibitors are expecting this type of information, and RFID badges offer," said Ball.
Plus, these badges are safe, he noted. The newest RFID chips transmit encrypted data without name identifiers to keep information confidential. "Think about it like an employee badge that has a unique identifying number on it," said Ball.
Gesture navigation technology has also come on strong at today's tradeshows, with simple hand gestures used above a screen to request information or take a tour of an interface.
Guest Blogger: Andrea Doyle. Andrea has been covering meetings, events, and trade shows for more than three decades. She is the proud recipient of many journalism awards, the most recent of which was a story featuring Ron Walden, Reed Exhibitions USA's first Global Executive Sponsor for Race. She received a B.A. from New York University, majoring in English and journalism. She kicks off every summer by participating in the Spring Lake Five Mile run and spends many weekends "down the shore" enjoying Asbury Park's dynamic music scene. https://www.eventproupdate.com/edition/weekly-sustainability-venues-2022-05-21?open-article-id=21643198&article-title=touchless-activations-at-tradeshows-here-to-stay&blog-domain=eventmanagerblog.com&blog-title=eventmb