Trade shows have many excellent benefits for businesses, from raising brand awareness and building brand loyalty to attracting new leads and networking opportunities. All of these benefits are great for increasing revenue and scaling up your business. As with many other aspects of the marketing sector, trade shows have changed rapidly in recent years and are only set to continue to evolve further in 2019. Take a look at the top six trends set to revolutionize the trade show landscape in 2019 and change what you do in your trade show booth next year.
Strategic Approach
As brand positioning grows ever more competitive, companies are realizing that in order to succeed in their marketing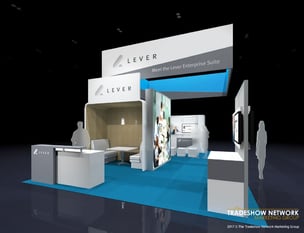 efforts they need to take an extremely strategic, coordinated approach. 2019 will see brands extend this strategic to approach to trade show marketing.
In this trend, companies will see their trade show presence as a complete strategy, and take an overview of all appearances and events as part of the same picture with a united approach. To keep up with this strategy, do not view each show as an isolated event but as a part of a bigger picture which incorporates all shows and events on your company's calendar. Take this a step further, and make sure your trade show marketing is fully integrated into your overall brand strategy, as well as other marketing efforts such as content marketing and social media.
Impactful, Customer-Focused Booth Design
As brands get more creative in order to maximize their presence at trade shows, and therefore maximize results, we will see this manifest in booth design. We have already seen a rise in the innovative, creative boot designs in recent years and this is set to continue in 2019, with brands also placing an emphasis on being customer-focused in their booth design.
It essentially comes down to the human experience: rather than simply grabbing attention, booth design will be about eliciting a positive emotional response from customers. Companies such as Fret Free stand design can help you to design a customer-centric stand which will have an impact in the right way.
Comfortable Environment
Taking the human experience a step further, trade show displays in 2019 will aim to provide a comfortable environment for customers and attendees. Recognizing that people have needs, booths, displays and common areas will be geared towards giving people the space they need to think, rest and recharge.
We have already seen spaces at trade shows popping up with comfortable chairs and even charging stations for electronic environments. In 2019, marketers will introduce more of these elements and focus on making the trade show a comfortable and enjoyable experience. This is great news for sellers, as well as customers: after all, customers who are relaxed and comfortable are more likely to spend more time pursuing products and making purchases.
Use Of Light
Visual stimulation has been a key component of trade show marketing for many years. However, as technology develops and consumers become accustomed to more and more sophisticated experiences, visual communication needs to be more than signage and flat screen TVs. 2019 will see brands use lighting and visual elements in new and creative ways, recognizing the power to not only attract attention, but to direct that attention to specific products or information.
Five Sense Experiences
As marketers look for new and different ways to engage with customers at trade shows, they are realizing that displays have been largely limited to two senses only to date. In 2019, they will start to move beyond simply sight and sound and pursue the other three senses. According to the Harvard Business Review, encouraging customers to use their sense of touch can build an emotional connection to your brand and your products, which is extremely useful from a selling point of view. Taste and smell also can be a hugely powerful sensory experiences, and it is likely that trade show marketers will find ways to integrate these into their techniques in 2019.
Virtual Reality
Trade show marketing has always taken advantage of the latest technology. In 2019, one of the key cutting-edge and rapidly developing technologies will be virtual reality. This has made some appearances already at trade shows in the last year or two, and is set to be much more integrated into the experience in the coming year. VR has enormous potential for trade show marketing due to its ability to attract customers as well as capture their attention. Whatever your message, if you can convey it through VR it is sure to be that much more effective!
2019 will see an evolution in trade show marketing, using new technologies to deliver unique experiences, as well as a greater acknowledgement of the human experience and how this can be used to effectively market brands and products.
Guest Blogger found at: https://1reddrop.com/2018/12/01/six-trends-that-will-revolutionize-trade-show-marketing-in-2019