Forget early morning yoga. Though it's a popular event at trade shows and conferences, it tends to in most cases to only attract a few die-hard enthusiasts, says Dr. Kim, president and CEO of X bytes, a byte-size wellness company. A much better solution would be to focus on combatting mid-morning and mid-afternoon sitting fatigue with a fitness break. Going a step further? How about turning your networking meeting into a cycling class? Incorporating wellness has become a popular move for trade shows and conferences, but making it fun and enticing remains a challenge. Though most people would subscribe to fitness as an important value, many would assign it to their future self.
"You don't have to break sweat to reap the benefits," Dr. Kim said, whose company has been creating wellness lounges on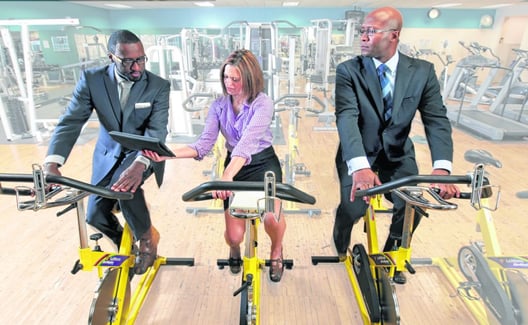 trade show floors. "Attendees can drop in for quick stretch break and get reenergized."In her program, classic yoga poses are adapted for business attire and wireless headphones are used to tune out the ambient noise. Attendees get wellness tip sheets and a short mentoring session. ibtm america turned a wellness area into a hub, where buyers and exhibitors could connect, engage in conversation and networking informally.
Event Director Jaime McAuley said, "The area was extremely well-received by our attendees. It gave them an opportunity to relax, stretch and learn how to stay fit while traveling and having a busy show schedule. It created additional touch-points for exhibitors to meet buyers, build relationships, connect with peers and of course have some fun."Could a glowing tank top be the next cocktail dress? The trend for "sweatworking" – or networking while working out together – is reaching the trade show industry as well. The idea is to ditch dinner and drinks and bond over workouts followed by healthy snacks.
IAEE Midwest Chapter is planning to have an outdoor "sweatworking" event in Chicago at the end of June as an alternative to traditional networking."It will incorporate different types of exercise, but nothing too intense," said Jennifer Kimball, Event Creative vice president of business development and IAEE board member. If successful, satellite events could take place as early as August throughout the Midwest, she added. If outdoors is not an option, fitness studios and gyms around the nation are open to the idea.
Show organizers too are focusing on wellness in their companies. Diversified Communications, an international media company with several trade shows in its portfolio, recently earned a "Fit Friendly Worksite" designation by the American Heart Association for their DC Balance wellness program. The company states that more than 90 percent of its employees participate annually in wellness-related incentivized classes and workshops.
"This level of participation translates to cost savings for the company which we reinvest in our program and pass on to our employees in the form of wellness credits, which are earned through participation in wellness activities and applied toward the employees' health insurance premiums the following plan year," said Janice Rogers, Diversified's corporate vice president of Human Resources.
The program encompasses annual onsite health risk assessments, quarterly wellness challenges to encourage healthy habits and onsite classes with expert, local instructors of nutrition, meditation, yoga, Pilates, spinning and cardiovascular and weight training.
Classes are held in a dedicated fitness room on the first floor of Diversified's Fitness Zone. The 4,500 square foot facility also includes a second floor with more than two dozen pieces of commercial grade cardiovascular and strength training equipment, and changing rooms with showers. This facility is open to employees' family members, as well.
Five Ideas for Your Event:
- Avoid scheduling early morning fitness events for conferences/trade shows
- Place a wellness lounge in a high-traffic area
- No sweat? Consider a walking scavenger hunt with photo opps along the way
- A five-minute fitness break? Go for silent disco and modified stretches.
- Offsite sweatworking? How about sponsored take-home goodies bags with healthy snacks.
Guest Blogger: Anna Huddleston via TSNN. See more at: http://www.tsnn.com/news-blogs/new-trade-show-trends-wellness-lounges-sweatworking-work-fitness-programs#sthash.Pf2Q7pxB.dpuf