Trade shows have a lot of competition when it comes to allocating marketing budgets. Internet advertising, social media and inbound marketing to responsive websites have been gaining a lot of marketing attention and money. The recession took a big hit on trade show budgets, too. But despite the bumpy roads of the past few years, trade shows keep going strong. Of course, it isn't enough to just put up an exhibit. You need to take a strategic approach to ensure that your trade show efforts will pay off in solid leads and sales. See how we view the trade show world and how you can make yours pay off!
Maximizing face-to-face marketing
The trade show industry is recognizing the need to change in order to keep up with the needs of the businesses that it serves. Exhibitors can expect show organizers to deliver better customer experiences and more opportunities for meaningful interaction with prospects.
Applying the sales process to trade shows
A trade show presents a focused opportunity to promote your company and sell your products or services to your best prospects. Exhibitors can benefit by incorporating the sales process into their trade show plans. To make sure that trade show dollars generate a good return, exhibitors need to take a strategic approach that extends from pre-show promotions to post-show follow-up.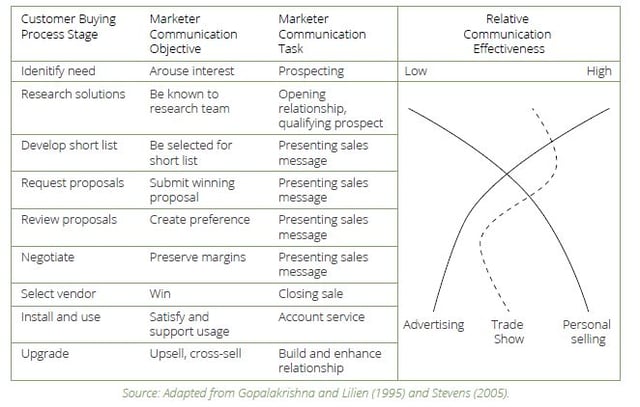 Turn your business and marketing objectives into an event strategy
The success of any marketing effort must start with focusing on the overall business objectives of your company. While incorporating your basic business objectives may seem obvious, the fundamentals are often overlooked. At the same time, each event also must fit into your overall marketing strategy and brand image. Once you have focused on overall business objectives and marketing objectives, you can create an effective event strategy specific to a trade show event. The same strategy cannot be used for every event, because every event is unique.
Analyzing the benefits of trade show marketing
Cost-effective sales calls
Overall, closing a sale with a prospect from an exhibition versus one found in the field can save $914 per prospect. According to the CEIR research, it costs $2,188 to close a sale with an exhibition lead, which includes the average of $96 to identify a prospect at an exhibition and $2,092 representing the average cost of 3.5 sales calls to the prospect. In comparison, it costs $3,102 to close a sale without an exhibition lead, which includes the average of $443 to identify a prospect without the aid of an exhibition, and $2,659 for the average cost of 4.5 sales calls to the prospect.
Multiple prospects in one place
Trade shows can also reduce the number of sales calls needed by providing access to multiple new customers in one location. Trade shows gives your sales team access to hundreds, if not thousands of new prospects who attend each show. You should carefully evaluate the profiles of attendees to each show to ensure that they meet your qualifications.
In-person product demonstrations
One of the reasons why completing the sales cycle can be so expensive and require so much time is that it can be difficult for the customer to actually test and evaluate the product before making a buying decision. Trade shows are one of the most effective ways to give customers the opportunity to put their hands on your products, either as a demonstration, a presentation, or a sample of the product itself.
One-stop shopping
Another way that trade shows can help to reduce the sales cycle time is by offering your customer the opportunity to comparison shop. They can look at your products and then compare what you are offering with the products that your competition is offering.
Attention for your brand
Sometimes, your primary marketing objective is to promote your company and your brand. A trade show allows you to present your corporate identity to a targeted group of customers and prospects, helping to raise your visibility and industry standing.
Competitive advantage
Trade shows provide a unique opportunity to position your company to its best advantage by learning more about your industry and your competition. At every trade show, you can gain a lot of new information about your industry and how your company fits into the mix by walking the floor. There is no better time to learn about your competition, whether you visit their booth, attend their presentations or pick up their latest literature.
Forward thinking
As marketers continually evaluate new and traditional methods for reaching their target markets and generating sales, it may be tempting to think that trade shows are becoming a thing of the past. But the exhibit industry is rapidly evolving to meet the changing needs of the businesses it serves. As you consider how trade shows can best fit into your marketing mix and serve your business objectives, consider how your company might make changes to better serve your clients in the future and how you can demonstrate those improvements at your next event.