Major industry events are all about entertainment, motivation, and connection, right? Well, sure. But they're also great opportunities for salespeople to build relationships and generate revenue. So how did "I closed $50,000 of business at an industry event." Even at a trade show event while in your booth you can use these tactics to help close a deal!
Trekk Senior Account Manager Emilee Christianson recalls her success closing business at a large industry event.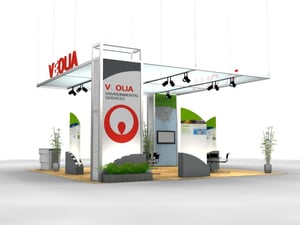 "Historically, we'd secure some great speaking opportunities, meet some great contacts, and have really productive conversations. But the sales cycle, from event introduction to phone call and, eventually, proposal, was simply too long. The conversion rates weren't what they needed to be."
By tweaking her company's approach, Christianson was able to close a $50,000 client at her very next event, reducing her company's sales cycle by half. Here's how she did it:
Cross reference companies visiting your website against a list of conference attendees: Christianson reviewed the list of attendees provided on the conference website and used HubSpot Sales Hub to run that list against contacts who had visited her company's website. This allowed her to focus conference outreach efforts on prospects who were truly interested in what she had to offer.
Prioritize leads based on website activity: Once you've used step one to create a list of companies that are a good fit for your product/service, Christianson recommends sorting that lead list by the number of times a company has visited your website or the number of pages they viewed (pageviews). To maximize her efforts once at the conference, Christianson focused outreach efforts on prospects who had visited her company website more than once.
Research the goals and challenges of these highly qualified companies: Christianson ended up with a list of about 15 highly qualified companies. Then, she used online data from their websites, blogs, social media pages, and employee profiles to understand everything she could about the current state of their business, recent activities, and challenges. Based on this information, she personalized her introduction and approach to each prospect she met at the event. This allowed her to demonstrate understanding and build rapport quickly.
Introduce yourself: When Christianson finally introduced herself to these prospects, she wasn't just another faceless stranger trying to sell something. Her prospects recognized her company, already understood the basics of what she could offer, and were interested in hearing more. She recalls, "Doing some careful prospecting before the show made the introduction and subsequent conversation so much easier than at past events."
Follow up: Timely and relevant follow up was key for Christianson's team after the event. "I didn't waste any time. I wasn't going to let the positive experience we had at the event fade from memory." She sent a follow up email that evening. It looked a little something like this:
Hi [Prospect name],
I hope you had a great rest of the week at the ACME Expo and your travels back were uneventful.
I really enjoyed meeting you and learning more about what [Company name] has to offer in the [Industry] space.
I wanted to follow up on your offer to introduce us to the folks on your marketing team. I know you mentioned there are a lot of things you're working to update, and I'm thinking that with the launch of your new app, strategies for integrating print and mobile to increase the value of both is a timely conversation for us to explore.
Please let me know what we can do or provide as a next step to help you make the appropriate introductions. Perhaps we can line up an introductory call within the next week to get the discussion started.
Thank you again for your time at the Expo. I'm looking forward to speaking with you and your team again soon.
Regards, Emilee
The result? Christianson's team closed $50,000-worth of business in a matter of days. When asked why she thinks the deal closed so fluidly, she replied, "By doing the right kind of research up front, I could present a customized solution from the start. My focus wasn't pitching -- it was listening and helping."
Written by Dan Tyre@dantyre - https://blog.hubspot.com/sales/inbound-prospecting-how-we-made-50000-at-one-event