An expected rebound of the U.S. B2B exhibitions industry is underway, according to the
Center for Exhibition Industry Research
(CEIR), which released the results of its 2022 First Quarter Index on May 23. According to the stats, the U.S. business-to-business (B2B) exhibitions industry improved significantly in the first quarter of 2022, compared with the previous eight quarters, with cancellation rates for physical in-person events continuing to drop, compared with 2021.
In Q1 2022, the cancellation rate was 9.2%, compared to 91.3% in the first quarter of 2021, 66.2% in the second quarter, 20.6% in the third quarter and 12.5% in the fourth quarter. During the second half of 2020, approximately 98% of exhibitions were cancelled.
Figure 1: B2B Exhibitions Industry Cancellation Rate, %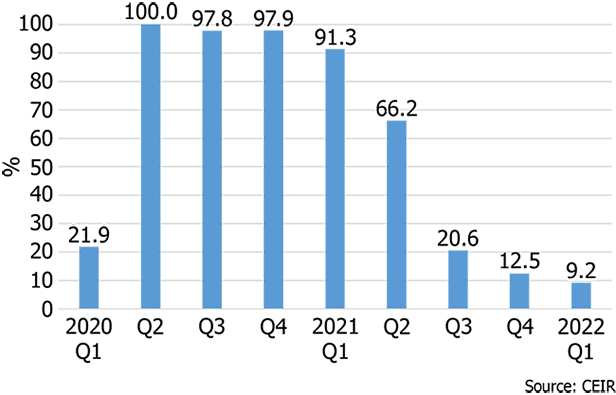 While the drop in cancellations and the improvement in completed events boosted the Q1 2022 Index result, as expected, the CEIR Total Index – a measure of overall exhibition performance – remains below 2019 levels, registering a decline of 37.9% (compared to 2019 as shown in Figure 2, below). But according to CEIR officials, this is a vast improvement compared with the four prior quarters: a decline of 94.0% from 2019 in Q1 2021; 75.6% from 2019 in Q2 2021; 50.6% from 2019 in Q3 2021; and 45.3% from 2019 in Q4 2021.
Meanwhile, the U.S. economy's performance fared far better, registering a 4.8% increase in real (inflation-adjusted) GDP from Q1 2019. Real GDP declined at a seasonally adjusted annual rate (SAAR) of 1.4% from the strong previous quarter (6.9% SAAR).
The drop in real GDP reflected smaller increases in private inventory investment levels, lower exports and reduced government spending at all levels. Imports, which are a subtraction in the calculation of GDP, increased dramatically at the same time. Personal consumption expenditures, nonresidential fixed investment and residential fixed investment increased. During the past two years, economic recovery has been led by strong spending on goods, however, the initially slow recovery in services industries recently increased.
Figure 2: Real GDP vs. CEIR Total Index, Q1 2020-Q1 2022, % Change from 2019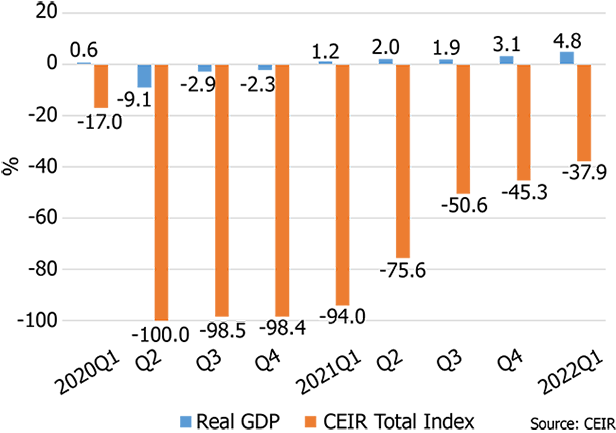 Of all the shows originally scheduled to be held in the first quarter, 1.6% were postponed, 8.3% cancelled and 90.1% were completed as scheduled. As indicated previously, excluding postponed events, the cancellation rate reached 9.2%. Among cancelled events in Q1 2022, 50% offered digital events instead, a drop from 78.5% in Q4 2021.
Figure 3: Distribution of Digital and Non-Digital Among Cancelled In-Person Events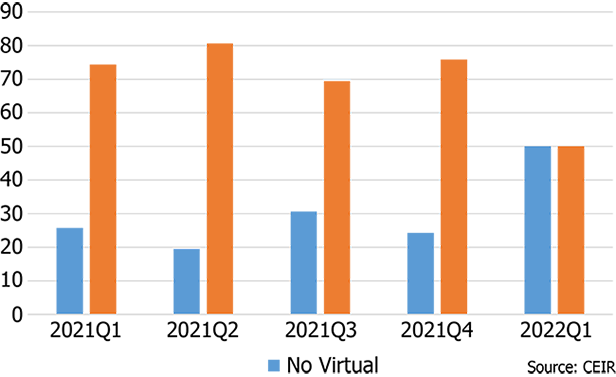 Figure 4 provides insights among events that happened in Q1 2022, comparing performance with Q1 2019. Q1 2022 results demonstrate that a continued but choppy and uneven recovery is underway, though the direction is positive and the industry is slowly improving overall.
Among completed events, 15.3% surpassed their pre-pandemic levels of the CEIR Total Index. Excluding canceled events, the Total Index for completed events in Q1 2022 dropped by 31.5% from 2019 (Figure 4), compared with a decline of 54.9% from 2019 in Q1 2021, 39.8% from 2019 in Q2 2021, 45.8% from 2019 in Q3 2021 and 40.5% from 2019 in Q4 2021.
Real Revenues suffered the largest fall of 34.2%, followed by Attendees with a decline of 32.9%. Exhibitors tumbled 30.1%. Net Square Feet (NSF) in Q1 was the metric that contracted the least, 29% from the first quarter of 2019.
Figure 4: Q1 2022 CEIR Metrics for the Overall Exhibition Industry Excluding Cancellations, % Change from Q1 2019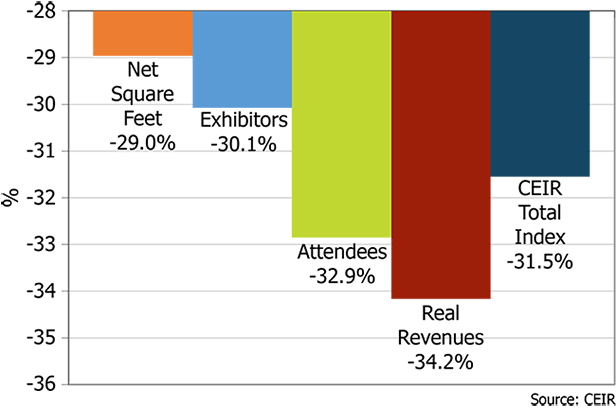 "B2B exhibitions offer opportunities for buyers to find alternative reasonable-price supplies under the current elevated inflation environment and persistence of global supply chain challenges," said CEIR Economist Dr. Allen Shaw, chief economist for Global Economic Consulting Associates, Inc. "The B2B exhibition cancellation rate should decline further and the performance of completed events will continue to improve."
CEIR survey research and Index results indicate that the industry's recovery will accelerate, while CEIR Omnichannel Study results indicate strong intent to return to trade shows in 2022, particularly on the exhibitor side and with a slightly softer intent among attendees. Thus, as COVID-19 ebbs, there is more motivation to return to participating in the B2B exhibition channel.
Unsurprisingly, there continues to be pent-up demand for face-to-face engagement. The January 2022 COVID-19 Impact and Recovery survey results indicate that an overwhelming percentage of show organizers have plans to run their 2022 events, despite COVID-19 being a factor when the survey was fielded.
"Despite Omicron at the outset of 2022, our industry pressed on; many have held their events and have done so successfully and safely," said CEIR CEO Cathy Breden. "While it will take time to get back to 2019 performance levels, we are on our way. With vaccine mandates and safety measures implemented at large gatherings, and with a majority of the population vaccinated, the recovery of B2B exhibitions should continue in 2022, unless a new variant causes a severe fifth wave of COVID-19 infections."
These promising results come as CEIR releases its 2022 Index Report on May 24, which analyzes the 2021 exhibition industry performance and provides an economic and exhibition industry outlook for the next three years. To purchase the complete 2022 CEIR Index Report as well as individual sector reports, go here.
CEIR collects data directly from exhibition organizers, who are encouraged to provide their show data by using the Event Performance Analyzer, which was recently updated and provides users with a forecast for 2022. In exchange for submitting data for a valid B2B exhibition, this tool enables an organizer to instantly see how an event's performance compares with CEIR Index benchmarks at no cost. Data submission is strictly confidential and the annual CEIR Index Report for their shows' market sector will be provided to participating organizers at no cost.
A deep dive discussion on the state of the exhibitions industry will be discussed at the CEIR Predict Conference, taking place Sept. 15-16 at the MGM National Harbor in Oxon Hill, MD. Executive-level organizers are invited to attend and sponsorship opportunities for suppliers are available.
Explanation and Definitions of Q1 Comparisons:
As explained above, in 2021, about 91% of trade shows scheduled to be held in the first quarter were cancelled, limiting the usefulness of comparisons of Q1 2021 and Q1 2022 results, as any positive change would be very large and misleading. A more useful comparison is with the 2019 performance, measured as the industry benchmark before COVID-19 forced the industry's shutdown. Thus, events in the first quarter of 2022 are compared with those in the first quarter of 2019 in Figure 2 and Figure 4. The CEIR Total Index in Figure 2 is a weighted average that includes both cancelled events, with zero values for all exhibition metrics and completed events. The Total Index in Figure 4 excludes cancelled events.