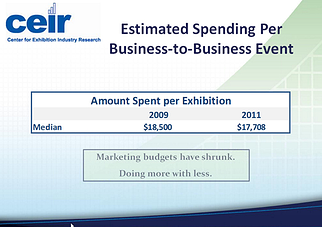 During a CEIR webinar a while back and they provided some 2012 estimated spending for business-to-business events. They said that the average cost per exhibit was $17,708 which is down from 2009. Marketing budgets have shrunk and trade show marketing managers are doing more with less. So how are you coping and what SHOULD you be spending?
Old rules of thumb have it that the amount you spend on marketing per year should range anywhere from 1 percent to 10 percent of sales, or possibly more, depending on several factors, including:
How established is your business? (If no one has heard of your business yet, you should probably spend more.)
What industry are you in? (You should have a sense of how much your competitors are spending.)
How much can you really afford? (Don't spend yourself into a hole, especially today, when there are so many cheap and highly effective Web options to help you promote your business.)
Peter Geisheker, chief executive of the The Geisheker Group, a marketing consultancy, suggests investing as much as you possibly can on marketing, especially in those first few years.
When you're coming up with an annual figure for marketing costs, don't forget about related expenses, like market research, attending functions and trade shows, training yourself and others, and hiring experts to help you with special projects, such as improving your website and beefing up its content. And always allow a bit extra for the unexpected.
Resources for this blog article were obtained from www.ceir.org and http://www.inc.com/guides/2010/09/how-to-build-your-marketing-budget.html
For additional help with your trade show events - please download our whitepaper on Planning for Trade Show Success!