In this world of trying to cut costs and make sales and profit for your company - I was wondering what you think of these statistics: The average cost to close a sale with an exhibition lead in 2010 was $2,224 9including costs to identify a potential customer and 3.5 sales calls to the prospect). To close a sales without an exhibition lead costs $3,153.
To identify a potential customer at an exhibition the average cost is $198; to identify a prospect by means other than a trade show, the average cost is $450.
Source: The Cost-effectiveness of Exhibition Participation: Center of Exhibition Industry Research (CEIR).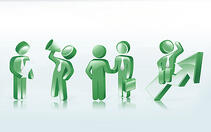 Do you agree or disagree?