When you attend a trade show or another live event on behalf of your business, it's important to be able to show the rest of your company that the investment in sending you was worth it. Because it can be challenging to determine the ROI of your presence at live events, leaving the event with a closed sale or two under your belt can really help to immediately demonstrate the worth of your presence. On-site selling can be extremely difficult, so before you attend your next trade show or event, here are six steps you can take to increase your chances of successfully executing on-site sales.
1) Reserve a Room at the Event
This is an important logistical detail that will make it much easier for you to sell your product or service. Trade shows and other events are very noisy. You may be able to rattle off to a potential customer exactly why they should buy your product, but to be able to answer questions thoroughly, limit distractions, and draw up contracts, you'll need a quiet space and some privacy. In addition to your booth area, you should reserve a room that is near the trade show floor/event to answer any remaining questions, talk about prices, and ultimately close deals. This will give you a chance to talk one-on-one with the people who are really interested in your product or service and give them the attention they need for you to close deals.
2) Refine Your 30-Second Pitch
At trade shows, you really only have about 30 seconds before you lose the attention of the person you're trying to sell to. That's why it's critically important to nail down your 30-second elevator pitch before you arrive at the event. An effective elevator pitch will include a short description of what your product or service is and concisely detail how it can help that individual or their business. For example, HubSpot's elevator pitch may go along the lines of:
HubSpot is all-in-one marketing software that helps businesses of all sizes increase the number of visitors to their website and convert more of those visitors into leads and customers. Other marketing software platforms do not allow users to do all their marketing in one place, but HubSpot integrates website management, blogging, search engine optimization, lead management, marketing analytics, email marketing, landing pages, and social media monitoring tools.
3) Attract Trade Show Attendees With Content

At any given event, there is always plenty of commotion. Every company there wants the spotlight, and many will spend thousands of dollars to achieve that. But in reality, you only have about 10 seconds to capture the attention of people passing by before they become uninterested in what you're selling. When planning for the event, keep that in mind, and try to figure out what you can do to grab the attention of passersby. After all, the goal is to sell on site.
For example, at Salesforce.com's Dreamforce conference last year, HubSpot knew that we only had a few seconds to get people's attention. There were hundreds of other companies at the trade show, so we needed to figure out a way to stand out from the rest. To do so, we displayed unicorns (which were connected to the theme of our campaign there) at our booths to interest passersby, and we also positioned large screens that displayed funny, high quality videos delivering our campaign's message: marketing facts vs. fantasies. By initially pulling people in with these videos, we were able to get them to stop long enough to talk to one of our consultant about HubSpot's software product.
Making sure content leads to a sale is your next step. Once the content you used to initially draw people in -- whether it be a video, unique signage, etc. -- grabs the attention of your prospects, you need to be able to use that content as a segue into what your product or service does and how it can help them. This will also give you an excuse to provide other content that can pertain closely to the individual prospect's industry/needs/problems. Bring with you content such as case studies, testimonials, product content, pricing information, etc. that will help show how your company and its resources will help the people you're trying to sell to.
4) Identify the Companies That Will Be in Attendance, and Leverage Your Research

Knowing which companies are sending representatives to the event ahead of time can be very valuable. If the event has a public-facing RSVP page such as Eventbrite or Meetup, refer to that, or ask if the host of the event is willing to give you a list. If not, check the LinkedIn Events Directory to see if you can find out who has committed to attending the event. Then do something creative with that information. If you're a B2B company that sells to various industries and you see that there is one industry dominating the attendee list, come up with something that will specifically capture the attention of people in that industry. If the event is more intimate, you can also conduct some competitive analysis on the attending companies' competitors so you have the ability to, on a more personal level, show companies how they will be able to use your product to compete with their competitors.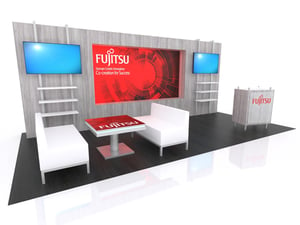 As an example, HubSpot used its free tool, Marketing Grader, to grade the marketing programs of companies we knew would be attending Dreamforce. At the conference, we created a leaderboard showing the top-ranked companies and displayed it on one of our television sets as people passed by. As a result, attendees got a glimpse into the power of our software and wanted to talk to someone about other ways they could improve their own marketing score, which our trade show representatives were well equipped to discuss.
5) Use Calls-to-Action to Drive Interactions

In your trade show marketing, you should always be prompting attendees to complete a certain action. So if you're looking to increase on-site sales, you need to make sure you connect the call-to-action (CTA) in your marketing materials to something attendees can do at the event. Encouraging trade show attendees to sign up for a free product trial or to visit a dedicated, targeted landing page can be a great way to help you nurture trade show attendees after the event ends, but when it comes to generating on-site sales, these actions won't really move the needle. Therefore, focus your calls-to-action on motivating interactions that can happen during the event.
Using technology as part of your trade show/event marketing can make this easier to accomplish. Display QR codes (learn how to easily create a QR code here) accompanied by your CTA so people can easily take the next step. For example, you could include a CTA on your event signage/marketing collateral that explains the value of booking a one-on-one consultation with one of your trade show reps during the event and asks them to scan the QR code to schedule an appointment in the private meeting room you set up in step 1.

6) Make Connections Before, During, and After Events
To get the most out of your sales presence at an event, you'll first need to promote that you'll actually have a presence ahead of time. Leading up to the event, create content (e.g. blog posts, social media updates, emails) about the event and your presence there, and try to set up appointments with prospects who may be interested in your product or service and would benefit from meeting you in person at the event. If your goal is to generate as many on-site sales as possible, the people you connect with before and during the event are very important. The more you can educate yourself about prospects before the event, the more prepared you'll be to make the sale, and the more effective your in-person sales pitch will be.
During the event, you should also use social media and the event's hashtag to let attendees know where to find you on either the trade show floor or at the event in general.
While on-site sales may be your main goal, businesses with a longer sales cycle may find it challenging to close a deal with a prospect whose first interaction with their business/products is the event. But that doesn't mean the sale has to be lost. Don't be pushy with prospects who don't seem ready to buy on site; after the event has come to an end, follow up with your leads, enter them into lead nurturing campaigns to make them readier to buy, and continue building the relationship with the contacts and leads you've interacted with on site.
What other strategies do you use to close on-site sales at trade shows and live events?