Brainstorming swag bag ideas for you next event? You're not alone. Free stuff is big business. In just the U.S., promotional products represent an industry worth more than $18 billion. Not all swag is created equally though. When everyone is spending money to stand out among the competition, how can you use your corporate swag to make a statement? Are pens and t-shirts total cliches? Or is there more to it than meets the eye? Keep reading to find out!
The key to choosing the right swag is understanding what purpose it serves. Swag isn't an empty investment. It's a lead-nurturing tool that can help you grow a relationship that can eventually turn into a sale later. When done correctly, event swag keeps your brand top of mind and stays with the customer long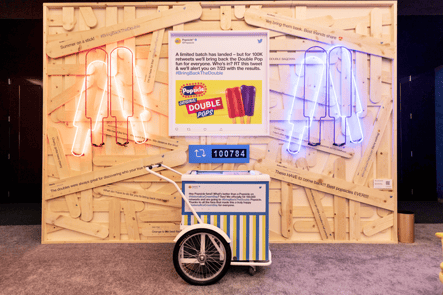 after the event is over.
There's more to it than just branding though, research shows that 85% of people remember a company's name after receiving a promotional item and 87% of consumers keep promotional products for more than one year.
That means every time someone throws on your branded T-shirt, writes with your branded pen, or drinks from your branded reusable water bottle, they're connecting with your brand.
Coming up with the right swag is trickier than it looks
That all sounds great, what could be the setback? On the surface it might seem like all you'd need to do is fill attendees' bags with the most unique swag items you can think of. You'll be remembered for skipping the cliches, right? Eh, maybe, but probably not.
There's a reason branded shirts, pens, and other common items are mainstay swag-bag goodies. It's because they plug right into most people's routines, sometimes the same day they get it. The items that don't? They may not make it out of attendees' hotel rooms. That creates a much bigger problem than lost leads.
Events are under increased scrutiny for their environmental impact. This article from FastCompany highlights why trying to impress attendees with cheap novelties is a lose-lose scenario. They won't hang onto it, but the planet will.
So how do you come up with swag bag ideas that are unique and memorable, but not so unique that attendees will pitch it?
Choosing conference swag that connects with your audience
Striking the right balance between cost-effective, memorable, and meaningful swag might seem tricky. How are you supposed to innovate and keep things cost-effective? Turns out, you might not have to. You might be bored by the thought of designing another branded pen or T-shirt, but your attendees aren't. Writing instruments, shirts, and bags are the most used pieces of swag.
It's not hard to understand why. After all, the best swag:
Folds right into your customers' routines and habits.
Reinforces your brand in an exciting, unique way.
Ties back to a unique experience at your event.
Swag should be treated like a product that gives value. Basic items like journals and umbrellas have much better potential of doing this than a paperweight (thank you digital revolution).
4 swag bag ideas attendees won't want to throw away
The following four items are surefire ways to make sure attendees keep – and actively use – the swag you give them.
1. T-shirts: a blank canvas for custom swag ideas
Never underestimate the power of a T-shirt. Case in point, a customer sent us this message after she got some Socio swag from IMEX America.

T-shirts may be common, but they check a lot of the right boxes when done right.
They solve problems. Your customers need T-shirts. Lounging, sleeping, working out, doing yard work, wearing as an undershirt … you have the chance to give them their next go-to piece of clothing.
They surprise and delight. T-shirts give you the chance to flex your design and show a different side of your brand. You can leverage this to create a bit of FOMO. For instance, some subtle gaming elements remind people of the Las Vegas event they attended.

They signal status. I snagged my favorite swag T-shirt from

Drift

at the first

G2 REACH conference

. The logo is bold but mysterious: What is Drift? When I see someone recognize it, we have a moment of common ground as marketers. It's a good feeling.

Tips for designing a swag bag-worthy t-shirt
T-shirts may be a common swag item, but I-can't-wait-to-wear-this designs are not. So how do you improve your chances of designing a T-shirt that'll draw attendees in and want to know more about your brand?
First, take the guesswork out of it. There are plenty of resources loaded with design tips. Rush Order Tees' "T-Shirt Design Tips: How to Avoid The 10 Most Common Mistakes" lays things out well. It covers everything from logo size to typography with strong visual examples.
Second, pay attention to fit and fabric. These details, like your design, should create a sensory response. An athletic-fit T-shirt made with a stretchy cotton will make attendees imagine its softness before ever touching it. Likewise, a stiff, scratchy fabric will make them cringe. That micro-moment could be the difference between a lead stepping into your booth and walking past you.
2. Stickers: cheap swag bag ideas that don't
feel cheap

People love to express themselves with stickers. Tech professionals seem to particularly love them. It's common to see jigsaw puzzles of stickers plastered all over their laptops, water bottles, and journals.
That's the power of stickers. They're small visuals that customers can use to show who they are and what they care about. Training software company Lessonly does an excellent job of recognizing and leveraging this. Not only is every detail of its annual Yellowship conference thought out as a branded experience, but the company also goes so far as it to explicitly work its core values into its swag.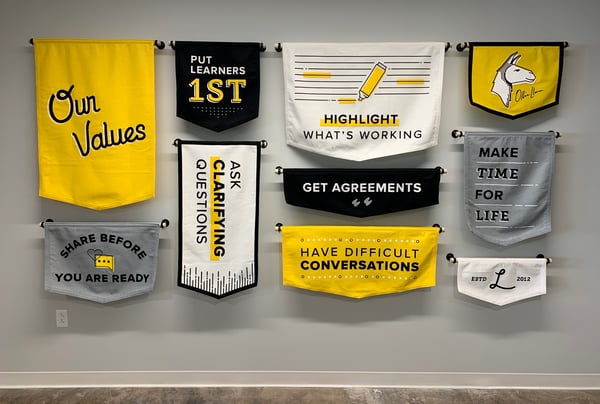 When a company's core values align with its customers' core values, fanatics start happening. Imagine Lessonly repurposing these towels as stickers, delivering powerful messages like "Make Time for Life" day after day. It affirms what's important. It comforts. In short, it nurtures a relationship between Lessonly and its customers simply by being there.
Tips for swaggy stickers
Just like with T-shirt designs, take the guesswork out of designing the perfect sticker by turning expert resources. There are just too many variables to master in too little time. For example, did you know that a sticker that's too sticky creates a bad customer experience?
Unlike designing a T-shirt, though, stickers give you more freedom. You might only have the budget to produce one T-shirt design, but you can create a dozen stickers and then pick the best 4-6 to print.
3. Healthy snacks: edible, tasty swag
Have you ever thought about how much time and energy attendees spend at your event? SpinGo points in "20 Powerful Stats on the Value of Trade Shows and Expos" that attendees spend "8.3 hours viewing trade show exhibits at an exhibition."
You've probably heard the expression, Don't shop when you're hungry. Don't let your attendees do it, either. By the time they reach your booth or table, they may have walked several football fields.
So imagine how much smoother the experience is likely to go if attendees reach into their swag bags and find a healthy snack to refuel with. Or maybe they notice your courtesy snack basket. If they're not hungry now, they'll probably remember you when they are.
4. Books: swag for your customers' brains
Want to instantly elevate attendees' perception of you as a thought leader? Give them your latest book. Or make them earn it with a low-stakes action. Sangram Vajre, CEO of ABM platform Terminus, is a master at this. For example, I recently saw him present "ABM Is B2B: Taking Your Sales & Marketing From Good to Great."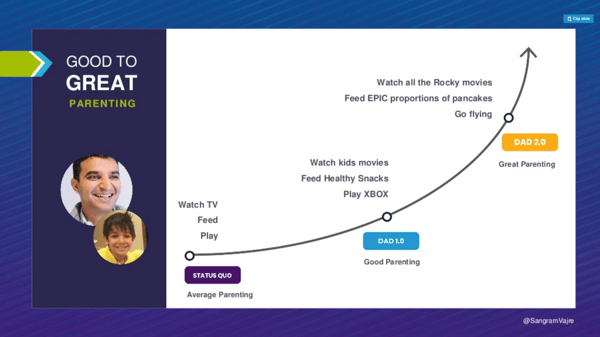 Vajre took a highly relational approach, connecting the crowd's desire to be great parents with their desire to be great professionals. It was a powerful tactic. By validating the audience's hopes and fears, he created a strong emotional connection with them.
Then, in the final minutes of the presentation, he passed that emotional connection to the Terminus brand. Anyone who texted him would get a free copy of his latest book, "ABM is B2B: Why B2B Marketing and Sales Is Broken and How to Fix It."
Don't have a book? No problem. Digital assets can work just as well, especially if you have an event app that allows you to strategically push white papers, ebooks, podcasts, and other thought leadership.
Parting tip: give your swag a story
Do you have to do something as thought-out as Vajre did? No. Stacking books neatly where attendees can grab them is fine.
But remember – event swag is most powerful when it connects to a memorable experience. That's what Vajre did when he gave the audience an emotional connection, personal outreach, and sought-after knowledge. Any time someone picks up his book, they'll remember the story behind it.
That's what makes the best event swag so valuable. Not its novelty, but its story. Let your competitors stress over things like flash drives. While they focus on gimmicks, you focus on creating experiences that give meaning.
It doesn't have to be all that elaborate either. Case in point: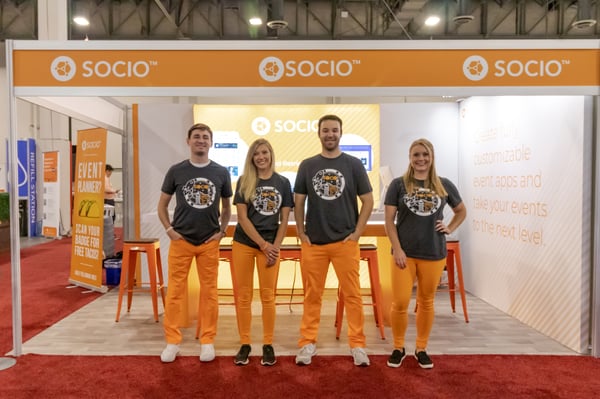 Notice the banner off the side for free tacos? We thought that'd reel in the leads at IMEX America 2019. And it did get us some, as well as gave us the chance to showcase our mobile lead retrieval app.
But that's not what our prospects remember. The biggest story, it turns out, was our orange pants. Not only did it make our t-shirts pop, but it also turned out to be just the right level of whimsy to make attendees feel comfortable coming up to talk with us and continue the conversation after the event.
When it comes to swag, remember: It's about the story, not the stuff.
To ensure your event is a massive success, you'll need more than good swag. Use top-level event app software to make sure all aspects of your next event (or appearance at one!) go off without a hitch by bringing the latest tech to attendees!
Guest Blogger: Patrick Doolin
Patrick Doolin is Content Marketing Manager at Socio, an event software company that helps SMBs and enterprises around the world optimize their events. He's passionate about helping tech companies connect with their customers through content. Before climbing aboard the Socio rocketship, he worked with organizations such as Groupon, Angie's List, Powderkeg, and Boardable.