A successful year in 2020 seemed like a dream as spring came upon us. Collectively, we took stock of our finances, projects and prospects. Fortunately, for many manufacturers — including my company — it was a very successful year. Of course, a lot of that success comes from having great marketing partners. Three of the biggest marketing challenges we faced in 2020 were branding, trade shows and sales support. Here's what worked for us and why having good partners is key to success.
Branding
The power of a good brand story cannot be understated. I'd like to offer a sincere thank you to the agency that helped us to refine our brand strategy and launch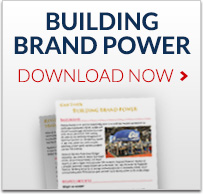 our brand update in 2020. As healthily homes came into greater focus, they helped us position ourselves perfectly. Their work with us resulted in a coveted Sabre award and a brand story to which both our B2B and B2C customers can relate.
When selecting a partner for a branding project of this nature, it's important to ensure you are working with an agency that has industry expertise, as well as a breadth of research resources that can not only provide the data but also take that data and turn the insights into creative that works across multiple channels. Additionally, it's important to find a partner that can help communicate the new positioning to customers and amplify it by telling that story through an aggressive media relations effort.
Trade Shows
If you are in an industry that attends trade shows, I felt your pain in 2020. It was as lawless as a spaghetti western. Every event seemed to have a different way of doing things, different formats for assets and a different way of engaging their audiences. The latter two are expected in any live or virtual show, but the actual booth and exhibit hall experiences varied wildly. Some wanted us to create our own booth, others wanted us to work inside their space and others seemed to have no idea what they were doing. (Let's be honest: None of us did.) That said, we partnered with a company that creates exhibits and brand experiences; the team designed a custom, easy-to-operate virtual trade show solution we used in a 2021 virtual show. By designing on our own platform, we were able to continue to host customers during the four-day show — even after the show's platform shut down half a day into the show.
In the virtual world we all lived through in 2020, finding a trade show partner that had the chops to design a unique online experience was everything. User functionality was first and foremost the most important criteria for us; however, we also looked for unique features that helped us to communicate the difficult topic of indoor air in a virtual environment. For others looking to create these virtual experiences, above all else, I would recommend that you work with a partner that can create a platform that is capable of going beyond the virtual trade show and can be altered for use on other online platforms.
Sales Support
In a time that feels like lifetimes ago, our live sales summits offered our sales team new product demonstrations, camaraderie and a chance to engage with the marketing team in real time. As a product-based company that relies heavily on teaching our sales team about our new products for the year, these meetings are imperative to our success. But we were worried about how a virtual presentation would come across. After a quick regroup with our team, we decided to make the event virtual. Anyone who has run a live virtual event knows about the complications that can arise. To mitigate most of those issues, we pre-recorded presentations and ran the meeting with a small in-house team. With the help of a partner that provided videography, editing and creative services, our meeting was highly successful. The partner's attention to detail and editing prowess is a big reason why our teams' reviews were fantastic and why the overall show was considered a raging success. If your new way of doing business includes more remote teams, might I suggest that you engage a good agency to help produce your live meetings rather than trying to take on that burden yourself?
Much of the same is true for selecting a partner to help with sales support as with branding. You should look for a partner that understands your customers and your industry. Our business has complicated channels and messaging, and our most important criteria is to partner with a vendor that takes those complex messages and understands the category enough to distill those messages into concise and digestible bites.
Thank you to all of our many partners, and these three in particular, who have helped us achieve our goals this year and set us up for a great 2021. Without the partnership of these agencies, we would have missed the many opportunities our brand story brought to us; we would have missed an opportunity shine at our industry's largest trade show and beyond; and we would have failed to engage our sales and marketing teams in a way that will help us exceed our 2021 goals.
Now go find a good partner.