Comparing Costs Can Yield Big Savings at Your Next Trade Show. Would you like to find an extra $10,000 or more in your trade show budget? You may gain savings of that magnitude by getting competitive bids for your next exhibit. With rental exhibits getting more sophisticated each year, exhibitors are discovering the advantages of upfront cost savings and high-end customization. Custom rentals are particularly appropriate for companies that exhibit at one or two big shows a year, while the rest of their show calendar requires smaller exhibits. You can also save by rent-to-own programs that give you the flexibility to rent now and decide later whether to own the booth.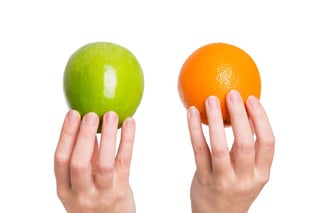 According to Exhibitor Magazine's 2016 Rental/Refurb Survey, "When it comes to rental exhibits, 84 percent of face-to-face marketers understand their benefits, but only one-third have taken advantage of rental options in the last 12 months. Most renters prioritize criteria such as price, design, and customization options over floor plan, payment options, or vendor reputation when shopping for a rental property. And while custom-rental options are still a somewhat new phenomenon in the industry, 58 percent of respondents are familiar with the heightened customization and lower upfront investment they afford exhibitors. But to date, just four out of 10 have considered custom rentals for their companies' trade show programs."
Rental vs. purchase
For years, the trade show display business was dominated by the notion of the exhibitor owning their exhibit properties, which they purchased from an exhibit firm. Exhibitor Magazine's survey reveals, "Exhibit ownership is still the status quo, with 89 percent of respondents owning at least one exhibit and nearly a quarter owning six or more."
A number of reasons have led to the popularity of purchasing exhibits, including accounting realities and the cultural history of the industry itself. But in recent years, all this has begun change.
In the past, a rental exhibit would have been viewed as a specific type of exhibit, usually a property owned by an outside vendor – either the show general contractor or an outside rental exhibit company. Older versions of rentals were stock properties in standard configurations or slightly modified, which gave the exhibitor a less-than-outstanding look. This is no longer the case. The exhibit industry now treats rental and purchase of an exhibit primarily as alternative financial strategies.
The rental exhibit itself can be designed to create a custom look. These days virtually any type or quality of trade show display can be rented or purchased, depending on the exhibitor's preference.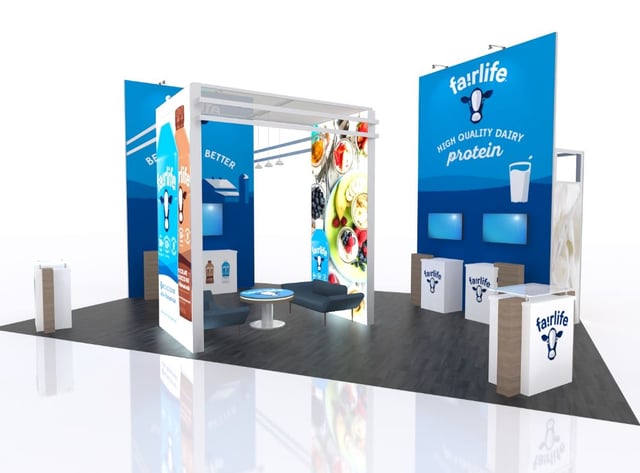 Comparing costs
In some markets, such as North America and Europe, rental provides lower initial and even lower overall costs, due to high costs of trade show exhibit ownership, which includes such items as storage and maintenance. Rentals today deliver greater flexibility whereas purchase provides certain undeniable accounting benefits.
Consumers of trade show displays in these markets must weigh their options to determine what works best for their situation. In other markets, such as most of Asia, raw materials and labor are so low priced that rental is rarely competitive and disposable booths are the norm.
"The industry rule of thumb is that renting an exhibit makes financial sense if you're just going to use it once or twice, since a one-time exhibit rental generally costs about one-third of an equivalent new build. Renting can also allow you to avoid the costs and headaches of long-term storage, reconfiguration for multiple shows, and refurbishment efforts," writes Candy Adams in "Eight Tips for Exhibit Rental" in Exhibitor Magazine.
If you're not sure whether you want to purchase a new booth, you might consider a rent-to-own program. The Tradeshow Network Marketing Group's rent-to-own program requires renting the same exhibit three times in order to qualify for ownership at no additional cost.
Competitive bids
Whether you are going to rent or purchase an exhibit, getting several competitive bids from exhibit firms can ensure that you are getting the best value.
The place to start is a detailed RFP that spells out your specifications. "The more information you can include in your request for proposal (RFP) about your strategic, logistical, and tactical expectations, the better," advises Adams. "Request that the exhibit house's proposal be just as detailed as your RFP. Ask for all-inclusive, line-item descriptions and costs to be included in the proposal to avoid unexpected overages. For example, tax on exhibit rentals can add up to 10 percent to the final bill, but often, taxes are not quoted in the budget phase of the project. Also inquire about additional fees if you use a credit card to pay your rental bill; some vendors pass on credit-card costs of 3 to 5 percent to the renter. Finally, ask for estimates of the ancillary services you'll need to support the rental. For example, request the number, weight, and dimensions of the shipping cases or pallets for the rental exhibit so you can estimate shipping and material-handling costs. Also find out the amount of electrical power required to support the exhibit's structural lighting, and whether you'll need forklifts or rigging to set up and dismantle the property."
To get a rough idea of costs, visit the websites of exhibit firms that serve your trade show markets to compare their online cost estimates for rental exhibits of different sizes. For example, one exhibit firm quoted a 20 x 20 rental exhibit at $34,000, but it did not include furniture, flooring, monitors, freight and set-up/dismantle. On The Tradeshow Network Marketing Group website, the same size booth with the same features is offered as a turnkey rental for $29,000. Considering that the turnkey package includes much more, such as the exhibit graphics, furniture, carpet, audio/visual allowances, freight, and set-up/dismantle, the total savings are likely to be $10,000 or more. You can compare a variety of custom looks and costs for rental exhibits in an online gallery of exhibits designed for the National Restaurant Association conference in Chicago.
If you don't need the largest booth at every show, you can find options to "right size" your exhibit through a rental display or rental components. To learn more, check out our blog: Scale Your Rental Booth to Fit Your Opportunity.
Keep in mind that you can control your costs further by looking at all-in costs, such the weight of the exhibit, the costs of shipping and storage, and the need for refurbishment or repair of an owned exhibit. Of course, you will still encounter additional costs from the show management itself, such as required labor for electricity and other services, and drayage, which is the cost of getting the booth from the drop-off point to the show floor.
Although companies continue to purchase custom booth properties that they believe are a good long-term investment, more exhibitors are renting. According to the Exhibitor Magazine 2016 survey, "More than half of respondents have experienced renting exhibits for use at trade shows, compared to just 36 percent in 2011."
Download this entire whitepaper with some design examples by clicking on the button below: