So, what came first…the drayage or the shipping? It has been my experience in the Trade Show Industry that one of the most confusing services for exhibitors revolves around the handling of your materials. Let me start by explaining the difference between the two. Drayage (a.k.a. Material Handling Services) is the unloading of your exhibit materials at the dock, storage for up to 30+ days in advance of the show at an off-site warehouse, the transport of your materials to show site, the delivery of your materials to your exhibit space, the handling of your empty containers to and from storage, and removal of the materials from your booth to the dock for reloading onto an outbound carrier. With that said, the obvious answer would be that shipping gets the ball rolling, right? After all, you need to ship your materials first in order for the drayage services to kick in.
Shipping starts at Point A (i.e. your office, warehouse, display house, etc.). Shipping fees start here.
Then it's transported to Point B (the advance warehouse or directly to show site). This is where drayage fees begin.
You will eventually return to Point A after the close of the event. Outbound shipping fees start here.
You will always incur two separate fees: one for shipping (to and from) and one for drayage (round trip). These are two totally different services and charges vary between the two. You may already have an in-house carrier that you have negotiated rates with and use on a regular basis. Most GSC's (General Service Contractors) utilize a preferred carrier and can extend discounts to you for using their services. Obtaining an estimate to include in your event budget will assist you in allocating costs for the various services that you may need.
The following table is an example of how shipments are invoiced for drayage services: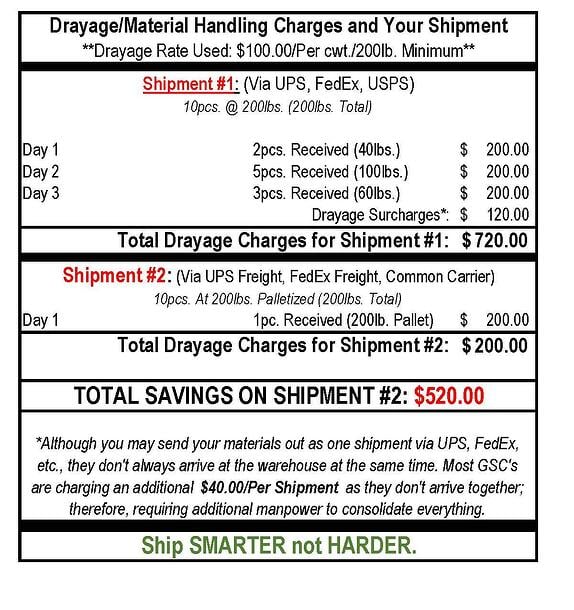 Drayage charges can quickly escalate above what you budgeted for if you don't pay attention to how your materials are being sent. Just because your items leave your location in one piece doesn't mean that they arrive that way. As the above illustration shows, shipment #1 left a location in ten pieces; however, they didn't all arrive on the same day. Each individual shipment received is invoiced separately and this is where charges can really start to add up.

There can be a lot of "hidden charges" located within the fine print of these order forms. The drayage rate is typically published as a S/T fee; however, if the move-in/out occurs on O/T, you can expect a 25% surcharge for each occurrence I decided years ago to assist exhibitors with this and make it easier: I published an all-inclusive rate to eliminate the guesswork and the slew of post-show inquiries once they received their final invoice.
How can you avoid "surprise" line items for drayage fees from happening in the future? Consolidate! I understand the need to sometimes send a second (or even third) shipment for one event. For example, you might have your promotional items and/or printed marketing materials coming from different locations. What I suggest that you do is assess everything ahead of time to see what is going to be most cost-effective.
Questions to ask yourself:
Are all of my materials shipping from a single location?

What is the advance order deadline for materials shipping to the advance warehouse?

What is the target date/time for items shipping directly to show site?

How many pieces/pallets do I have?

Your shipping charges will be based on weight or the dimensional weight, whichever is greater.

Do I have materials coming in from somewhere else (i.e. promo products, printed materials, etc.)?

Promotional items can be tricky and are often difficult to locate. I have witnessed countless times where the materials are often improperly labeled; therefore, making it difficult to deliver to the correct booth space. I suggest sending your provider a copy of the Advance Warehouse Shipping Label located within the Exhibitor Service Kit and have everything clearly marked for the exhibiting Company Name (not an individual) and your booth number.

When is everything going to be ready for shipping?

This will determine what destination you are shipping to (advance warehouse or show site) and what kind of service your materials need to be sent by (ground, 2nd day, overnight).

Does the GSC offer a discount for utilizing their preferred carrier?

What is the best shipping option?

In my opinion, your best shipping option is to send your materials via ground and go directly to the advance warehouse. Your target ship date should be at least one week prior to the advance order cut-off date (unless shipping internationally, which requires additional time and clearance through Customs). If you have planned ahead of time and can consolidate all of your materials at your office, you can collectively send all of your materials as a whole. Some people think it's best to ship directly to show site. Keep in mind that with this shipping service, the arrival time needs to happen within a specific window and that will affect the shipping rate.
Guest Blogger: Melissa Michel of The M Factor Inc. - based in Orlando, Florida, they offer comprehensive Trade Show and Event Management services nationwide.