Pharmaceutical meeting planning is a complex task often requiring months of detailed preparation and immense pressure to rigorously respect compliance regulations. And keeping HCP engagement high at the thousands of global events your pharmaceutical company runs every year is becoming ever more challenging. Whether it's a small investigator meeting, a medium-sized medical standalone, or a large congress. With 20+ years of experience working alongside 10 of the top 20 leading life science and pharma companies, we know what successful pharma event management looks like. From developing your pharmaceutical meeting planning strategy to measuring pharma event success using an integrated event technology stack, this guide will equip you with the insights, information, and resources you need to take the stress out of pharma meeting management. We are creating a pharma meeting planning checklist. If you would like to be one of the first to receive the checklist once it's ready, fill out this quick form.
The importance of effective pharmaceutical meeting planning
If you're in the pharma industry, chances are you know successful pharmaceutical meeting planning is essential to your business.
According to a recent survey by Smart Meetings, 88% of medical and pharma planners say the number of meetings they plan each year is either staying the same or increasing. With the extensiveness of the drug development life cycle and the numerous product launches and drug promotional activities that have to take place, this is not surprising. That's why effective pharmaceutical meeting planning is vital to ensuring the success of all your pharmaceutical initiatives.
"For successful pharmaceutical meeting and event planning, you need to pay attention to every detail – from event marketing, the omnichannel HCP journey, and content production, to the speaker and sponsor management, event engagement, and post-event analytics."

– Tess Margarit-Johnson (Program Manager, SpotMe)
And of course, you must conform with all the pharma compliance regulations and codes based on the location of your pharmaceutical meeting or event. Plus, you should also plan for potential roadblocks or equipment that you may need during the course of the meeting or event.
Once all these details have been addressed, you can start planning for other topics like logistics and event technology.
By taking some extra time upfront for proper pharmaceutical meeting planning and ensuring all parties involved understand their roles and responsibilities, you'll be well on your way to running successful pharmaceutical meetings – ultimately leading to success in your business!
Developing your pharmaceutical meeting planning strategy
Developing a successful pharmaceutical meeting planning strategy from the very beginning is critical. The most important part is to set goals and objectives that align with the overall goals of your pharma company, and then work backwards to create a timeline and plan for achieving those goals.
This process consists of several steps:
#1 Establishing your goals
The first step in developing your pharmaceutical meeting planning strategy is to define your event's purpose, expectations, objectives, and desired outcomes. This will help you craft an appropriate timeline and plan for achieving those goals.
#2 Research
Once you've established your goals, it's time to research topics such as potential HCP attendees, what type of experience they're looking for, budget constraints, and more. That way you can tailor your event accordingly.
#3 Defining success metrics
How will you know if your pharmaceutical meeting was a success if you don't track any metrics? From the very start of the pharmaceutical meeting planning process, it is crucial to make a list of the success metrics you want to track.
If you're not sure which success metrics you should be tracking at your pharmaceutical meetings and events,go to the section 'How to measure pharmaceutical meeting planning success.'
#4 Selecting the event format and tech
After researching potential HCP attendees and topics of interest, it's time to select the event format that will best meet the needs of the HCP attendees and help you achieve your goals. You may choose an in-person event with some digital elements like a mobile event app, a hybrid event with some HCP attendees participating in-person and some online through a hybrid event platform or an online event with HCPs participating remotely using a virtual event platform.
If you're struggling to know which event format to run, go to the section 'In-person vs hybrid vs virtual pharmaceutical meeting planning.'
#5 Defining the agenda
Once you know what kind of pharmaceutical meeting you're going to run and its objectives, you need to get expert KOLs on board to help you create an engaging and valuable agenda for HCPs. Create a strong KOL engagement plan to help you get the best KOLs at your pharmaceutical meetings and events.
#6 Marketing
After making the above decisions, it's time to start marketing your pharmaceutical meeting. This requires a strategic blend of targeted outreach, valuable content, and relationship-building. Initially, understanding your HCP audience is key: you need to identify the key decision-makers, influencers, and stakeholders in the pharma industry and tailor your messaging to meet their unique needs and interests. Use digital marketing strategies such as email marketing, social media engagement, and SEO-optimized content to create awareness and drive registrations.
Ensure you promote that your event offers high-quality, educational content, and the chance to connect with each other as HCPs value opportunities to enhance their knowledge, skills, and professional network.
#7 Choosing engagement strategies
Developing a strategy to engage with HCP attendees before, during, and after the event is key to successful pharmaceutical meeting planning. This includes creating content that encourages conversation before, during, and after the event, as well as providing activities during the event that encourages participation from attendees such as moderated polls and Q&A, breakout sessions, pre-recorded speeches, meet the expert sessions, and a gated on-demand content hub.
For more ideas on how to keep HCPs engaged at events, read our article about HCP engagement: emerging trends, success metrics, and omnichannel strategies.
#8 Planning a follow-up
An important part of the pharmaceutical meeting planning process is preparing for the follow-up after your event. Plan the next best action your sales reps will take depending on the success metrics you defined earlier in the process. Use the data you collect about your HCPs in your pharma CRM to decide how to follow up with them in a personalized way.
SpotMe integrates with Veeva CRM Events Management so you can have one source of truth to help drive your next best action. Find out how our Veeva partnership helps 10 out of the top 20 life science companies worldwide.
In-person vs hybrid vs virtual pharmaceutical meeting planning
Choosing the right event format is the foundation for successful pharmaceutical meeting planning. But with so many options out there, it can be hard to know which one is best suited to your needs. So, let's take a look at the data.
"Follow-up study of global healthcare professionals' virtual congress experiences identifies the value of offering a choice of participation"

– Ashfield Event Experiences and the International Pharmaceutical Congress Advisory Association (IPCAA)
HCPs want the choice of how to attend your pharmaceutical meetings and events. Ashfield Event Experiences concluded in its article about the above study that "While there is no doubt that HCPs' overwhelming preference is to attend congresses in-person, they are demonstrating that they would appreciate having the choice in how they decide to participate in the future."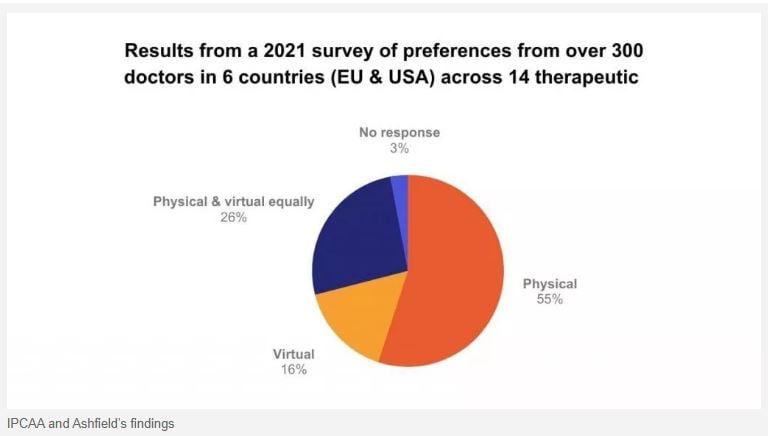 And a more recent and larger study by G-Med shows that now HCPs' preferences for event formats have shifted slightly with more wanting to attend virtual and hybrid pharmaceutical meetings:
From these reports, we can see that there is a split between HCP preferences. According to other research, this seems to be based on seniority and where they are. It is therefore important to consider these preferences during the pharmaceutical meeting planning process.
In-person meetings, hybrid meetings, and virtual meetings all have their benefits and drawbacks. That's why we suggest using a mix of event formats throughout the year for the hundreds or thousands of pharmaceutical meetings your company runs:
To find out more about the perfect event mix, check out our article 'The essential event budget template and example: how to make the most of your resources.'
Let's take a look at the differences and benefits of each event format:
In-person pharmaceutical meeting planning
In-person meetings are the traditional approach to pharmaceutical meeting planning. This type of meeting involves gathering everyone in the same physical location, typically at a conference or event space, or even at your office.
On top of offering face-to-face interaction and networking opportunities, an in-person meeting also provides opportunities for hands-on demonstrations. And with HCPs' preference for more digital experiences, leading pharma companies are using apps that can be used on mobile devices to keep them engaged and help them make the most of the pharmaceutical meeting experience.
To see which pharma and life science companies use SpotMe's event app for successful pharmaceutical meetings, check out our customer page. And if you would like to achieve more at congresses, discover our new congress companion app tailored to life science companies.
Hybrid (onsite and online) pharmaceutical meeting planning
Hybrid (or 'onsite and online' meetings, as preferred by most medical societies like the ESC) meetings combine in-person and digital elements, allowing HCP attendees near and far to join your pharmaceutical meetings. By using hybrid event platforms or mobile apps like SpotMe and other broadcasting tools, you can easily connect with remote HCP attendees while still enjoying some benefits of having people physically present in the room.
Leading life science and pharma companies are leaning towards hybrid events so they can create an experience that is personalized HCPs' needs and part of the omnichannel journey.
"According to EPG Health, 70% of HCPs consider hybrid events important."

– EPG Health "The Gaps Between HCP Demand and Pharma Supply of Medical Information" 2021 as cited by Kanga
Hybrid pharmaceutical meeting planning is a way to get the best of both worlds and satisfy as many HCP needs as possible.
To find out more about omnichannel pharma strategies, take a look at our article.
Virtual pharmaceutical meeting planning
Virtual meetings are online and don't require any physical presence from participants. Participants connect through a virtual event platform, where they can view presentations, participate in polls and discussion groups, respond to Q&A, get access to materials digitally, and more. All without ever having to set foot inside a conference room or event space.
Virtual pharmaceutical meeting planning is a sure way to boost attendance. Simply take a look at the numbers reported by the European Society of Cardiology (ESC) and the European Respiratory Society (ERS):
It is key to note that registration fees were moderate for these virtual events. And this also increases attendance rates, as HCPs from lower-income countries can attend. This also leads to better attendee inclusion and higher active event participation.
If you're concerned about issues that may arise with compliance when having all or part of your pharmaceutical meetings online, check out our article where we bust 5 myths with regard to pharma compliance at digital-first events.
Managing the pharmaceutical meeting planning process
When it comes to pharmaceutical meeting planning, the process can be a bit overwhelming due to all its complexities and regulations. But with the right approach and tools in place, you can manage it efficiently and effectively.
Here are some tips to help you with successful pharmaceutical meeting planning:
Make a schedule and plan ahead
The key to successfully navigating the complex process of pharmaceutical meeting planning is creating and following a detailed schedule. At the start, identify all stakeholders involved and plan the agenda in advance. Then break down each step into smaller tasks, estimate how long they will take, and assign deadlines accordingly. This way, you'll be able to stay on track throughout the project.
For a detailed event brief that you can tailor to your needs, download our template now. You can then use it alongside the pharma meeting planning checklist we are creating. If you would like to be one of the first to receive the checklist once it's ready, fill out this quick form.
Strictly monitor progress
Once you've got your schedule in place, keep an eye on project milestones. Schedule regular check-ins with your team members or stakeholders to make sure everyone is on task and that there are no delays in any of the tasks that you need to complete.
Use automation tools
One way to simplify the entire pharmaceutical meeting planning process is by using automation tools like project management software. This type of software can help make communication more efficient while allowing everyone involved in the project seamless collaboration and access. It also allows for easy progress monitoring so that any potential issues or risks can be identified quickly before they become bigger problems.
Partner with external pharmaceutical meeting planners
Pharmaceutical meeting planning is a complex process that takes a lot of time. That's why some companies and agencies specialize in assisting pharmaceutical companies with the pharmaceutical event management process.
We're compiling a comprehensive list of the leading pharmaceutical event management companies. If you want to receive a notification email once we have published it, fill out this form. Or if you are a pharmaceutical event management company and would like to be considered, fill out this form.
Executing a seamless pharmaceutical meeting: What you need to know
Planning a successful pharmaceutical meeting or event takes a lot of hard work and dedication, but once all of the pieces are in place and the event is ready to be executed, it's essential to know what you need to do.
Here are some things you should remember when executing your pharmaceutical event!
Event-day prep
Event-day prep is one of the most important factors when it comes to executing a successful pharmaceutical event. Ensure all of the audio/visual equipment is set up, the staff is briefed and prepared, and any necessary assets are on hand if needed.
Stay on schedule
Being on time is key! Keep yourself and your team on schedule by creating an attainable timeline with assigned tasks, start times, and end times. This will help to make sure that your event runs smoothly.
For a comprehensive run of show to help you and your team to stay on track, download our event run of show template.
Create an engaging experience
Your HCP attendees will have different needs and expectations, so ensure that you create an engaging experience for them by providing exciting content or activities for them to participate in throughout the event. This could include workshops or seminars led by expert KOLs, interactive activities, or Q&A sessions with panelists from various backgrounds in the industry.
Track effectiveness
It's important to measure the success of your pharmaceutical meeting planning to assess what worked well and what needs improvement in future events. You can do this by providing post-event surveys, tracking attendance numbers, or measuring social media engagement. This data will help you better understand what resonated with attendees and how to adjust for future events!
How to measure pharmaceutical meeting planning success
Many pharmaceutical meeting planners are so focused on the event content and adhering to compliance standards that they need to remember to track success metrics to help them improve future events, and most importantly define their next best actions with HCPs.
With event technology made with the life science industry in mind, you can now track a huge variety of event metrics and have them automatically fed into your pharma CRM, so you have one single source of truth. Something that wasn't possible when only traditional in-person events existed.
At Veeva APAC Commercial Summit 2022, Doreen Lee (Medical Excellence Manager, Boehringer Ingelheim), Donseok Ahn (Global IT Director – Medical, Reckitt), and Pierre Metrailler (CEO, SpotMe) led the session 'Building solutions and skills to support the future of medical education.' Here are what success metrics they suggest tracking as part of pharmaceutical meeting planning:
Find out more in this article about HCP engagement.
But to track all these metrics, you need a fully integrated, compliant event tech stack no matter what type of event you are running.
The ideal pharmaceutical meeting planning tech stack
You may be wondering what event technology tech you need to pull off a successful, fully compliant pharmaceutical meeting, achieve the desired results, keep HCPs engaged, and track your success.
Here's a quick overview of the essential technologies you should consider when planning any pharmaceutical meeting:
Event platform and app
Given the complexity of pharmaceutical meetings and events, it is crucial to find an event platform and app specifically made with life science and pharma companies in mind. And a vendor with years of experience running events in these high-touch industries.
"I work with life science customers daily to implement SpotMe's solution globally within their organizations. The biggest challenges they face are finding compliant ways to keep HCP engagement high at their events and knowing how to track HCP engagement data so they can use it to drive their next best action. SpotMe offers an integrated platform and app that enables them to overcome all these challenges."

– Tess Margarit-Johnson (Program Manager, SpotMe)
Having an event platform and app is one of the best ways to keep HCP engagement high at pharmaceutical meetings, especially with HCP attendees wanting more digital engagement nowadays. And a platform that integrates with your CRM is a simple way to keep track of all the engagement and attendance metrics so your sales reps can follow up with HCPs in a personalized way after your events.
Of course, it is key to ensure the event platform and app you use meets all the compliance requirements. For example, it must have:
One-click access to regulatory documents like SmPCs (summary of product characteristics) and PIs (prescribing information)

The possibility to moderate Q&A between KOLs and HCPs

The ability to display job codes from MLR reviews

Dynamic privacy policies

On-screen disclaimers

The ability to add, remove, or rename functionalities

Advanced free text moderation on the activity feed

CME credits & certificates of attendance

Detailed reporting (registration, attendance, engagement)

Content targeting

Optional participant list display

Adverse events reporting link

Prescribing information (PI) display

Pharma CRM integration (e.g.

Veeva

)
Unfortunately, it can be difficult to find an event platform that allows pharma and life science companies to adhere to regulations and codes of practice such as the IFPMA, and EFPIA, as well as legal frameworks such as the GDPR.
That's why we've created a list of the best hcp engagement platforms for events and a downloadable life science event RFP template that you can tailor to your needs and send to potential vendors to understand if they can help you achieve your business goals.
SpotMe was named a Leader in The Forrester Wave™: B2B Event Management Technology, Q1 2023. To find out more, check out our article.
Pharma/Life science CRM
Did you know that you can orchestrate and manage so many aspects of your pharmaceutical meeting planning using your pharma CRM?
By integrating your pharma CRM with your event platform and app, you can manage your HCPs from your CRM and focus on keeping them engaged with the wide range of features available on the event platform.
Here's an example of how it works:
Veeva CRM Events Management is one of the best examples of an enriched CRM that can seamlessly communicate with event platforms like SpotMe to create an exceptional HCP experience and make pharmaceutical meeting planning for pharma meeting planners a breeze.
Consider exploring the options available before making your final decision – the right tech stack will make all the difference in successful pharmaceutical meeting planning!
The tech stack leading pharma companies use for pharmaceutical meetings and events
Pharmaceutical meeting planning is a complex process that requires a lot of knowledge, thought, and problem-solving. However, if you have the necessary skills, resources, and technology, and you follow the guidelines laid out in this guide, then you should be able to plan a successful and seamless event.
SpotMe is the enterprise event platform made with the life sciences and pharma industry in mind. With global customers from 10 out of the top 20 life science and pharma companies, including Johnson & Johnson, Novartis, Roche, Sanofi, and GSK, we offer a fully compliant solution that keeps HCPs engaged.
Run true hybrid, in-person, and virtual events or congresses with a branded mobile event app (or congress companion app). Give your HCPs a hyper-personalized, interactive experience they will love with activity feeds, networking, moderated Q&A, polls, gamification, customizable agendas, a meeting scheduler, and more. And make events more accessible and inclusive with live captioning, translations, and on-demand content.
Thanks to easy-to-use templates and deep CRM integrations, including Veeva and IQVIA, get consistent first-party data insights that flow into your CRM and help you drive your next best action. And with 24/7 instant support and white-glove onsite services and production services, hosting events as part of the omnichannel experience has never been easier.
Guest Blogger: Kathryn Humphries. As SpotMe's Head of Content, I share useful insights and handy tips on event management, marketing, and tech every day. I have 6+ years' experience writing, editing, and managing content for large international companies. When I'm not coming up with creative ideas, you'll find me singing along to musical theater or traveling the world! https://spotme.com/blog/pharmaceutical-meeting-planning/