Today, companies are racing to return to in-person events after discovering there is no substitute for personal connections. In business, face-to-face meetings are where deals are struck, relationships are built and ideas are generated.
The COVID-19 pandemic changed the face of meetings overnight. Suddenly, corporations used to gathering in person for annual meetings, trade shows or other events, shifted to virtual platforms. As health concerns waned, many organizations still hosted hybrid meetings to accommodate individuals with travel concerns. But today, companies are racing to return to in-person events after discovering there is no substitute for personal connections. In business, face-to-face meetings are where deals are struck, relationships are built and ideas are generated.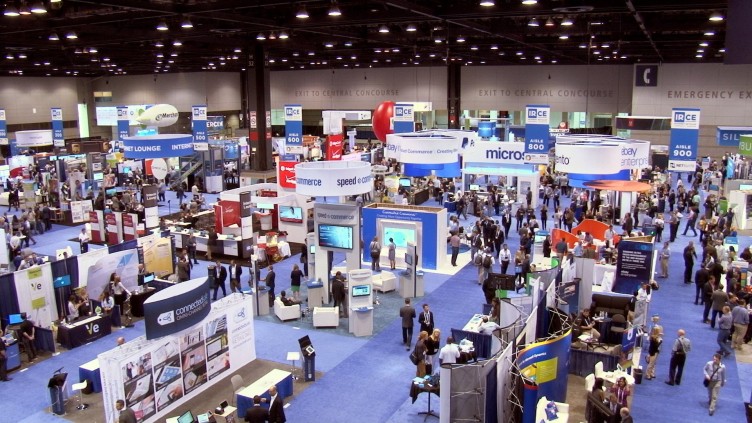 As an executive director for Executive Director Inc., Kristen McGuire, CMP, oversees meeting planning for the Agricultural & Applied Economics Association (AAEA). In 2020, the organization pivoted completely to free virtual events for its members.
In 2021, AAEA shifted again. This time, the organization offered a hybrid event to accommodate members who wanted to meet in person and others who felt more comfortable logging in from home. In this first event, the association hosted 500 members in person and the rest participated virtually. But at its second event, 1,300 people attended in person and just 200 participated virtually.
"The hybrid product didn't go over well," she says. "People missed the in-person interaction. We are now reconsidering a hybrid platform for next year. Is a hybrid program worth it? If it is, how can we refresh it to better meet everyone's needs?"
The story of AAEA is not unusual. Kortnee Carroll, sales manager at Kalahari Resorts & Conventions, shares a similar tale. "When we first started meeting after COVID-19, we saw a lot of requests for hybrid meetings," she says. "And a lot of meetings still have that aspect to accommodate those who are uncomfortable attending in person. But lately, our requests for proposals (RFPs) haven't been as focused on them as they were when we first came back. People are more willing to attend in person."
As the director of sales at VISIT Milwaukee, Leslie Johnson has her finger on the pulse of meeting trends. She shares, "We're not seeing full virtual meeting requests anymore. Some organizations are still doing hybrid meetings, but we just asked our advisory council about hybrid meetings and they said they are doing everything they can to get away from them."
The American Express Meetings & Events Global Forecast supports what these meeting professionals are seeing. The 12th annual forecast reveals that meeting professionals expect in-person events to increase in 2023. In fact, around 67% of respondents predict in-person events will return to pre-pandemic levels within two years, with internal and smaller meetings already exceeding 2019 levels in some regions.
Furthermore, survey respondents expect in-person meetings and the number of event attendees to keep rising. Indeed, 87% of meetings are expected to have an in-person component next year. The AAEA is seeing this bear out with its annual meeting inching closer to pre-pandemic attendance levels, hitting 1,300 attendees vs. the pre-pandemic 1,500.
Why Hybrids Are Losing Steam
Ronny L. Hill, MTA, CMP, CMM, is the assistant director of field events, restaurant operations, meetings and events at Northwestern Mutual. She says hybrid and virtual meetings served their purpose in difficult times, but she admits there were challenges as the financial services company had never done virtual or hybrid events on a large and broad scale before. "We have all attended and executed a short webinar, up to an hour long, here and there, but most of us have not delivered over 20 hours of content in a virtual or hybrid format," she explains.
Northwestern Mutual decided to deliver virtual content in three ways: live broadcast of a speaker, pre-recorded content over a live broadcast and videos on demand. Hill says, "All three formats are highly produced, and require close collaboration with our production partners, our internal audiovisual team, our internal business partners who own the content and the speakers themselves."
She adds, the company also had to consider how people best learn, and make the content engaging and readily accessible. Attendees, she says, appreciated those efforts.
But even the strongest efforts can fall short, adds McGuire, who shares that, after two years of remote and hybrid arrangements, AAEA meeting-goers expressed growing virtual fatigue. "There are some things you just cannot replicate in the virtual world," she says. "People are just so Zoom-fatigued. A lot of professors in my group were teaching virtually for two years. They wanted to return to normal life and travel to network with their colleagues."
Attendees who travel to a meeting also do not want a virtual experience when they arrive. McGuire explains that, unless a company spends hundreds of thousands of dollars on a hybrid experience, at least some portions of the in-person part of the event will be virtual. "People who attended in person told us they didn't enjoy watching a virtual presentation," she says. "They said, 'I paid to attend in person. I want live interaction and networking opportunities with the speakers.'"
Another drawback to hybrid events can be their cost. People think hybrid meetings cost less than they actually do. Companies are essentially planning two separate events with a hybrid meeting, notes McGuire. "Attendees assume registration will be less expensive for a hybrid event, but that's not the case," echoes Johnson. "Providing a virtual experience is very expensive."
McGuire stresses virtual meetings can more than double an audiovisual budget. Then there is the labor involved to man the audiovisual equipment and to plan two different meetings. "Hybrid meetings blew our budget out of the water," she says. "I don't see those costs going down. It's cost-prohibitive to put on a hybrid meeting only to have people be unhappy with the product."
An alternative is to record the live event, then share recordings with those who didn't attend. Even that lacks the draw of an in-person event, though, McGuire says. "People might watch a virtual event for one or two sessions, and then look at the recording later," she says. "But even that is losing its appeal. We've found that, after the first week or two, people stop viewing the recordings anymore. They have moved on."
Pre-recorded content also takes a heavy toll to produce, adds Hill. "It requires a lot more touchpoints with the speakers and prepping them for their actual recording," she says. "We had to do speaker preparation calls on the content, which also happens with live events, but then we also had to do technology checks to ensure lighting, sound and the camera positioning is in place. We even shipped equipment out to enhance the professional look and feel of the recording."
Benefits of Meeting Face to Face
Still, the complexity of hybrid events is not the primary reason planners are moving on. It's the benefits of meeting face to face that has driven the resurgence of in-person events.
Northwestern Mutual returned to meeting in person with smaller events in October and November 2021. "We had record turnouts," Hill says. "Part of the reason was we were recognizing both our 2020 and our 2021 advisors in their respective categories at a recognition event. But most people attended in person because it had been almost two years since they'd seen each other. The ultimate experience was hosting our largest-ever annual meeting this past summer with record turnout."
Engagement and networking opportunities also increase when attendees meet in person, notes McGuire. "You cannot replicate the water cooler talk in a virtual meeting," she says. "There are so many organic conversations that happen between sessions or during a class."
A live event also has more energy. "When we held our in-person event this summer, people were so excited to see each other. There was so much energy at the event," she adds. "Sometimes it was hard to get them into a session because they were having these great conversations."
The AAEA tried to recreate this energy and networking opportunities with a virtual reception. "It flopped," McGuire says. "There were people who were designated to float between people on site and virtual attendees. It just wasn't the same experience. And it kind of took away from the event when people meeting in person were trying to include a virtual audience."
Meticulously organized and structured face-to-face events are typically more productive than a video meeting as well. Great Business School data reports that, on average, an in-person meeting generates 13.36 ideas compared to 10.43 in a virtual meeting. Hill agrees, saying, "Our advisors thrive in an environment where they can network with one another, learn from each other, and share stories and best practices relative to our industry."
People can't help but be more engaged in person, declares McGuire. It's harder to browse social media, check emails and do other work when others around can see.
The Case for Both
No matter how important in-person meetings are, hybrid and virtual events are not going away. There is a case for both in-person and virtual events, acknowledges McGuire. "Annual conferences and anything on a bigger scale needs to return to in person," she stresses, "but smaller group activities or seminars may work just as well in a virtual event."
McGuire suggests examining the goals behind why you want to meet to decide which format works best. Face-to-face meetings are the better option when:
The meeting would be more productive in person.
The attention, participation and engagement of attendees is critical.
Establishing trust and building relationships are among the main goals.
"It really depends on the aim of the meeting," agrees Hill. "For Northwestern Mutual, it is three-fold: learning, networking and a great overall experience. That definitely requires an in-person event. But if the event is solely for training purposes and learning new material, I think a hybrid or virtual event would be sufficient and more cost-effective if the budget is a concern, especially for smaller groups."
Before moving forward with meeting plans, ask attendees what they want. McGuire says, "If you give people a choice, most will choose the in-person event. And that will only continue to grow. People are becoming more comfortable attending events in person."
Guest Blogger: Ronnie Wendt is a freelance writer based in Minocqua, Wisconsin. https://midwestmeetings.com/2023/01/30/the-move-to-gather-in-person