With the 8 Free Budget Planner Templates to Manage Your Marketing Spend, you'll be able to manage all of the moving pieces of your budget at a monthly and quarterly level. Use the Excel version of the templates to keep all of your budgets in one place. When you download the zip file, you'll find a separate file for each marketing team, as well as a Master Budget Template to maintain a high-level view of your overall expenses. These can certainly help with your trade show marketing program!
Interested in sharing your marketing budget across a larger team? Try the Google Sheets version of the same eight templates to share access with other Gmail users. For the Google Sheets templates, each team budget is found in a separate tab of the same Google Sheet. No matter which version you choose, each budget is optimized with the same line items, tips, and graphs. Read on to learn how to use each budget template.
1) Master Marketing Budget Template
Download the Master Marketing Budget Template here.
While it's helpful to have individual budget templates for specific marketing departments and activities, it's also nice to be able to take a step back and see the bigger picture. The Master Marketing Budget Template let's you do just that: It's the place where you can collect the totals from the other seven templates in the bundle and see all of your expenses in one place.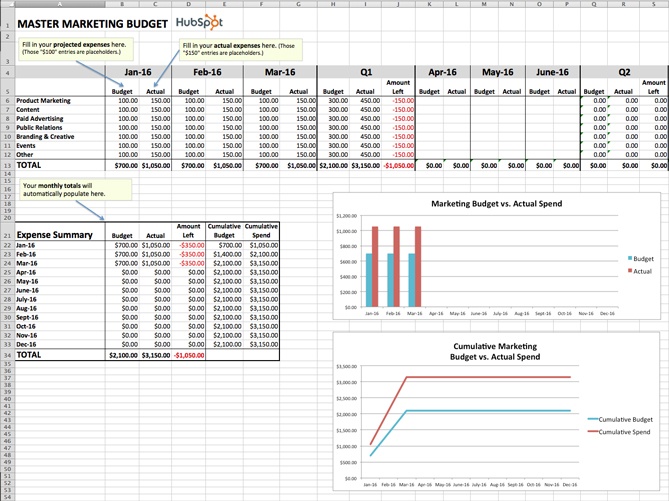 2) Product Marketing Budget Template
Download the Product Marketing Budget Template here.
This template will guide you step-by-step through the process of budgeting for a product launch. From determining product/market fit, to running user testing sessions, to promoting your finished product, our Product Marketing Budget Template will help ensure you don't overlook any important expenses.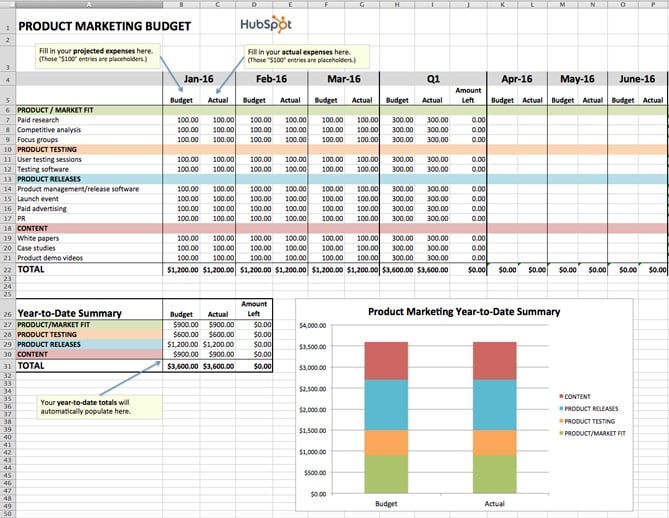 3) Content Budget Template
Download the Content Budget Template here.
The budget required for creating and promoting content can vary greatly from organization to organization. For example, while some organizations keep most of their content operations in-house, others rely more heavily on freelancers and contractors. And while some use many different software products, publishing tools, and services, others take a much simpler approach.
Our Content Budget Template is designed to cover as many content-related bases as possible. So, if you see any expenses listed that don't apply to your organization, go ahead and delete them. (That's the beauty of spreadsheets: You can customize them to your specific needs.)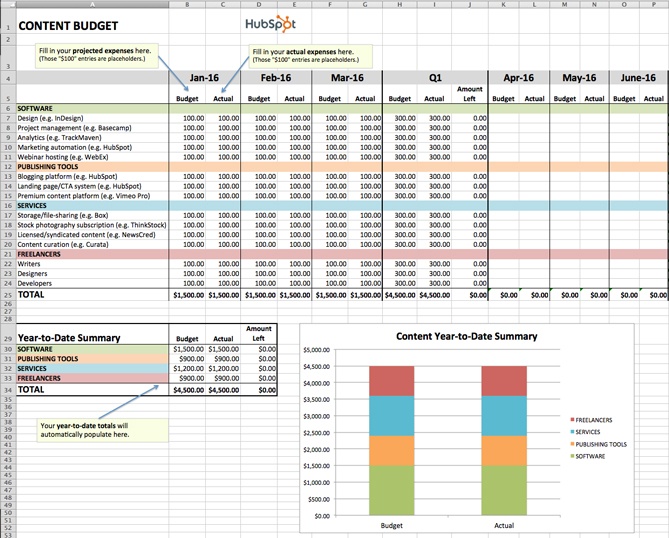 4) Paid Advertising Budget Template
Download the Paid Advertising Budget Template here.
Paid advertising: Does it really qualify as an inbound marketing tactic/channel? That is a loaded question, my friends, and one that I don't have room to answer in-depth in this post. What I can tell you for sure is that you can do paid advertising in an "inboundy" way -- i.e. by targeting specific buyer personas and using paid advertising as a supplement to your organic efforts to help drive awareness and conversion opportunities.
Measuring the effectiveness of your paid advertising campaigns is also paramount to doing things the inbound way. Using our Paid Advertising Budget Template, you can keep tabs on your monthly (and quarterly) ad spending, and then cross-reference the amounts with your lead-generation metrics to determine your cost-per-lead.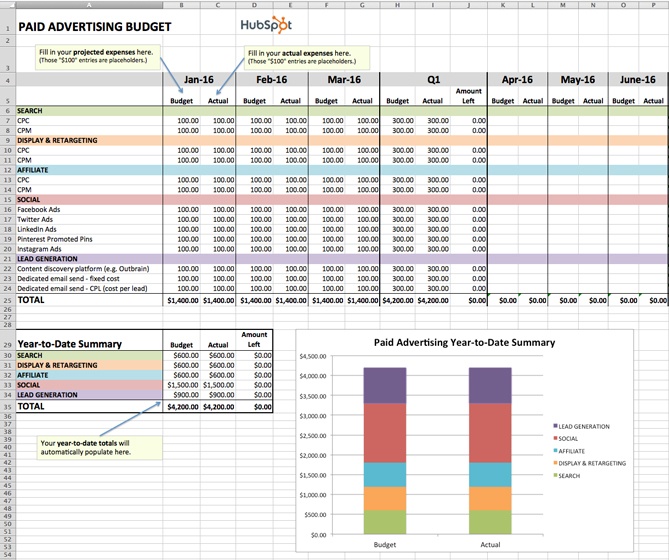 5) Public Relations Budget Template
Download the Public Relations Budget Template here.
Public relations expenses amount to more than just paying for press releases. From reputation monitoring software, to traveling (e.g., to events and tradeshows) to applying for awards, there are many PR costs that can be all too easy to overlook.
To ensure you're accounting for all of your organization's PR-related expenses, check out ourPublic Relations Budget Template.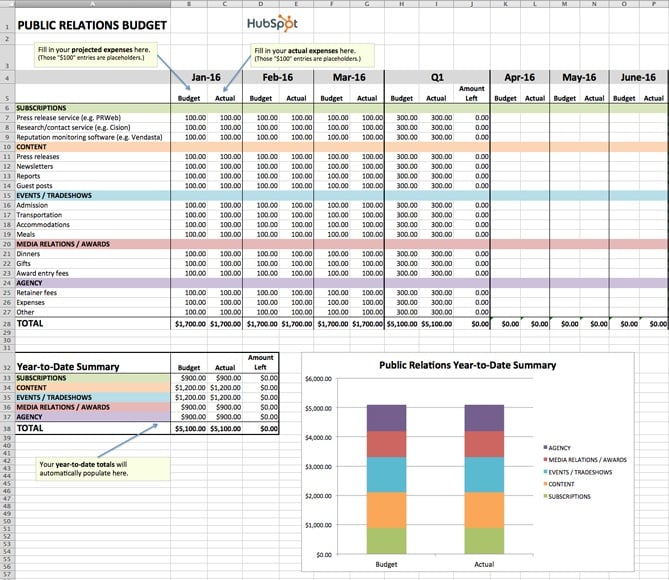 6) Branding & Creative Budget Template
Download the Creative Budget Template here.
In order to produce high-quality, innovative graphics, videos, and other content, the branding and creative teams of today need more than just Photoshop ... a lot more. One of the largest -- and often most overlooked -- expenses is storage.
If your organization is producing a lot of video, storage is especially important. Because as it turns out, when budgeting for video storage, you shouldn't be thinking on a megabyte (MB) or even a gigabyte (GB) scale, but on a terabyte (TB) scale. FYI: 1 terabyte = 1 trillion bytes. You can keep track of all your storage costs (and other branding and creative costs) using our free template.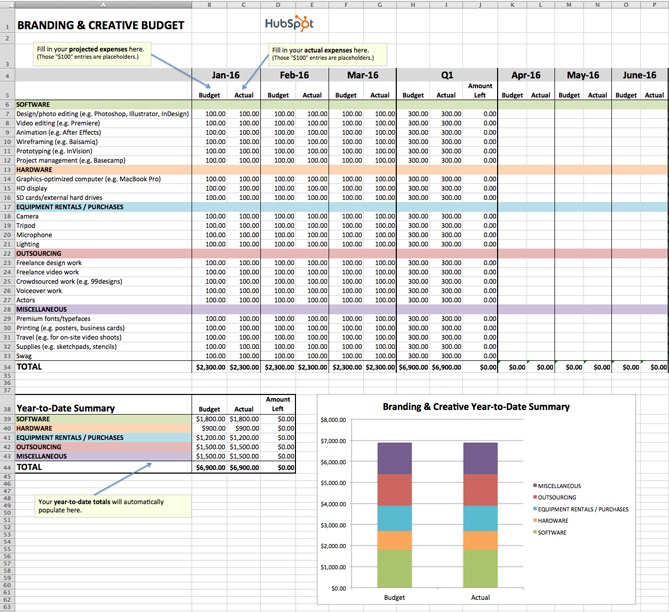 7) Website Redesign Budget Template
Download the Website Redesign Budget Template here.
Budgeting for a website redesign can be seriously tricky. With so many moving pieces to consider, there is a lot of room for underestimating or miscalculating costs. We created ourWebsite Redesign Budget Template so you can keep all of your redesign-related expenses in one convenient location.
Unsure if your current website is right for a redesign? Check out this HubSpot research report:Does Your Website Make the Grade? Chances Are, It's Barely Passing.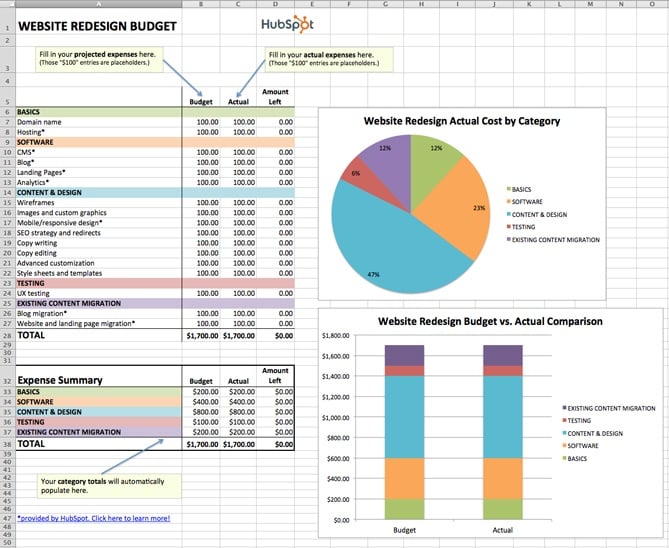 8) Event Budget Template
Download the Event Budget Template here.
When planning an event, the associated costs can seem obvious at first. There's the venue to consider, of course. And the P.A. system and microphones. And then the costs associated with booking and bringing in presenters/performers. That's pretty much it, right?
Wrong.
For example, does the venue come with tables/chairs, or will you have to rent those separately? Do you want your attendees to wear name tags, and if so, will you be printing out the name tags ahead of time or will attendees be writing their own names on blank tags? If the latter, have you factored in the pens or markers you'll need to accommodate that? As you can see, planning for an event can lead you down many rabbit holes.
Use our Event Budget Template to stay organized.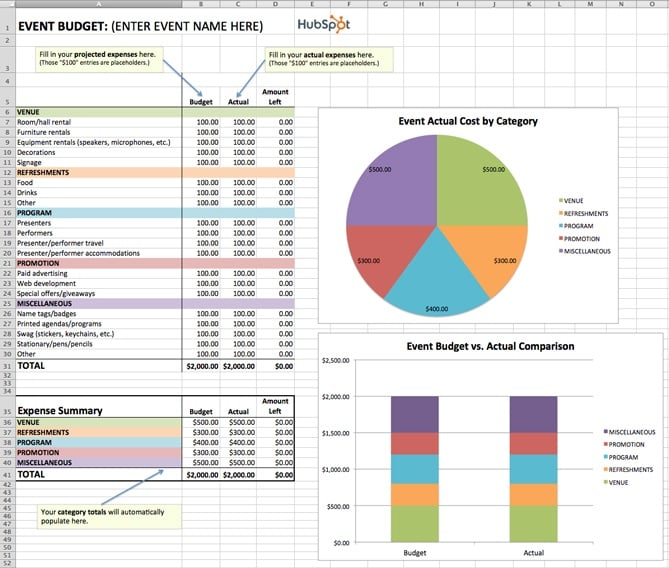 How do you manage your business expenses? Let us know if there's a budget template we missed that you'd find helpful.
Guest Blogger: Megan Conley is a Content Marketing Associate for HubSpot, where she creates ebooks, tools, and other resources for marketers.