Whether you are considering becoming an exhibitor at a trade show event, hosting your own type of customer event, or holding a mobile customer tour, face-to-face interactions provide significant business benefits. At its core, face-to-face engagement creates a personal connection and builds trust between a company and its target audience. Giving a warm handshake, carrying on an engaging conversation, and getting to know customers and prospects on an individual level can help form stronger, more meaningful, and more profitable business relationships. That is why, when you are looking for an exhibit house to assist you, it is important to do the due diligence of finding the right partner for you and your needs. Researching on the internet can start the process, but a face-to-face meeting is a must.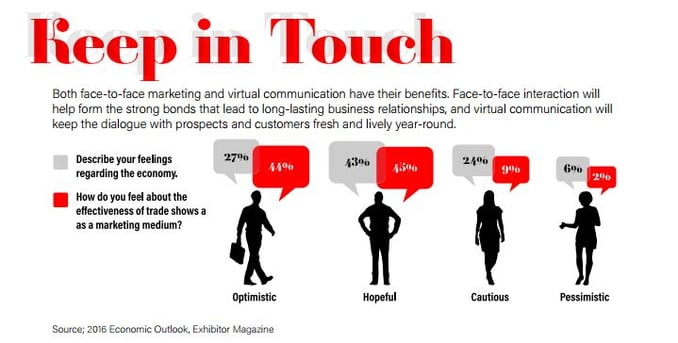 Here are ten questions that you can ask the next time you decide to look for a new exhibit house partner. And who knows? Maybe your potential clients will ask these same questions of you!
What is the Strength of the Company?
Is the trade show company big enough to handle your business but not so big that your work will get lost in the shuffle? Some clients measure by the number of booths that a company produces and ships each year and the range of clients they serve, whether large companies or small or both.
Can You Provide Three Great References?
Even a blind date comes with at least one personal reference. When evaluating trade show companies, it pays to check out three of their references to hear from their clients directly.
Can You Make My Budget Stretch?
Money is always tight, because trade shows can take up a big chunk of the marketing budget, no matter how large the company. Will the trade show company help you get the most out of your trade show dollars by sticking to your budget and offering money-saving options in the design of your exhibit, such as custom rental add-ons for larger shows and modularity for smaller shows?
Can You Offer Expert Assistance?
Whether or not you need on-site help at the show, you need all the expert assistance you can get to make sure everything is in place before the show starts. Gauge the helpfulness of their staff, their ability to juggle details and meet deadlines, and the level of expertise of the project manager for your account.
What Do You Know About Marketing at Trade Shows?
Success at a trade show goes far beyond the booth. A trade show marketing company should be able to assist your team with the overall marketing strategy – from designing a booth that fits your brand and creates an exciting customer experience to working on tactics for pre-show promotion and post-show follow-up. Your exhibit should reflect your target market and the needs you are trying to fulfill for them.
Do You Handle Both Custom and Rental Exhibits?
Some companies want to own a custom booth and others want to rent. What if you want to do both? A custom rental exhibit should look every bit as impressive as an exhibit you own. Does the firm own its own inventory of rental exhibits or would it need to rent from the conference vendors? Can the firm design a modular booth that could be reconfigured with rental components at a large show and also work for a small show?
Can You Offer Trade-In and Rent-to-Own Options?
Trade show exhibits are designed to last, but you need to keep it fresh from year to year if you want to make a good impression. A trade show firm should offer trade-in and trade-up options for any custom exhibit that they designed for you. If your budget needs to stretch over several years, find out if you can acquire a custom exhibit on a rent-to-own basis.
Are You Up on the Latest Technology?
Trade show exhibits have gone high-tech – from special lighting effects to giant TV screens to iPad interactivity. A trade show firm should be adept at making technology work in a convention hall, which can be a challenge. In addition, the firm should offer their own technology to make your job easier, such as online inventory management and show service ordering.
What Services Do You Provide and What Do You Subcontract?
A full-service tradeshow marketing company will keep the most important services under its roof, including exhibit design and build, graphic design, storage, and show services management. They also should have a stable of trusted subcontractors, such as shipping companies, printing companies, and other specialized suppliers who will deliver on time and on budget.
Will You Be There for Me?
It's 8 p.m., the show starts tomorrow, and you can't get your presentation to work on the TV screen in the booth. While the worst-case scenario should never happen, and a good trade show firm will do everything to avoid it, what happens when it does? Will your trade show marketing firm take your calls? Will they do everything they can to help you?
Source: M&C research survey of 114 meeting professionals. www.mcmag.com and http://www.marketingprofs.com/articles/2011/5938/the-value-of-face-to-face-marketing-in-a-virtual-age#ixzz4367C1YFE
Keep in Touch
Both face-to-face marketing and virtual communication have their benefits. Face-to-face interaction will help form the strong bonds that lead to long-lasting business relationships, and virtual communication will keep the dialogue with prospects and customers fresh and lively year-round.
Be sure to include trade show marketing as part of your overall strategy – but remember that planning ahead of time (as much as a year) gives you big advantages when it comes to getting the results you want. To learn more about effective planning, please visit our blog to view an array of articles on trade show marketing.