Last weekend, several major events, mainly along the East Coast, had to deal with an uninvited guest: Hurricane Henri. On Aug. 21 in Central Park, the highly anticipated "We Love NYC: The Homecoming Concert" was abruptly cut short when, in the middle of Barry Manilow's performance, an announcement over the P.A. system ordered the more than 60,000 concertgoers to immediately leave the park and seek shelter. The five-hour concert, intended to celebrate New York City's recovery from the coronavirus pandemic, was about halfway through when the weather became an issue.
According to the National Weather Service, the park experienced 1.94 inches of rainfall between 10-11 p.m. that night, the most ever recorded in a single hour since such tracking began 150 years ago. And while the organizers had a "rain or shine" policy, the concert needed to be shut down due to the danger of lightning.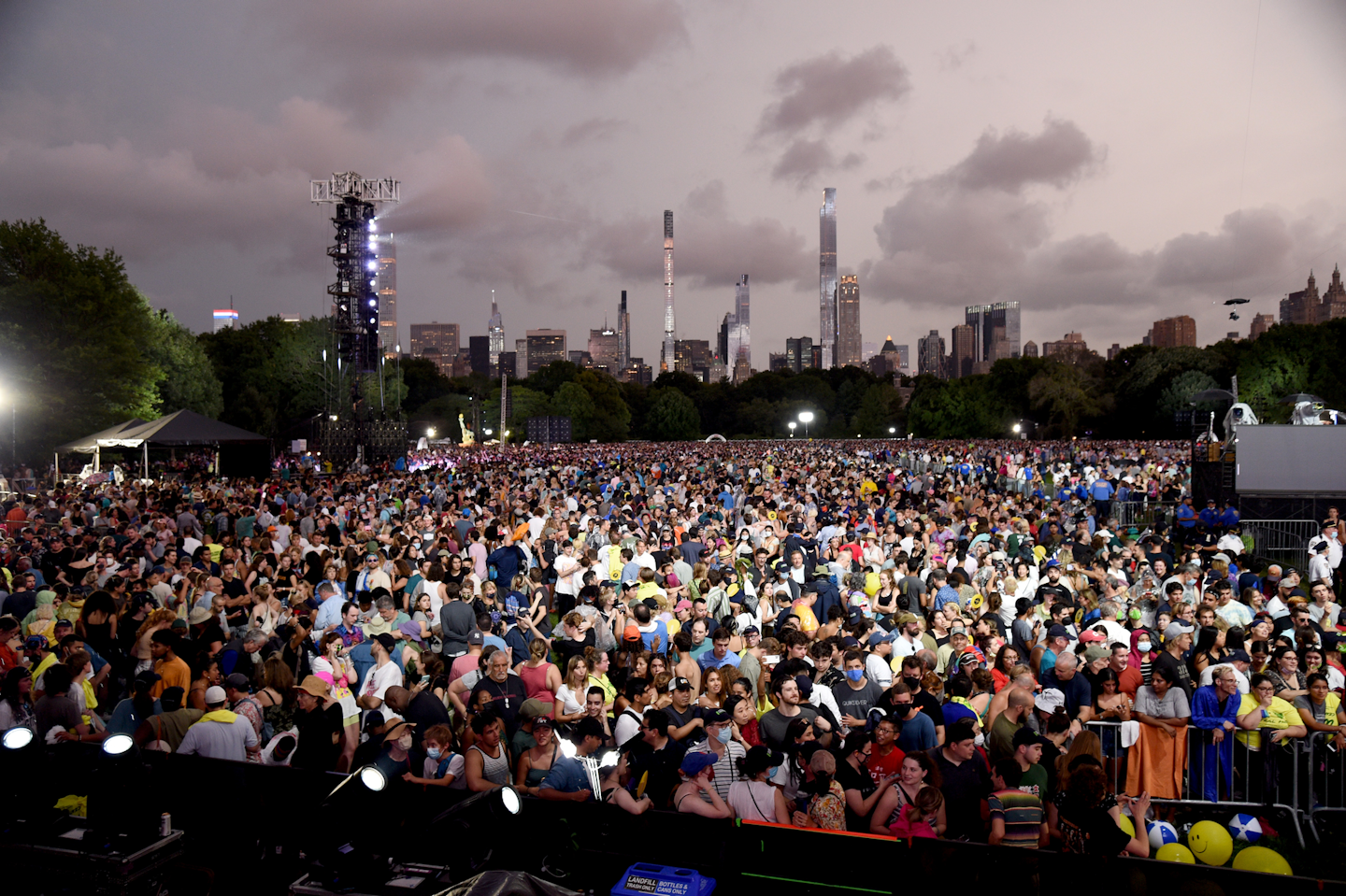 Hurricane Henri loomed over the crowd at the "We Love NYC: The Homecoming Concert."Photo: Kevin Mazur/Getty Images for Live NationShow producer Doug Davis told Variety that organizers had considered moving the performances from the main stage to a VIP tent. "We lost the main stage to lightning, but the VIP tent was [safe]. So on the fly, I was rejiggering the show, picking the songs, getting CNN to go commercial-free. … We all had a mentality that we had put together a once-in-a-century event and we should keep it going. We knew the world was watching. CNN was expecting 200 million people to tune in. We had talent on-site and a window coming where we could put them on stage. We were going to try to capture it. It just closed in on us."
Tim Hayes, who is president of Productions New York City but was not involved in the concert's production, says that the cancellation might have been avoidable if the event had been "spread out over multiple venues, even if a rain date was possible. I would have secured a handful of indoor locations like the Kings Theatre in Brooklyn, Arthur Ashe Stadium and the Beacon Theatre. ... It would have also made the show more interesting to watch while allowing for smoother transitions between bands. Most importantly, it would have protected the TV broadcast 100% from inclement weather."
He also suggested bumping up the event start time two to three hours in order to record content that could then be broadcast during a rain delay. "That alone would have been very simple and affordable as a back-up," Hayes says.
"We Love NYC" concertgoer Jaclyn Bernstein, president and partner of Empire Force Events and president of the Live Events Coalition of New York and New Jersey, cautions against "Monday morning quarterbacking," but she also mentioned the idea of starting the concert earlier in the day as a possible workaround, noting that there might have been logistical and financial reasons that prevented that from happening. (Doors opened at 3 p.m. and the first act took the stage at 5 p.m.)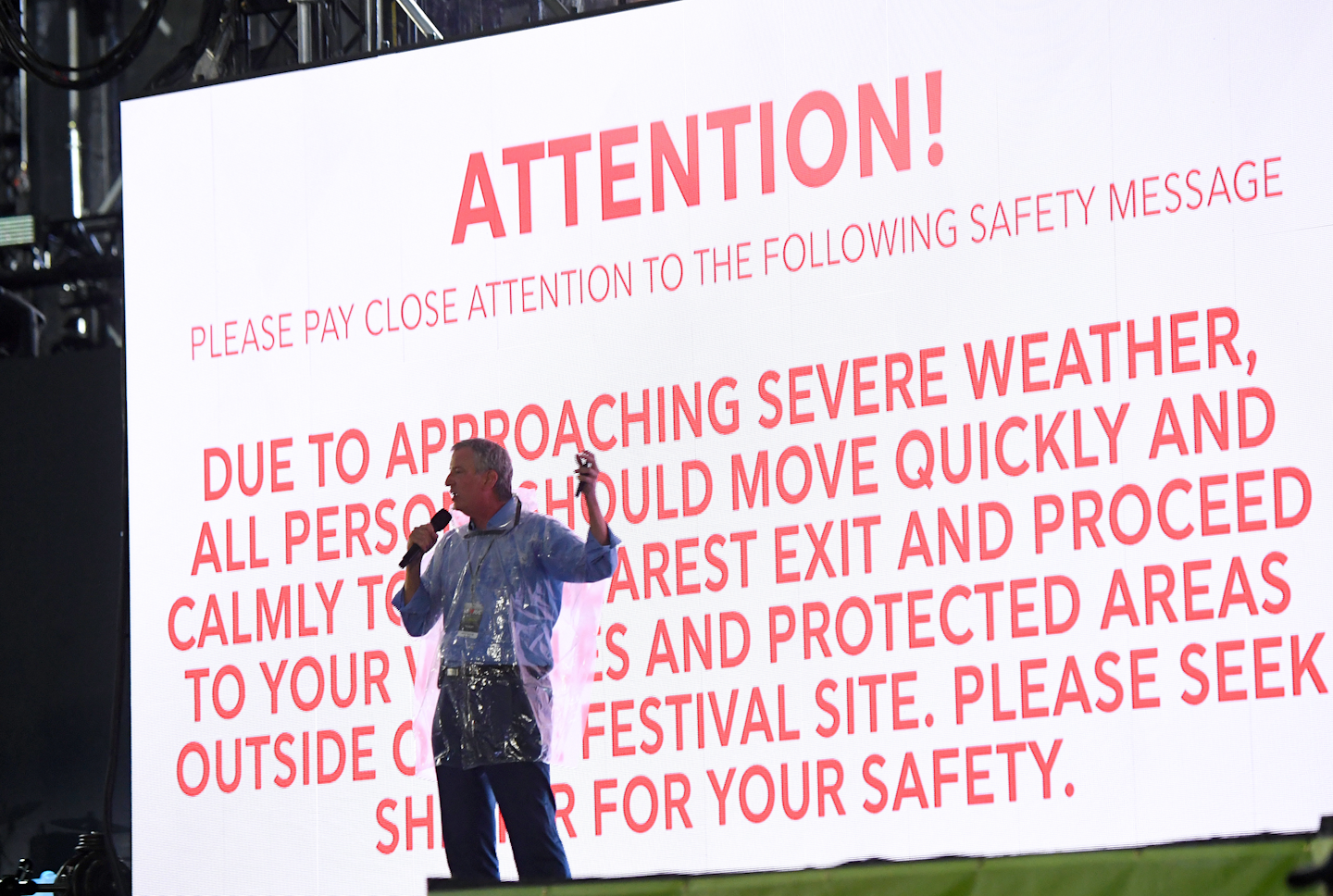 New York City Mayor Bill de Blasio made an announcement onstage, asking the concertgoers to take shelter from the storm.Photo: Kevin Mazur/Getty Images for Live NationOn Sunday, as part of the Capital One City Parks Foundation SummerStage programming, Common, Rapsody and Pete Rock were also scheduled to perform in Central Park. But organizers decided to postpone the concert and are currently working on rescheduling the show.
"In preparing for Tropical Storm Henri, our team began meeting together to go through various event scenarios and contingency plans three days prior to the show," says Josy Dussek, director of arts operations for SummerStage. "We wanted to make the best decision for the safety of our guests, staff and vendors and with sufficient notification time."
Since SummerStage is an annual outdoor festival (besides last year's event, which was virtual), organizers are used to producing rain or shine. "For increased weather concerns like heavy rain, lightning in the area, etc., we'll work to keep the show and delay the start of the show or take an intermission if needed. We always do our best to push through and deliver performances to our audiences, no matter what the weather conditions are," Dussek says.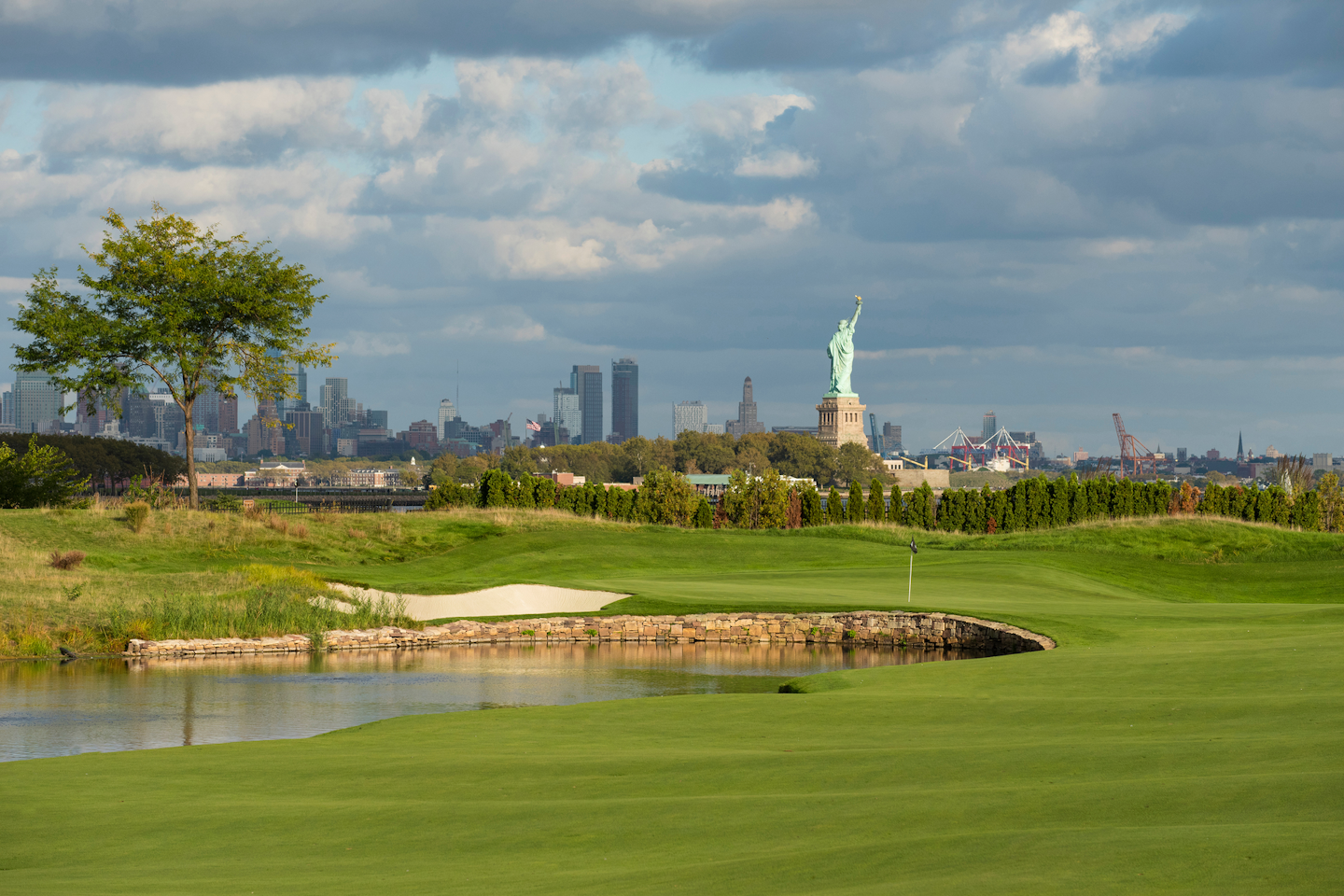 At the Liberty National Golf Club in Jersey City, N.J., the final round of The Northern Trust tournament was postponed from Sunday to Monday, due to the heavy rain.Photo: Courtesy of The Northern TrustAcross the Hudson River, at the Liberty National Golf Club in Jersey City, N.J., the Northern Trust golf tournament was also feeling the effects of Henri (which was eventually downgraded to a tropical storm). In order to complete a total of 72 holes of golf, the final round of the opening FedExCup Playoff event was postponed from Sunday to Monday, due to the heavy rain.
"As a sport that's played outdoors, we have a variety of options available from delaying play to canceling the final round and determining a winner after 54 versus 72 holes," explains Julie Tyson, executive director of the Northern Trust tournament. "In this instance, given this event's importance as a FedExCup Playoff event among the three-event playoff series, the pinnacle of the PGA Tour season, the commissioner and the rules officials exercised the option to extend play into Tuesday, if necessary."
Similar to a concert setup, the tournament involves infrastructure such as camera towers and scoreboards, all of which needs to be broken down in the case of inclement, potentially dangerous, weather. Tyson says that organizers began disassembling "while competition was still being played on Saturday to give us the most amount of time available, removing signage or anything that would not remain secure under high winds." Plus, the PGA Tour boasts an on-staff meteorologist who provides expert advice on wind speeds and can advise on which structures can withstand the weather.
"Chicago may be the 'windy city,' but no place in North America gets the type of winds that we get in NYC during a nor'easter," Hayes says. "The buildings of Manhattan act like cannons accelerating the wind down narrow streets. Open plazas like Astor Place, where six streets meet, create the perfect setting for little tornado-like vortices."
Back in December 2020, Hayes and his team had installed a 35-foot-tall red Salvation Army kettle on the plaza at Astor Place, just in time for a blizzard to come barreling through the city.
"The first thing I did was confer with the engineer and my head rigger. Then I put an updated safety plan into action all while tracking wind speeds and snowfall predictions. I brought in labor to barricade off the plaza during the peak of the storm. I had guys continuously clearing snow from the structure overnight while the snowfall was at its worst. We secured the kettle to the giant frame with additional aircraft cable to prevent it from swinging like a huge red wrecking ball. Finally, I remained on-site all night. If this thing was going to blow over from a 90 m.p.h. gust of wind, I wasn't going to learn about it from a 3 a.m. phone call," Hayes recounts.
He adds that this additional work wasn't factored into the budget.
Setting aside funds for possible weather-related expenses may be necessary and should be discussed with clients, Bernstein says. For example, if a client wants 800 umbrellas, one for each guest, that should be included as part of the budget, as well as the cost of a canopy or tent to cover an outdoor venue in case of inclement weather. She also suggests taking inspiration from the unpredictable weather conditions and giving away branded swag such as rain boats or quirky umbrella hats.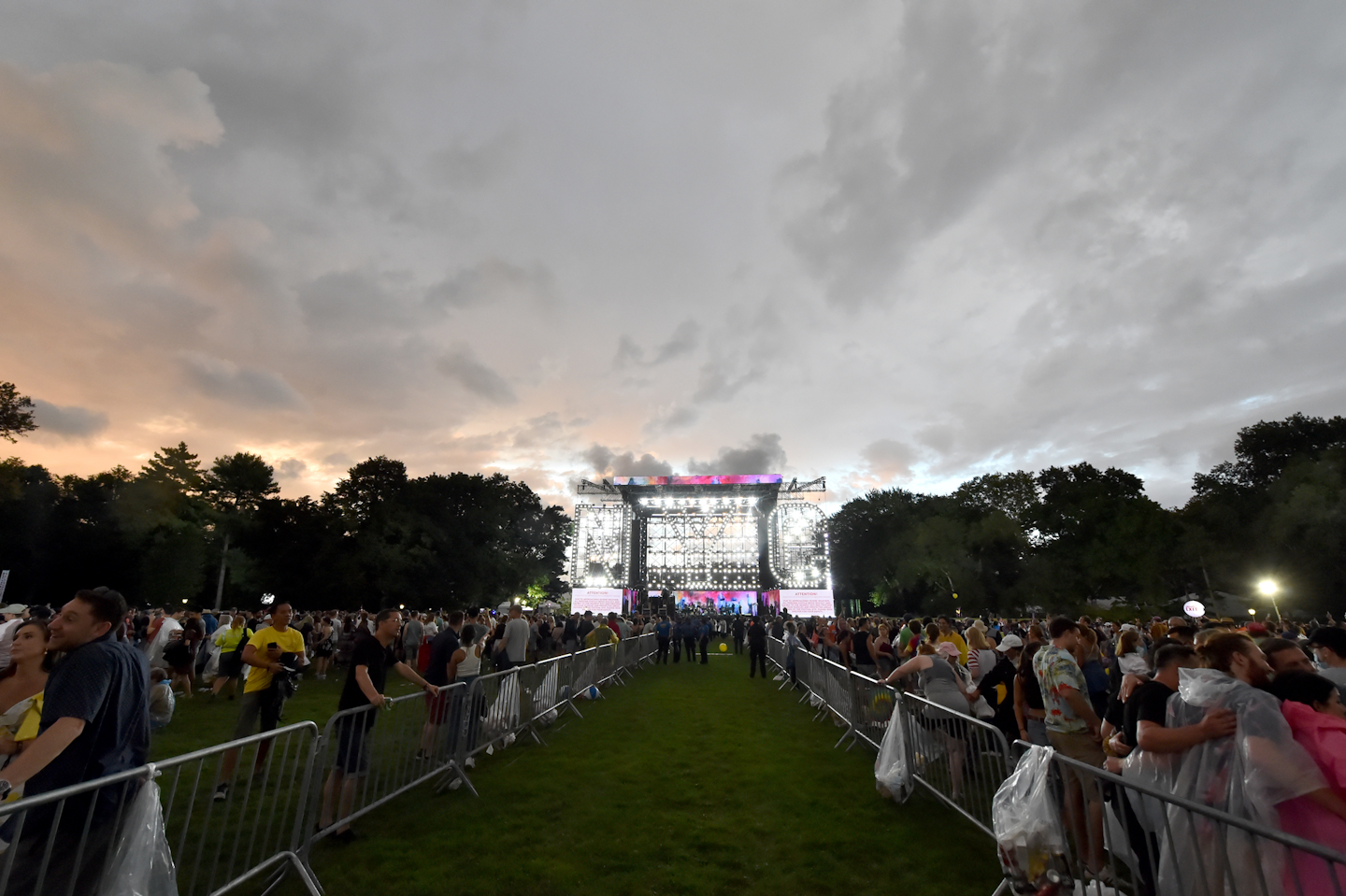 Concertgoers were given ponchos upon entry.Photo: Jeff Kravitz/Getty Images for Live Nation
More Tips for Planning for Unpredictable Weather Conditions
Below, event pros offer some more helpful tips for planning for potential weather-related issues.
Be prepared for rainy days and hot weather.
"For us, we always try to plan ahead as much as we can. We look into rain dates when booking shows as much as possible. On-site, we try to have on hand tents or coverings to protect guests from rain," Dussek says. "And don't forget about heat, too. As a summer festival, we try to think about how to beat the heat for our guests—securing fans, availability of water, offering misting tests, shade areas and more."
Compare your plan to your vendor's rules.
"Some vendors have weather clauses in their contacts (e.g., won't work when lightning is within X miles of the venue). When forming deals with vendors, it is important to understand what they will do if that instance happens and what the expectations would be," Tyson says. "Also, what will you do if the vendor's rules for their employees are different from yours for clearing the venue? It's all about talking through worst-case scenarios and contingency plans ahead of time."
And negotiate the specifics.
"Get clarification on the venue's cancellation policy and work to more specifically define those terms. 'Act of God' is far too vague," Hayes notes. "Also, who has the final word on shutting down your show and under what conditions? Be granular here. How do they measure conditions? Are they simply listening for thunder, or are they using sophisticated tracking software like ForeFlight by Boeing?"
He adds that "most major outdoor sports or entertainment venues mandate a minimum of 30 minutes after all lightning is out of a defined area before resuming activities. Their safety zone should establish a range of 6 to 15 miles for lightning clearance depending on the layout of the facility, industry-specific hazards and time needed to adequately move participants to safety. Some events and government agencies establish a range as far as 25 miles. Administrators in a small town may be less experienced so you should always act on the side of caution regardless of the local rules. The important thing to remember is to learn the venue's rules, all of them, before you sign the contract."
Prioritize safety.
"Safety first before property, loss or any kind of other pressure," Tyson says. "When in doubt, err on the side of being extremely conservative. Rarely will you be criticized for doing so when the data available indicates it might be even remotely dangerous."
Hayes agrees, saying "safety should always be your main focus, even if you have a client barking at you to do something else. We have printed on the back of our crew shirts 'Safety is no Accident,' which means that we have to make good plans and smart decisions every day. That mantra has never led me astray."
Communicate.
"If you don't know what you're going to do yet, let people know you will provide an update at a specific point in the future and keep updating until a final decision is made. Be sure your team, security, police, vendors, etc. understand, know and can execute your evacuation plan," Tyson says.
Hayes adds that "if you do have to evacuate the crowd, do you have the security to handle the exit and re-entry? Will large numbers of people expect a refund? Can you safely entertain people while they are safely dispersed? This should all be given careful thought."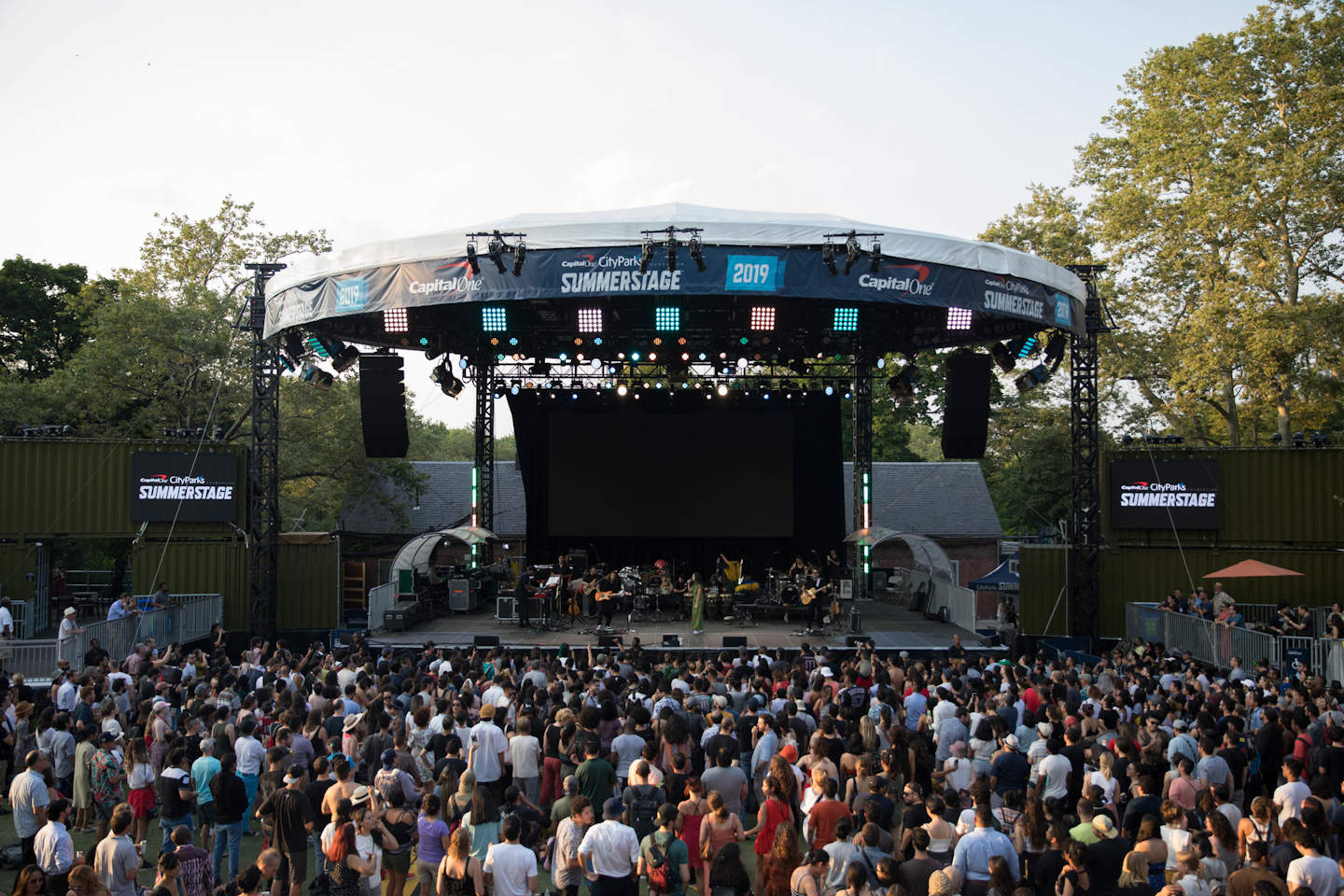 Since SummerStage is an annual outdoor festival (besides last year's event, which was virtual), organizers are used to producing rain or shine.
Guest Blogger: Michele Laufik, Senior Editor BIZ - https://www.bizbash.com/production-strategy/event-production-fabrication/article/21627609/rain-or-shine-event-pros-share-lessons-learned-from-hurricane-henri