Ever wanted to put a dry erase board in your trade show booth? Well now you can with advancements in dry erase technology. Our Dry Erase HC is a 2 mil premium laminate that allows for any printed substrate to be turned into custom dry erase boards. Dry Erase HC can be written on without ghosting or staining from ink. Made with anti-graffiti properties, Dry Erase HC allows for easy removal of permanent marker with rubbing alcohol. With its exceptional durability, the dry erase hard coat will stand up to years of heavy use.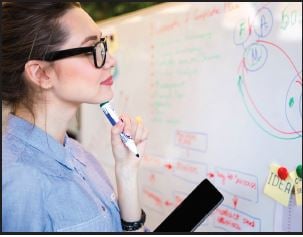 Exceptional Durability
Hospital Cleaning Chemical Compliant
Widths up to 51"
Great for Custom Sizes
Just think of the possibilities on how you can use this in your trade show exhibit - you can have clients right down their favorite word associated with your product, you can have a artist put up a rendering of your solution - a different rendition each day of the show - you can have people just doodle or create their own picture.
Depending on the theme of your show and the products and services you provide - your options are endless!