"Next year should be about growth, not about recovery," notes Kristi White, chief product officer at Knowland, a provider of meetings-market intelligence. She's referring to 2023 being the year that the industry surpasses 2019 meetings volume, but the sentiment could be applied to the outlook across the board: By many measurements, the meetings sector is expected to surpass prepandemic levels next year and just keep growing. But we'll face some roadblocks along the way — inflation, supplier staffing challenges and the threat of recession among them. The stress level of meeting professionals is high, notes the American Express Meetings & Events 2023 global forecast — but the stress is significant because planners and suppliers are so busy, and for that reason there's a great deal of confidence being expressed in the strength of business for the coming year. For the most part, the "cautious optimism" of the previous two years has given way to full-on optimism.
In fact, on an optimism scale of 1 to 10, 77 percent of the participants in the Amex Meetings & Events survey rated themselves an 8 or higher with respect to their outlook for the health of the industry in 2023. And more than six in 10 of the 417 planners who responded to the latest Northstar/Cvent Meetings Industry PULSE Survey were more optimistic about the outlook for meetings in September/October than they were two months prior. Only 16 percent expressed less optimism.
"There's a tremendous understanding of the value of having in-person meetings," says
Gerardo Tejado
, senior vice president of global value development and general manager of meetings and events for American Express GBT. There's a clear emphasis on the importance of internal meetings, he adds, as companies look to restore culture and improve communication dynamics among disparate teams.
Attracting Attendees
Attendance is actually exceeding pre­pandemic numbers among the hotel-based meetings Knowland tracks, more than 60 percent of which are corporate. But by other broad industry measures, overall attendance is lagging 2019 levels and that's likely to continue. Fifty-five percent of respondents to the latest Northstar/Cvent PULSE Survey expect their overall attendance in 2023 to be at 90 percent or less of prepandemic numbers, with a 29 percent plurality expecting to reach between 76 and 90 percent of 2019 levels.
But optimism is again evident here, as more than two-thirds (68 percent) of participants in the Amex forecast expect their attendee numbers to reach pre­pandemic levels within the next one to two years. In North America and Europe, 88 percent of respondents believe attendance will bounce back in five years or less, while that percentage is even higher in Asia Pacific (97 percent) and Latin America (94 percent).
Turning Up the Volume
The number of meetings taking place climbed back to nearly 90 percent of prepandemic levels in September, according to Knowland, and based on its Meeting Recovery Forecast, overall meetings volume will surpass 2019 levels in mid-2023. A number of the top 25 markets will hit full recovery in May of next year.
Not surprisingly, the pace of recovery has been uneven across the United States. Knowland's forecast provides insight into which of the largest markets have recovered most quickly and which are expected to continue on that trajectory. Three cities — Dallas, Phoenix and Nashville — experienced full recovery this year, and 11 more of the top 25 markets (Anaheim, Atlanta, Denver, Detroit, New Orleans, Oahu, Orlando, San Diego, San Francisco, Seattle and Tampa) should recover in 2023, with the others achieving 80 to 99 percent of their prepandemic meetings volume. Two cities, Philadelphia and Chicago, are not expected to recover before 2025.
Managing Rising Costs
Higher costs have been the top planner concern all year, according to the Northstar/Cvent PULSE Survey, and the level of concern has only grown as the year has progressed. Eighty-six percent of planners said rising costs are having a material impact on the events they're planning, and the various industry prognostications don't point to any relief.
That's true of all regions, as noted in the GBTA/CWT Global Business Travel Forecast, as the 2022 cost per attendee is expected to be around 25 percent higher than in 2019, and is likely to rise another 7 percent in 2023. That overall increase is being driven by price hikes on nearly every expense, from meeting space to room rate, food and beverage, and A/V and production costs.
An event that cost $20,000 in 2019 could run $27,000 next year, according to the "What's Trending 2023" report from BCD Meetings & Events.
Not every company will spend more as a result of the rising costs: About two-thirds of respondents to the Amex forecast study felt their overall meeting spend would increase in 2023, with about 12 percent of that group expecting an increase of 11 percent or more.
How will planners reduce their budgets? According to Amex, the first two areas to cut will be the number of nights and off-site activities (23 percent and 21 percent, respectively, in North America). To mitigate the impact of costs thus far, according to the PULSE Survey, planners say they have been finding savings in areas that don't diminish the attendee experience (62 percent of respondents) and, simply, finding cost savings wherever they can (58 percent).
Hotels Banking on Groups
Group-lodging demand has rebounded significantly this year, and group business in 2023 is expected to outperform 2019. According to HotelAVE, which provides hotel asset-management services to owners and investors, group demand should bounce back to around 90 percent of prepandemic levels next year, but a 5 percent year-over-year increase in group rate will push the performance past the 2019 mark.
Leisure demand is expected to cool a bit in 2023, compared with this year's boom; and corporate transient demand, though on the rise, hasn't been as strong as previously anticipated. That means group business will factor more heavily into hotel revenue, says Michelle Russo, HotelAVE founder and CEO.
"Association meeting attendance has been quite strong, maybe because big corporate has not recovered," Russo explains. "And people need to meet with each other, so they're leveraging these association meetings. That's our macro, long-term thesis: that corporate never, ever recovers to the percentage of demand it was pre-Covid. Because of that, combined with the effects of remote work, meetings are going to play an even more significant role in how people connect and communicate. So people might extend their time at a trade association convention by adding sales or networking meetings around it. If companies are restricting general business travel, you can go one place and see a lot more people. So we're more bullish on group, longer term, as a percentage of total occupancy than pre-Covid."
In terms of hotel revenue, an October analysis by the American Hotel & Lodging Association and Kalibri Labs projects U.S. hotel leisure-travel revenue will end the year 14 percent above 2019 levels, with business-travel revenue falling 1 percent below prepandemic numbers. While 8 of the top 11 markets are projected to exceed 2019 hotel leisure-travel revenue this year, just three — Orlando, Las Vegas and San Diego — are likely to exceed the 2019 revenue figures for business travel.
With that white-hot leisure demand expected to cool in 2023 — primarily during the shoulder seasons, as forecast by HotelAVE — will planners benefit from more availability or even lower rates? That's not likely, sources agree.
"The leisure boom we saw post-2020 and 2021, and even through the summer, was never really sustainable," notes Jan Freitag, senior vice president of lodging insights for STR and national director of hospitality analytics for STR's parent company, the CoStar Group. "But did that leisure travel really impede on group travel? Did it take away rooms that the group traveler wanted? There are certainly markets where the transient room rate was so healthy that the meeting sales professionals at the hotels said, 'If I have to choose, I'll take the leisure traveler.' But did it really happen on a large scale? I don't know that we had that many markets where that was occurring. I think availability issues were far more often due to planners competing with other groups."
With respect to group room rates, "It's easy to forget where we were in 2019," Freitag continues. "It's easy to look at 2021 and say, 'Group rates have really grown.' But if you compare to 2019, we're a little bit higher than where we were. The growth rates that we saw year-over-year will ease. But will we see group rates come down? I doubt it."
Airfares Taking Off
Business-travel airfares are projected to rise by a whopping 48.5 percent in 2022 over 2021, according to the GBTA/CWT 2023 Global Travel Forecast, but the $646 average ticket price is still below that of the 2019 average. That prepandemic pricing would be surpassed in 2023 if the projected 8.4 percent hike comes to pass. The increased cost of travel represents another potential obstacle to reaching prepandemic attendance goals, depending on the nature of the meeting and who's paying for the ticket.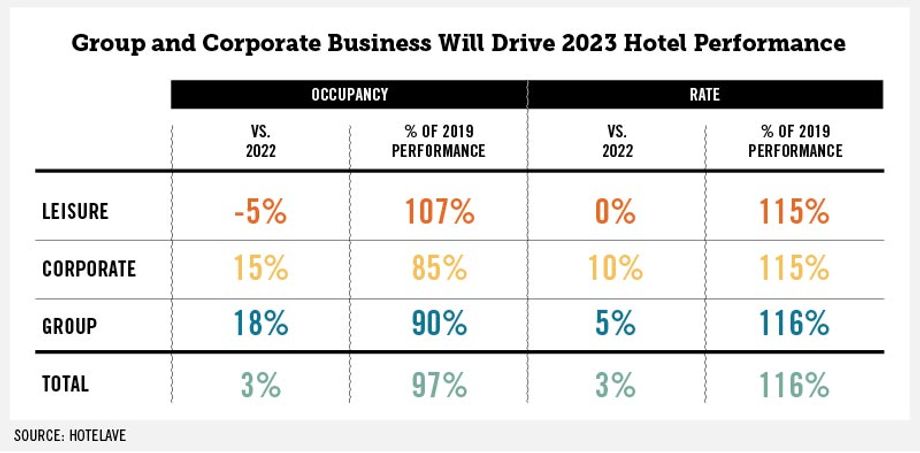 Recession-Proof Meetings?
Even as some signs point to increasing economic uncertainty, the outlook for meetings hasn't changed much.
At press time, STR and Tourism Economics, who partner to produce an industry forecast, hadn't yet released their final update for the year, but Tourism Economics had just adjusted the macroeconomic outlook, lowering projected GDP growth from 1 percent down to zero — technically, indicating a mild recession.
Russo from HotelAVE acknowledges a likely economic slowdown. "We are seeing some big corporate on the transient side slowing," she says. "And we keep looking for it in group, but we're not seeing it."
STR's Freitag says a mild recession most likely would affect the lower end of the market — leisure travelers who have to make difficult economic decisions around the necessity for travel. "On the other side, the high-end American traveler is still doing quite well, and corporate transient continues to rebound — not to 2019 levels, but it's showing signs of life. And then you have the group component, which I still think is pretty healthy, because people realize they need to get together and build relationships — and it makes good business sense."