Event planners are on the forefront of embracing new technology to add excitement and engagement to meetings and special events, but going with the very latest technology can be a budget breaker. Now, with the advent of LED video walls, it's possible to make a huge impact at an affordable price point. Whether you are looking to have a dynamic backdrop for a keynote presentation or an interactive entryway to your event, LED video technology can make a lasting impression on your guests.
In fact, top-quality video presentations are now a must-have. According to Ashish Desai, Assistant Director of Multimedia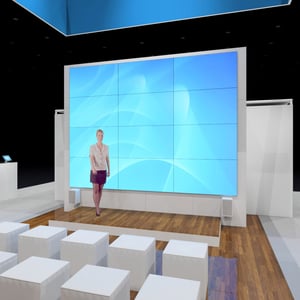 Technologies, Villanova University, author of "The Future of A/V Technology" in CIO Review, "Whether we realize it or not, the role of audio visual technology has become essential in how people play, work and learn … Whatever business you are in, product you make, whatever service you provide, your customers are looking for an engrossing and immersive visual experience. Have you noticed the number of TV shows and sports broadcasts "offering" a multiscreen experience? Once "a" rare occurrence, it is now the norm."
Renting vs. Buying
Because the latest technology comes with a high price tag, renting equipment rather than buying it can ensure that your event technology stays up to date without a big upfront investment.
The Tradeshow Network Marketing Group designs exhibits and video walls in conjunction with strategic partner ABCOMRENTS, which provides the rental equipment and technical support needed to make everything run smoothly. For a large exhibit at the Consumer Electronics Show, we recommended a 3 x 4 monitor stack of 12 NEC ultra-narrow LED video monitors, linked together in a wall, all run by one computer with speakers. The dynamic content on the wall showcased the client's latest products and drew the attention of hundreds of visitors.
According to Sonny Goyal, managing director of ABCOMRENTS, video technology and digital signage in conferences and other events are growing bigger every year – both in terms of the overall market for technology as well as in the size and functionality of the equipment. "Our company philosophy is being first to market with new technology," he explains. "There is a lot more demand for larger video walls or LED screens as large as 100 inches and touchscreen technology. The expectation of attendees is that everything is digital and more interactive."
Plug and Play
With new technology being developed all the time, it can be hard to keep up. When considering a video projection or LED video wall, take into account how much expense is involved in the use of the technology, such as content development, technology interface, installation and operation.
One new option is the beMatrix® LEDskin TM system of tiles that easily fit into modular frames and work with both Mac and PC operating systems as well as all popular video standards. All it takes is a video source and an HDMI cable to make the connection to the LED frames. Because various marketing departments and agencies are typically involved in developing the content for videos, it saves money to use a system that can readily interface with existing programs. Although most venues have a list of preferred a/v vendors, it can pay to get competitive bids to compare their costs with those of outside technology vendors.
In addition, the new lightweight LED technology is easier to install, so it also saves on labor and rigging costs. Goyal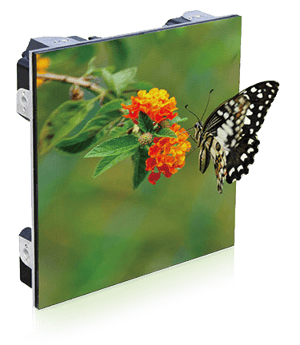 estimates that using an older LED screen product might have cost $10,000 in installation, while the newer technology may cost only $2,000 for labor, depending on the size of the video wall. The LED screens also use considerably less electrical power than video projection walls. However, because the LED wall requires calibration of each individual screen, it is important to have a knowledgeable technician on hand to monitor the system during event hours.
Design for Maximum Impact
When it comes to design, LED tiles are truly flexible. The LED tiles fit into modular frames covered in fabric. The video panels can be configured to cover an entire wall or portions of a wall with one video or multiple videos running simultaneously. You can also build LED tiles into different structural shapes, such as freestanding octagons or squares that allow visitors to interact with each panel at their own pace. With the flexibility of fabric, you can even have a freestanding wall, curved or straight. Unlike one-sided video walls with a back full of cords that must be hidden, the beMatrix system can be configured with a back wall of fabric tiles, which can have logos or other images printed on the fabric, suitable for a more open environment.
LED works with internal light projection, so there are no concerns about obstructions or shadows as with external projectors. Because LED light is much brighter than video projection, users have the ability to dial up or down the intensity of light as needed for optimum viewing, even in sunlight.
When planning for your next event's set design, it's important to allow enough time to incorporate video technology. Although an LED wall can be set up the day before the event, you will want to ensure that your preferred video components will be available from the rental inventory and can be shipped on time without rush charges. An exhibit firm can provide design services and estimates to event planners in advance and also work with a technology rental company to reserve the items you will need. Also take into account the time for custom content development. A video wall of any kind is only as good as the visuals it projects.