Does anything feel better than attending an awesome event? Virtual events let attendees tune in from their living rooms, hybrid events give them options, and in person events are full of creative engagement opportunities. But how do you decide which format is best for your event? And if you want to go the in person route, what are the best ways to run it safely and successfully? Here, we'll explore some of the pros and cons of each format, which types of events are best to hold in person, and 10 tips for running an in person event to remember!
Why In Person Events Matter
The ideal live event is one that serves your attendees, exhibitors, and sponsors—while also bringing in revenue and attention to your organization.
Why does holding that event in person matter so much? It comes down to feeling present!
Attendees want to network, learn, and connect with new people around a shared interest. Exhibitors and sponsors want to get in front of a live, targeted audience. You want to blast through your event goals.
Here are the three biggest benefits of in person events!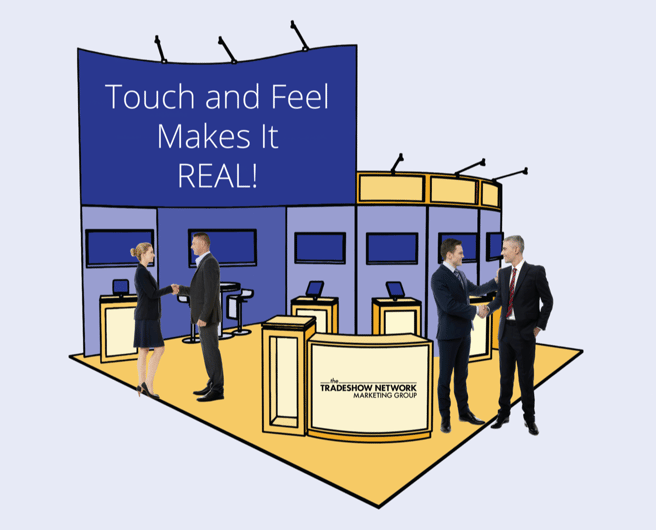 Audience engagement
In person events offer unique audience engagement opportunities, including:
Interactive presentations
Live product demos and demonstrations
Q&As with special guests
Networking sessions
Experiential activations
Give your attendees plenty of opportunities to try something new—curiosity is a great motivator for engagement!
Networking opportunities
Networking and making new connections are two of the biggest reasons why people choose to attend conferences. While hallway conversations are the origin of many relationships, event organizers also have the opportunity to create focused networking opportunities in person.
These networking techniques could include:
Power networking circles
Speed networking
Practice with elevator pitches.
An in person meeting gives faces and voices to the names attendees would otherwise see over a screen, and helps conversation feel more organic.
Connecting with clients and leads
Many client relationships exist primarily over email, phone, or video call. That's why in person events are better for bringing those relationships out from behind the screen and enabling you to deepen the relationship.
It also means your exhibitors can have live conversations with leads—and follow up, if you have the right event lead retrieval process in place.
What is the Difference Between In Person and Virtual Events?
These days, the first question we ask when planning an event is: virtual, in person, or hybrid?
We're finally back to in person events—but depending on your needs, there are pros and cons to each structure!
In Person
Many people think that networking opportunities and interaction just feel better in person—in fact, that's why 92% of event planners prefer live events.
Here are the pros and cons to consider:
Pros:
Easier to keep your audience engaged
Relief from screen fatigue
Hands-on activations
Exciting event atmosphere
Post-event get togethers
Showing off physical products
Live lead capture
Cons:
More expensive
Limited to geographic location of attendees
Limited to speakers in region
Attendees need to take significant time out of their day to attend
More work to organize
More safety concerns, liabilities, and insurance
Environmental impact of travel
Virtual
If your event primarily contains lectures, sessions, or workshops, going virtual is a great option. You can save money while bringing in attendees (and special guests!) from all over the world.
Pros:
Attendees from across the country or world (that's a lot of registration revenue!)
Deep niche networking opportunities
Cheaper to run
Easier to attend in the middle of a day or for a portion of the event
Live session engagement data
Sponsor page data
Immediate access to documents like slide decks or promo packs
Cons:
Harder to keep audience engaged
Harder to generate atmosphere
Different generations = different online language 😉
Danger of multitasking
Fighting screen fatigue
Tech difficulties are higher-stakes
Harder to rally exhibitor engagement
Hybrid
According to a survey done by Influencer Marketing Hub, 57% of participants would prefer to attend a hybrid event in person, and 33% preferred to attend virtually. Having a hybrid event strategy is what'll satisfy both of these audiences.
Going hybrid works best if your primary programming works equally well in virtual and in person spaces. From there, you can add specialized experiences to each stream (an in person activation and an online-only game, for example!) to make a true hybrid experience.
Pros:
Multiple options for attendees
Can reach an audience locally and from afar
Many accessibility options
Mixed revenue opportunities, best of both worlds
Cons:
Often more complex to organize
More expensive tech considerations
Can feel like two separate events
One group might be privileged
Are In Person Events Better than Virtual Events?
We hate to say it—but it really depends on the event!
For example, a live event would be much better for hands-on activations and local networking opportunities. But if you wanted to bring in a guest lecturer from abroad for a 5 week workshop series, going virtual would save you time and money.
The right event format is ultimately the one that gives your event the most opportunity to meet its KPIs and inspire your audience.
8 Different Types of In Person Events
Some events do especially well (or are only possible!) when they're held in person.
Here are 8 different examples:
Conferences typically bring together a minimum of a hundred people to explore a topic or theme over the course of a few days. A huge benefit to holding them in person is the sense of community they bring to a physical space!
Trade shows are primarily home to product demos. While it's possible to share a recorded video, in person demos make more room for questions and live engagement. Plus, large vendors' halls are designed to generate sales leads and networking opportunities.
Company parties bring together your team to celebrate their successes. If you've been working remotely, this is a great opportunity to connect on a personal level.
Festivals like Coachella often do best in person because of how they utilize space. How stages, installation art, and food areas are set up are an essential part of the experience.
Galas are all about adding elegance to a social event. Renting a beautiful hall and budgeting for high quality catering can't really be replicated virtually.
Product launches are your chance to shine the spotlight on something new you've created. When your audience gathers in person at a live event, they can ask questions, try the product out, and be inspired by the energy of the room.
Training seminars can sometimes be held virtually, depending on what the training is. However, running an in person training makes it easier to incorporate different learning styles for your trainees.
Networking events can be held quite successfully in virtual spaces, but 68% of individuals prefer in person networking events. Virtual events can be a great way of breaking down barriers around accessibility & ableism, but running in person and virtual events together maximizes your success.
Recommended Read: 📖 Ready to create an engaging event that attendees will remember for years to come? Our Experience Design Guide helps you meet your event goals, integrate event tech into your event planning process, and bring the fun to your attendee experience! Download Now
10 Tips for Planning Fun (and Safe!) Live Events in Person
So you're ready to plan an event, and you know you're holding it in person. But where do you begin?
Here are 10 things to keep in mind when planning live events to make them fun and safe for your attendees:
Set clear goals
What's your goal? Before diving into in person event ideas, slow down and ask yourself the following.
Are you trying to:
Build a community
Engage your members
Bring in non dues revenue
Increase brand awareness
Raise awareness for a cause
Run a certain number of educational sessions
Drive leads for exhibitors and sponsors
Drive a certain number of networking connections
Reward members of your community
Before you kick off your planning, review the SMART Goals you've set up with your team. No one can do it all, and a focused goal will be much easier to achieve.
Budget!
While switching to virtual was stressful for a lot of planners, no one can deny that it went easier on the budget.
In person events come with extra costs for things like:
Venue
Catering
Security
A/V equipment
Special guest accommodations
If it happens to be your first time setting up an event in person, it's worth it to connect with other organizers and see what their budgets look like. And if you've been in the industry for a long time, it's worth it to explore how the latest
event tech
can impact where you spend—and how you drive
event ROI
.
Secure sponsors
Securing sponsorships requires some thoughtful pre-planning. This process looks like creating a targeted sponsorship proposal, offering multiple sponsorship packages, and building the genuine connections that'll make sponsors bite.
Sponsors can offer all sorts of support, including:
Financial sponsorships
In-kind sponsorships
Accessibility sponsorships
Media sponsorships
Activation sponsorships
If you're looking for tips on building more profitable sponsorship opportunities, check out these 9 Ways to Increase Event Sponsorship Revenue.
Choose the best venue
The most obvious venue considerations are the location, capacity, and cost of the space, but there are some other elements that might influence your choice.
Check if your prospective venue has:
On-site staff for set up and clean up support
Catering included
Chairs and tables
Overnight security for a multi-day experience
A spacious vendor's hall
Wifi and power outlets
Parking & transit accessibility
Accessibility requirements met
Safety measures
Insurance
When you're scoping out a place, it can be helpful to create a "need to have" and "nice to have" list. And if you find your venue was perfect, lock in those dates early to book it for next year!
Simplify registration
Keep things simple with event registration strategies like:
Linking to an FAQ on your website
Making a simple (and personalized!) registration experience
Including ticket booking and hotel suggestions in the registration process
Having simple and secure payment processing
Working with an in person event app that'll streamline their event experience
Your event starts with registration—a smooth process is the first step in building trust with attendees.
Communicate with attendees pre-event
Before your event, be sure to send your attendees information including:
Agenda or schedule
Where and how to check in
Venue layout and seating plans
On-site precautions like masking
Code of conduct
Sending this information via email, or including it in your in person event app, gives attendees their own personal FAQ. Plus, if anyone's just starting to get comfortable with attending in person, this can help set expectations and ease anxiety.
Determine your safety measures
Since COVID-19 began, in person events have transformed in many ways—and many safety precautions are here to stay!
Determine if you'll include:
Pre-event COVID screening
On-site health tests
Mask requirements
Wristbands (green for handshakes, yellow for elbow bumps, red for distance)
Social distancing
An outdoor component
Extra ventilation measures
Vaccine requirements
Hiring an accessibility advisor is a great way to get extra insight on helping your immunocompromised guests feel safe.
Use lead capture tools
Gone are the days of business card exchange and sign-up forms! These days, there's plenty of solutions that can capture leads for you.
Registration forms
Lead capture apps for exhibitor booths
QR code scanning on badges
Microscanners
Onsite interactive kiosks
Surveys and attendee feedback forms
Bringing in new customers is also how many exhibitors calculate their ROI. Incorporating a streamlined lead retrieval process into your exhibitor or sponsor package can add a huge amount of value.
Engage your audience
Once you've got an audience onsite, all that's left is to create memorable engagement opportunities.
Try incorporating things like:
Creative icebreakers
Gamification challenges and leaderboards
Experiential activations for hands-on engagement
High-profile guest speakers
Photobooths (and encouragement to post the photos on social media!)
Afterparties
Did you know that 79% of millennials think fun at work is important? If you're running a conference or training, finding ways to make learning exciting will have a real impact on your attendee experience.
Gather post-event feedback
Following up with attendees, exhibitors, and sponsors is how you gather real data on the success of your in person event. Sending out surveys via email, or including satisfaction polls in your app are a couple of quick ways to learn how your event was received.
How Event Apps Can Power Up Your Next In Person Event!
Here at EventMobi, we've helped event organizers plan and execute 30,000+ events over 13+ years. We build our platform with event planners in mind, focusing on ROI, attendee engagement, and ease of use—because planning is stressful enough!
For example, our Mobile Event Apps come with:
Maps and floorplans for attendees
Interactive features like gamification tools and an activity feed
Sponsor features like banner ads and 1:1 appointment booking with attendees
Lead capture tech for sponsors and exhibitors
Special exhibitor dashboards
Compatibility for Android and iOS (plus availability in the app store!)
And we're more than just an app—EventMobi also offers on site features, including:
Check-in features (with a self-administered option!)
A custom badge designer
A social media wall
Professional onsite support with an Event Technology Specialist
Curious about how you could use these features for your next in person event? Chat with our team to see what EventMobi has to offer.
Holding In Person Events to Remember
No matter what industry you're in, in person events are one of the best opportunities for connection. With the right tools and creative planning, your attendees are sure to feel the value of your event—and sign up fast when it comes around next year!]
Written by - Written by: Kerry McCreadie from Eventmobi