Walk any trade show floor these days and you are likely to be struck by how much technology is now a part of the most effective exhibits. From giant video walls to digital kiosks to touchscreens, the latest technology is now a must for marketers. Although leading-edge technology is always expensive at the outset, exhibitors can stretch their dollars by renting the latest technology for their most important shows and by following up on leads to deliver a real return on investment.
Grab Their Attention
How do you make trade show visitors stop in their tracks? Deliver an engaging high-tech presentation.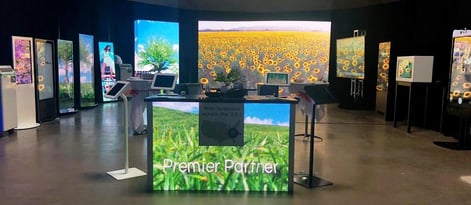 When the venerable mapmaker Rand McNally wanted to demonstrate their evolution into electronic navigation and travel products, they added a video wall to their exhibit at the Consumer Electronics Show. The company's marketing team developed a video presentation to showcase their high-tech consumer electronics, featuring connected tablets for cars, trucks and RVs, which combine hands-free messaging, calling, entertainment, cameras and monitoring with navigation, of course.
The Tradeshow Network Marketing Group worked with strategic partner ABCOMRENTS to choose the best equipment to fit in their existing exhibit and to provide the technology support needed to make everything run smoothly. The exhibit firm selected a 3 x 4 monitor stack of 12 NEC ultra-narrow LED video monitors, which linked together in a wall, all run by one computer with speakers. The giant video wall requires calibration of each individual screen so ABCOMRENTS provided a technician to monitor the system during exhibit hours.
By running presentations several times an hour on the video wall, the Rand McNally team was able to attract more visitors and then capture their contact information for follow-up after the show.
Go Big by Renting
According to Sonny Goyal, managing director of ABCOMRENTS, video technology and digital signage in trade show exhibits are growing bigger every year – both in terms of the overall market for technology as well as in the size and functionality of the equipment. "Our company philosophy is being first to market with new technology," he explains. "There is a lot more demand for larger video walls or LED screens as large as 100 inches and touchscreen technology. The expectation of attendees is that everything is digital and more interactive."
Because the latest technology comes with a high price tag, renting equipment rather than buying it can ensure that your exhibit technology stays up to date without a big upfront investment.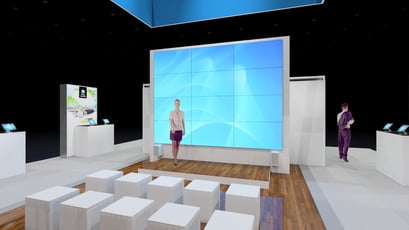 A high-impact option is the beMatrix® LEDskin TM system of tiles that easily fit into existing modular frames and work with both Mac and PC operating systems as well as all popular video standards. In addition, the easier-to-install technology saves money on labor and rigging. He estimates that using an older LED screen product might have cost $10,000 in installation, while the newer technology costs only $2,000 for labor.
How fast is digital signage growing? Orbis Research estimates the global market to expand from almost $21 billion in 2017 to nearly $32 billion in 2023. Their report states, "The enhanced innovations in the display technology such as OLED, electronic paper display (EPD), and quantum dot LED (QLED) are some of the factors driving the market."
Make It Interactive
"The trend of increased personalization and interactivity we saw this year will continue in 2018," asserts the article on digital signage trends for 2018 at digitalsignagetoday.com. "While there are still challenges in creating a truly individualized experience at the screen, there will certainly be advances made as data flows improve to influence the point of customer contact.
2018 will see a huge increase in responsive and automated content. Sensors on the actual displays, as well as data feeds from computers and the web, will adjust content according to real-world conditions."
Goyal of ABCOMRENTS credits smartphones for prompting the demand for interactivity, which can be programmed into digital kiosks and other electronic exhibit components. He also foresees the advent of digital signage that will be able to use such technology as facial recognition to identify visitors to the booth.
Try Something Different
Every exhibitor wants to stand out from their competitors, so it can pay to introduce technology that amazes attendees and presents products and services in a different light. One such technology is the HYPEBOX® – a transparent box that displays your physical product along with digital content that appears in front of the product. The interactive version has a ten-point touchscreen to allow visitors to choose what information they want to see.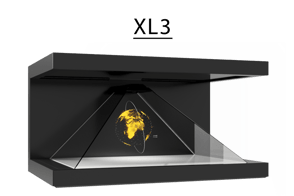 "The HYPEBOX can be effective for products all kinds," explains Karin Roberts, director of marketing for The Tradeshow Network Marketing Group. "It ranges in size from 21.5 to 55 inches to fit your display space. It also offers a huge opportunity to save on costs for manufacturers of equipment and large industrial items, which are expensive to ship to the trade show and take up a great deal of floor space. Instead, they can display a model of their product physically and virtually through the HYPEBOX."
The technology is built into the HYPEBOX so no special programming is required. All an exhibitor needs is a media player or laptop to display their custom presentation.
Connect with Prospects
With all the emphasis on making an impression at a trade show, it's equally important to make a lasting connection. Technology can help you gather the information you need to follow up on leads, but your staff needs to build the relationships by responding quickly to interested prospects.
In their blog, marketing firm Launch Team Inc. states, "The most foolproof method of lead collection is using the official scanner provided at the event; however, due to the cost, many professionals are now relying on their phones to collect leads. Just be sure to test out any app you plan on using to work out any technical issues and make sure it will serve your needs." They describe how dedicated lead capture applications and services work, as well as how you can use tools like Google Drive and Adobe Scan to capture documents and data.
Although lead capture technology can do a lot of the work, your team will need to make sure to follow up on leads when the show is over. For more on that topic, see our blog, "You Care What Happens After the Show?"