Trade shows have a lot of competition when it comes to allocating marketing budgets. Internet advertising, social media and inbound marketing to responsive websites have been gaining a lot of marketing attention and money. COVID caused a big hit on trade show budgets, too. But despite the bumpy roads of the past, trade shows WILL keep going strong. Of course, it isn't enough to just put up an exhibit. You need to take a strategic approach to ensure that your trade show efforts will pay off in solid leads and sales.
Maximizing face-to-face marketing.
So what is it about face to face sales and marketing that makes them matter so much as part of a company's strategy? At its most basic, face to face marketing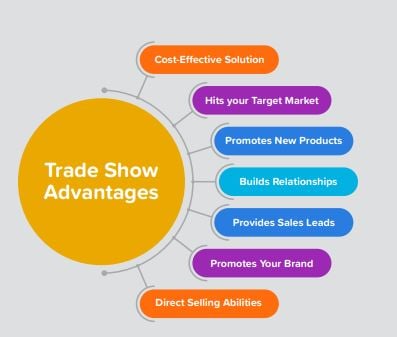 matters because it enables your associates to make personal connections with your customers – something that can't be done as easily within the digital marketing space. The trade show industry is recognizing the need to change in order to keep up with the needs of the businesses that it serves. Exhibitors can expect show organizers to deliver better customer experiences and more opportunities for meaningful interaction with prospects.
"It's just not your grandfather's trade show anymore," observed Carol McGury, a featured panelist during the Center for Exhibition Industry Research (CEIR) Predict Conference. "People will talk online, but they will close business in person." As a whole, the CEIR panelists were optimistic about trade show growth during the next two years. Why? Perhaps because as far back as the market places of ancient history, business people have always understood the value of face-to-face marketing. Even with all of the latest technology that has increased business opportunities online, nothing will ever replace a good face-to-face demonstration and a friendly handshake to close a deal.
As for that old claim that a salesperson's time is better spent making sales calls than participating in trade shows, it turns out that many trade show attendees have not received a sales call at all. A recent study by CEIR found that as many as 88% of event attendees reported that they had not been called upon by a salesperson in the previous year.
Applying the sales process to trade shows.
A trade show presents a focused opportunity to promote your company and sell your products or services to your best prospects. Exhibitors can benefit by incorporating the sales process into their trade show plans.
The basic steps of generating sales are:
Create awareness and generate leads.
Make contact, arrange a meeting, and/or conduct a presentation.
Submit a proposal and win the business.|



As shown in the below buying process diagram, trade shows can be a highly effective way to move prospects through the sales process.

To make sure that trade show dollars generate a good return, exhibitors need to take a strategic approach that extends from pre-show promotions to post-show follow-up.
Turning your business and marketing objectives into an event strategy.
The success of any marketing effort must start with focusing on the overall business objectives of your company. While incorporating your basic business objectives may seem obvious, the fundamentals are often overlooked. At the same time, each event also must fit into your overall marketing strategy and brand image.
Before signing up for a specific trade show, it can pay to ask: How can this event promote our overall company objectives, sales revenues, brand personality, products and services, and target markets? For example, your company may be expanding your products into a new industry in a new event. In that case, your event strategy needs to include educating the market about both your company and your products. Or perhaps you are launching a new product or service to an existing market, which may require product demonstrations or giveaways.
Trade show events should help you both reach new prospects and reinforce your existing customer relationships. Take advantage of all your marketing efforts to promote your trade show event activities. The best event strategy involves planning for before, during and after the show.
Once you have focused on overall business and marketing objectives, you can create an effective event strategy specific to each trade show event. The same strategy cannot be used across the board, because every event is unique.
In creating an event strategy, identify the following elements:
Show objectives: What results do you want to achieve from the show? Perhaps you are looking for opportunities to actually sell your product on site and need to set a sales quota. If you have a long sales cycle, your objective may be to set appointments with 10 key prospects. Your objectives must be something that you can measure after the event.
Target audience: What segment of attendees might buy your product or service? What are they specifically looking for that your company can provide? How can you best reach your exact target?
Pre-show marketing: How will you communicate that you are attending the show before the event? Will you send an invitation to key prospects or advertise in the show catalog?
Brand messages: What major messages do you want to communicate that will be remembered after the show? How can your exhibit and all your collateral materials work together to communicate those messages?
The key is to make sure that each component of your marketing plan is working with your event strategy. When you are preparing for an event, post it on your website, advertise it through industry publications and social media, and promote it through public relations. The worst feeling is to attend an event where your customers did not even know to look for you!
By focusing on your business and marketing objectives, you can create an event strategy to meet those objectives while promoting the identity of your company and targeting the right audience. Take the time to research and analyze these components before putting an event plan in place, or hire someone to help you.
Evaluate each show as quickly as possible. Once a show is over and the next show is on the horizon, it's easy to skip the absolutely critical step of evaluating results. As with any marketing effort, research is required to determine whether your investment paid off. Be sure to evaluate the components of your event plan and your results after each event to determine whether the event was successful. Work with the sales team to find out if the leads met their objectives and how much business they closed as a result. Document what worked and what failed and decide whether to participate in the event again based on your results.
Analyzing the Benefits of Trade Show Marketing
Cost-effective sales calls
In "The Cost Effectiveness of Exhibition Participation: Part I and Part II," the Center for Exhibition Industry Research provides several statistics that show that, on average, leads from trade shows take less time and money to close than field sales leads. According to the study, the cost of an initial face-to-face meeting with a prospect is $96 for an exhibition lead. In contrast, without an exhibition lead, that cost is $1,039, which includes $443 to identify the prospect prior to the initial sales call and $596 for the call itself. Thus, meeting a prospect at a trade show versus finding and meeting a prospect in the field can save as much as $943 per prospect.
The number of field sales calls required to close a sale is also considerably lower for leads initiated at an exhibition. The survey indicates that 54 percent of sales initiated from an exhibition lead require three or fewer additional sales calls to close, while 61 percent of sales that come from other sources require more than three sales calls to close.
Overall, closing a sale with a prospect from an exhibition versus one found in the field can save $914 per prospect. According to the CEIR research, it costs $2,188 to close a sale with an exhibition lead, which includes the average of $96 to identify a prospect at an exhibition and $2,092 representing the average cost of 3.5 sales calls to the prospect. In comparison, it costs $3,102 to close a sale without an exhibition lead, which includes the average of $443 to identify a prospect without the aid of an exhibition, and $2,659 for the average cost of 4.5 sales calls to the prospect.
Multiple prospects in one place
Trade shows can also reduce the number of sales calls needed by providing access to multiple new customers in one location. Trade shows gives your sales team access to hundreds, if not thousands of new prospects who attend each show. You should carefully evaluate the profiles of attendees to each show to ensure that they meet your qualifications.
In-person product demonstrations
One of the reasons why completing the sales cycle can be so expensive and require so much time is that it can be difficult for the customer to actually test and evaluate the product before making a buying decision. Trade shows are one of the most effective ways to give customers the opportunity to put their hands on your products, either as a demonstration, a presentation, or a sample of the product itself.
One-stop shopping
Another way that trade shows can help to reduce the sales cycle is by offering your customers the opportunity to comparison shop. They can take a look at your products and then compare what you are offering with the products that your competition is offering. Without attending a trade show, your prospects might take weeks to get all of the information they need from different companies in order to make an informed purchase decision.
Attention for your brand
Sometimes, your primary marketing objective is to promote your company and your brand. A trade show allows you to present your corporate identity to a targeted group of customers and prospects, helping to raise your visibility and industry standing. Participation in a trade show can cost less and be far more effective than, say, a national advertising campaign.
Competitive advantage
Trade shows provide a unique opportunity to position your company to its best advantage by learning more about your industry and your competition. At every trade show, you can gain a lot of new information about your industry and how your company fits into the mix by walking the floor. There is no better time to learn about your competition, whether you visit their booth, attend their presentations or pick up their latest literature.
Forward thinking
As marketers continually evaluate new and traditional methods for reaching their target markets and generating sales, it may be tempting to think that trade shows are becoming a thing of the past. But the exhibit industry is rapidly evolving to meet the changing needs of the businesses it serves. As you consider how trade shows can best fit into your marketing mix and serve your business objectives, consider how your company might make changes to better serve your clients in the future and how you can demonstrate those improvements at your next event.
Download the ENTIRE whitepaper here: