CHICAGO – August 13, 2014 – The Tradeshow Network Marketing Group has published four new resource guides on custom, rental, modular and portable exhibits for trade show managers and event planners, available for free download at www.thetradeshownetwork.com. Each 20-page guide features examples of the latest trade show display designs in different sizes and configurations, along with budget guidelines, design considerations, accessories, exhibit terminology, planning tips, marketing, and show services.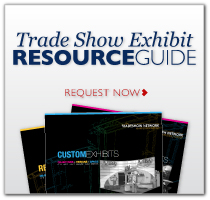 "Trade show and marketing managers face a huge array of choices when it comes to display designs, options and costs, which is why we developed resource guides to provide more information on four different types of exhibits with budget guidelines for each," explains Chris Roberts, president of The Tradeshow Network Marketing Group. "Our goal is to help our clients identify the best, most cost-effective trade show solution for their business objectives, marketing goals, and trade show schedule."
The Custom Exhibits guide showcases designs by The Tradeshow Network Marketing Group, which range in size from a 10 x 20 foot inline space to a 20 x 100 foot island space, with attention-getting features such as a video wall, hanging fabric banners, and backlit graphics. Custom exhibits are one-of-a-kind designs created specifically for the client in keeping with their brand image and budget and are intended to be used for several years at multiple shows.
The Rental Exhibits guide demonstrates how exhibitors can have a custom look without the custom cost, with booth designs as large as 50 x 100 feet. Rentals are often used for one-time events where a company needs to make a giant splash or for overseas trade shows where shipping a custom booth would be too costly. The Tradeshow Network has seen an increase in demand for custom rental booths to provide maximum flexibility for trade show planners, with turnkey pricing that includes the booth, freight and set-up/dismantle services.
The Modular Displays guide features modular exhibit designs that can be reconfigured from show to show, which is best suited for companies that participate in multiple shows where exhibit space requirements differ, for example, from 10 x 20 feet in one show to 20 x 20 feet in the next. By using the same exhibit components and graphics in various configurations, exhibitor companies can realize substantial savings in their overall exhibit budget. Sample designs include lightweight, panoramic, inline and island displays.
The Portable Displays guide covers portable and pop-up displays made with lightweight materials that are easy to carry and assemble. A portable display is much less expensive, which allows new ventures and small- to mid-sized companies to present a professional appearance without breaking the budget. Portable displays also are well suited to smaller events, such as recruiting fairs and supplier events. For the smallest events, a banner stand, pop-up or tabletop display with custom table cover may be the best choice.
About The Tradeshow Network Marketing Group
The Tradeshow Network Marketing Group is a full-service, trade show display company based in Chicago, Illinois, which serves clients nationally and internationally. Products include custom exhibit designs, modular exhibit displays, fabric booths, portable designs, custom rental exhibits, and accessories. The Tradeshow Network Marketing Group specializes in custom rental exhibits, drawing from its own display inventory to configure modular exhibits to fit all budgets and booth sizes, from 10 x 20 inline booths to 20 x 20 and larger island spaces. Their comprehensive trade show services include exhibit design, booth installation and dismantle, shipping and logistics, exhibit storage, exhibit management, online inventory and show management tools for clients, and marketing services such as market research, branding, graphic design and messaging.