The Tradeshow Network Marketing Group announced that it will provide complimentary design renderings for trade show exhibits to qualified businesses and organizations looking to upgrade their 20 x 20+ trade show display. Each custom exhibit design is geared to the client's specific needs, including their objectives for trade show marketing, brand image, budget, and booth space and location.
"A trade show exhibit must represent the exhibitor's business to its best advantage, so we go through a comprehensive planning process before the custom design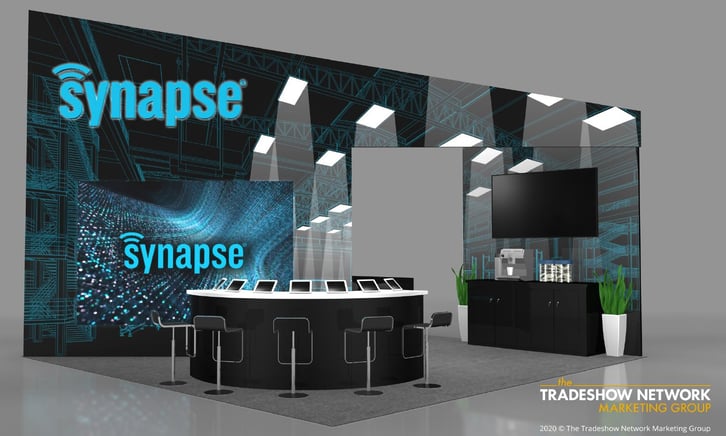 begins," explains Chris Roberts, president of The Tradeshow Network Marketing Group. "First-time exhibitors and those looking to upgrade to larger displays need to understand how their exhibit can be configured for the exhibit space they have reserved, such as an island space or a corner display. Providing a detailed design rendering gives clients the opportunity to visualize the new exhibit and see how it will appear from various angles before the exhibit is built."
The initial design phase includes discussions of how the exhibit will be used and the elements needed for different functions, such as display shelves, storage space, video presentation areas, product demonstrations, or private meeting spaces. The client's ballpark budget plays a key role in determining the exhibit's parameters. The Tradeshow Network's design concept provides 3-D renderings of the exhibit from different views on the virtual show floor.
The Tradeshow Network team recommends starting the process of designing a new booth at least six months before the first scheduled show, if possible, to allow ample time for design, exhibit building, and shipping. In a rush situation, new exhibits can be designed and assembled more quickly, particularly if the exhibit incorporates modular components from the Tradeshow Network's rental exhibit inventory. However, creating graphic panels and other custom elements of an exhibit requires sufficient time to ensure quality.
For free resources on trade show marketing, tips for successful events, and a gallery of display designs, exhibitors can visit thetradeshownetwork.com. To discuss trade show exhibit needs and design options, The Tradeshow Network Marketing Group may be reached at 630-443-7007.
CES 2023 IS THE GLOBAL STAGE FOR INNOVATION
CES® is the most influential tech event in the world — the proving ground for breakthrough technologies and global innovators. This is where the world's biggest brands do business and meet new partners, and the sharpest innovators hit the stage. Owned and produced by the Consumer Technology Association (CTA)®, CES features every aspect of the tech sector.
Why Exhibit at CES?
Attending any industry event represents the chance to meet and mingle with top experts in your field and connect with potential leads and customers. With a huge number of attendees and a significant media presence, the opportunities here are almost unparalleled. For startups, there's another great reason to exhibit at CES: Eureka Park. It's a subsection of the exhibit hall that's set aside specifically for startups. The cost to exhibit is reduced, which means you have the chance to get your brand and products in front of a potentially massive audience, not to mention all the media attention.
Check out the stats for 2022:
Total attendance (including exhibitors and the media): 44.4k in person and 40.1k digitally
Media attendance 3182
Exhibitors 2279
Keynote - social media news touched 1.7Million people
What Should Your Booth Design Focus On?
CES is about showcasing consumer products, but it's also about making a big impression on your audience! With so many exhibiting companies, including some of the world's biggest tech companies and entertainment brands, the competition is not just fierce, it's savage. If you're hoping to exhibit at CES, it's vital to accept this reality. Getting attention is your primary concern, so your booth needs to be bolder and more visually compelling than your competition.
Creative AV Rentals are a must! In addition to using lights to help your booth stand out – Remember, light doesn't mean your trade show display looks like a carnival sideshow. If you want to present a more refined image, consider lights in one or two colors rather than a multi-colored effect.
Make your booth experiential – Give your visitors a multi-sensory experience that allows them to interact with your products as they get to know your brand.
Develop product demos that let visitors get hands-on, and allow them to visualize real-world applications.
If you're exhibiting as a startup and you don't have products ready, work with your developers to build models that mimic the experience of using your products.
Use digital technology to provide an immersive experience – Make your booth feel like a world apart from the rest of the show floor. For instance, an LED video wall can be used to create a huge display that gives the feeling of being in a new environment.
Another thing that's important to keep in mind is that due to the high media presence, it's more than customers you need to impress. If you have an interesting story to tell, the potential to get covered by the press is huge! If you're hoping to make a media splash, put together a press kit with a press release, company information, and other essentials.
CES Means You Go Big or Go Home!
The CES conference is the biggest tech show of the year, well-attended by the industry's movers and shakers. If you're a smaller company or just starting out, it may feel impossible to get any attention, but with a great product and a well-designed booth, you're definitely in with a chance.
If you're planning to exhibit at CES, your products are the most important asset you'll have at the show. But your trade show booth is important too. A great exhibit helps you attract visitors and gets your products seen. It makes good sense to choose a trade show exhibit company that knows what they're doing and that's familiar with the venue. Venue knowledge plus local industry contacts puts you in the best possible position to make a big impression at the show.