Trade shows and exhibit booths are the perfect vehicle in so many ways when it comes to promoting your company and snagging more customers. With your exhibition materials created, you will feel poised, ready for the action and the floods of delegates that will stampede their way toward your booth. Except they won't. There is no tougher an audience than the hordes of delegates, veterans of exhibitions from years gone by. The hardened delegate is constantly looking for something new, something big and YOU need to be the next big thing.
Into the lion's den with a roar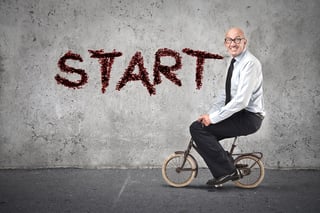 This is perhaps unfair for newbies to the exhibition circuit but, you do need to be aware that some of those delegates passing you buy will need persuading/cajoling over to your booth. And the HR manager dressed as a fluffy duck is not going to cut it. You need to be vibrant. You need to be modern. Try these ideas for starters:
Tip 1 – Think 'inbound'.
You have footfall walking past your booth every day you are at the exhibition. You need to capture attention and lure them on over. There are all kinds of way of doing this:
Create unique signage that gives a snippet of what you do
Invite them over for coffee and the use of your iPads
Be ultra-modern and cutting edge with your own app for the conference that does something amazing!
Tip 2 – Be creative
It can be tough competing against all the other hundreds of booths that may be offering something similar to you. Delegates can feel bamboozled too but the whole point of the event is to experience something new and different. Frankly, there is nothing quite like a competition to attract people over – and then you can engage with them.
But be creative; the 'business card in the glass vase' is all well and good, but it is really engaging with people?
Tip 3 – Social media
There are all kinds of reports and articles that inform us we are all connected to our smart phones and tablets virtually every hour of the day. And people rarely log off when they are at a conference too.
So, harness this. The conference or exhibition may have their own hashtag campaign running on social media thus make sure that you piggy back on to this. You can also create your own and work the boards to get people to talk about you on social media (link it to your competition too!)
Tip 4 – Get people to share their location and who they are with
There are all kinds of apps that allow people to log on and show their location via GPS. Facebook do it – you've seen the statuses, "I am at the Coffee Shop, in East London with Bruce Willis". There are other apps too – such as Foursquare although its popularity may have waned in recent years.
You could also encourage people to be part of a Periscope session, where live sessions are broadcast to your Twitter followers about where they are, what they are doing etc.
Don't forget that being spontaneous is hard work so have some searching questions or discussion topics for the day to help people out.
Tip 5 – Do some homework in your company too
Unfortunately, people tend to see their exhibition presence as a standalone activity but, you can leverage far more from it than what you thought. Start creating a buzz about you being them a few weeks before hand, and use it as much as possible afterwards too.
Fill your social media accounts with just how much you are looking forward to it, and then with the buzz you got from it.
Tip 6 – Target offers
This is about offering the delegates at that particular conference an offer that is only available to them and at that particular point. It can be tough thinking something up, but you know your own margins and, what you can and cannot offer.
However, it needs to be more than free postage and packing… maybe a real discount providing they sign up to your newsletter? It is all about creating longevity from these new contacts and garnering sales in the future.
Tip 7 – Chairs
As high tech as some of these ideas are, you can also play to the weakness of every delegate – tiredness, sore feet and just somewhere to sit down.
Many booths will have all kinds of things to entice people over but, inviting people in to take the weight off their feet and check their emails whilst sitting down is a great way of connecting and engaging people. That said, there is a balance to be struck between people who will sit for hours with no real interest in what you are doing, but also pouncing on people with an aggressive sales talk.
Which of these tips will you try?
Guest Blogger: Colour Graphics have been supplying printed materials for all kinds of businesses to cement their place in the busy exhibition hall, from roller banners to flyers.