Why do you spend time, money, energy, resources on events? Going into your events, do you know what results you are pursuing? Common goals include increased event registration, increased brand and/or market leadership positioning, and increased revenue generation. Often, achieving these goals is talked about in terms of return on investment (ROI). But for events, I believe we should instead be looking for a "return on your moment" (ROM), which encompasses more than just revenue measurement.
This five-step approach can help you ensure a high ROM:
Strategizing – ideating, understanding the WHY, creating event goals
Organizing – creating and executing a start to finish plan
Marketing – promoting, selling tickets, building excitement
Executing — day of event, how things run, get it done
Follow-Up – externally and internally continuing the conversation, evaluating your program and strategy
Events should be the muscle in your marketing tool kit, so think about your event follow-up as the equivalent to a fitness program's recovery plan. When you work with a fitness trainer on long-term strength and conditioning goals, you'll have cardio days, weight training days and recovery days. The recovery days encompass a prescribed routine of rest, mindfulness and non-strenuous activity, all contributing to strengthening your muscles over the long term.
Do you have a specific post-event follow-up/ recovery plan? Just like in fitness training, your recovery plan needs to be part of the plan, not an add-on. Your follow-up plan:
Must be based on event goals — like every other part of your strategy.
Must be developed during the event organizing stage. Creating and executing your start-to-finish plan includes planning your external and internal post-event communications and action items.
Should start before the event day ends. For example, view social media as an event-day follow-up tool. Recognize sponsors, promote speakers, and amplify attendee satisfaction, using their pre-designated hashtags or social media handles to speak to your audience on- and off-site.
Think Outside the Survey
The most commonly executed follow-up tool is the post-event survey. It is certainly a great tool to understand your attendees' motivations, concerns and experiences. But too many people stop there. Make the survey a part of the initial post-event outreach. Use email marketing tools (some low-cost options for start-ups or small businesses include MailChimp, Constant Contact and EMMA) to create a sophisticated post-event communication that shares information as well as collecting it. Information shares can include:
Gratitude
Content/session recap
Resource links
Testimonial statements
What's Next (events or action items)
Keep it brief, but tantalizing. Use photos, text blocks and dividers to engage your reader and leave them wanting to know more about your product, other events and how they can get or stay involved.
Here's a great example of one of my clients' latest post-event communications. It includes gratitude, a survey link, a few visual event highlights, and other ways the target audience can further engage with the Center.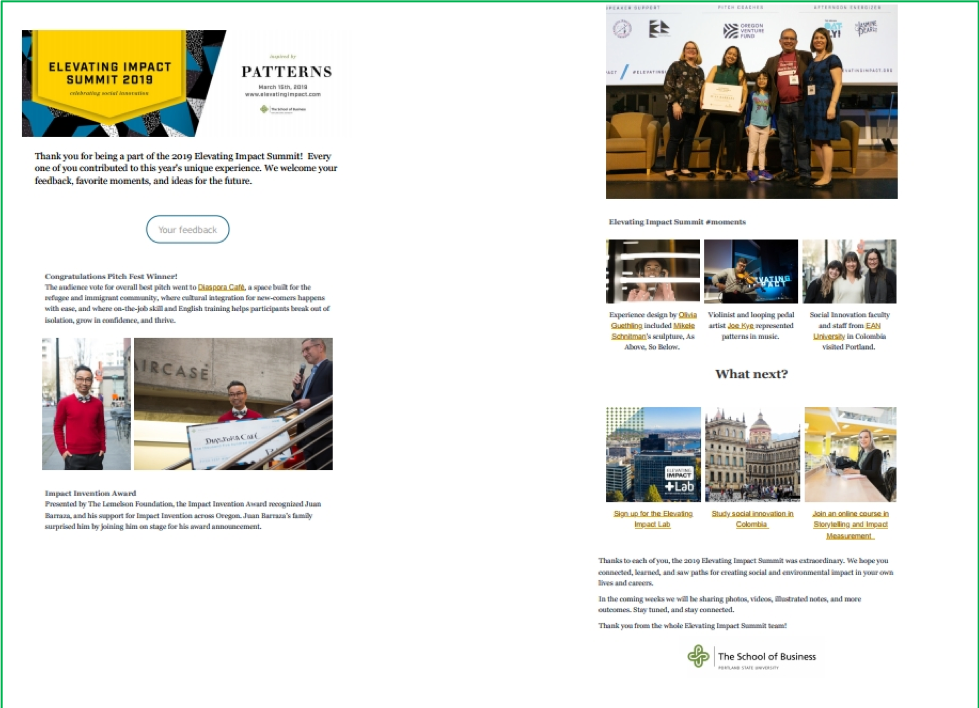 Target Audience Reigns Supreme
In the first four steps of planning, your target audience provides a strong WHY, so don't lose them here. Who ever said follow-up is a one-size-fits-all plan? To keep people engaged, speak to them in their terms. Creating multiple follow-up strategies ensures you are engaging all of your target audiences. A few common event audiences include:
Sponsors
Speakers
Volunteers/Staff
People who registered and didn't attend
People who were invited, but didn't register
Here's a sample sponsor post-event communication from a recent event. Note that it doesn't include a survey. This client used their event to engage potential advertisers, so their follow-up message shows the event's success, states next steps that benefit the sponsor and a personal follow-up, "I'll be in touch soon."
Celebrate Internal Stakeholder Feedback
There is great value in the input of internal stakeholders, so don't skip the post-event feedback from your own team, the team(s) affected by your event (sales, marketing, development, creative, logistics, etc.) and even your event vendors. I do a pros, cons and changes whiteboard session with each of my clients. As humans, we spend too much time looking at what didn't work, what we need to do better and what we need to change next time. Don't forget to recognize what you and your team did well.
Success comes when people act together; failure tends to happen alone. ~Deepak Chopra
From the post-event feedback, you can create task assignments to continue the conversation while planning any follow-ups or future events. I often use all of this information to create a full post-event analysis that includes numerous variables, even things like weather and day(s) of week, as well as a written version of the positives, negatives and items to change and information from external stakeholder feedback.
Elyse Stoner founded Fresh Perspective Consulting to help people increase their events' ROM (Return on the Moment) through strategic event marketing initiatives. Millions of people have attended the educational programs, fundraisers, business conferences, sporting events and concerts that benefitted from her hands-on marketing, event strategy and fan engagement expertise. Follow her on Twitter and Instagram at @WeCoachFresh. https://www.corporateeventnews.com/event-follow-makes-dollars-and-sense