Here's how to set and enforce new protocols as you bring attendees back to in-person gatherings. Enhanced health and safety protocols became the norm at meetings and events in 2020, and many are here to stay. What will you require of suppliers and attendees this year and beyond? At the outset of the planning process, you should have a health-safety plan in place that outlines what your organization expects of everyone involved in the meeting.
During a slow 2020, Kari Wendel, global vice president of strategic customers for CWT Meetings & Events, worked on developing a health-safety template for clients. "It was a lot of work, but absolutely worth it," she says. "We needed the strategy internally, as well, so there was a double benefit." The Events Industry Council, the umbrella organization for more than 30 associations, also took on this task, releasing a best-practices guide from its APEX Covid-19 Business Recovery Task Force in August. The EIC's document is a framework that planners can use to shape their own health-safety strategies.
The big shift here is that people are being asked to take responsibility for their own health. "There's much more of a focus on anyone involved in the meeting, especially attendees," says
Liz Warwick
, an industry consultant and chair of the EIC's Meeting and Event Redesign Workstream, which supports the task force. "If you want to create a secure health bubble, you have to put everybody who interfaces with attendees into that bubble."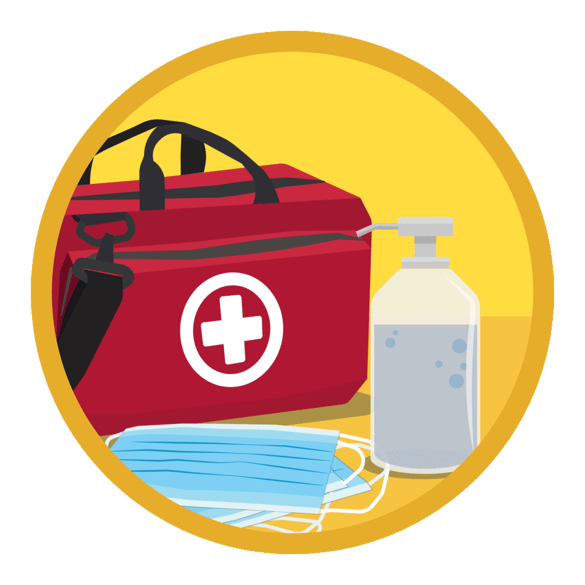 What's in the Plan?
Some measures are dictated by local, state and national health regulations. It's up to host organizations to focus on personal responsibility. Ideally, decisions about health protocols should be made by committee, suggests Warwick, who was a corporate planner for Liberty Mutual Insurance and Coca-Cola before going independent. "This is bigger than the planner," she says. "The team should look at the plan through different lenses, such as legal, financial, PR, internal communications and risk management."
Among questions to address, as detailed in the EIC document:
What will you expect of attendees from the moment they leave their homes to the time they spend at the meeting venues?
What kind of health documents, if any, will people be required to produce?
Will temperatures be checked before attendees can enter the meeting space?
How will food and beverage be handled? Will meals be staggered? Will coffee breaks be staffed?
Will you redesign the event's traffic flow?
What is your contingency plan if you have to cancel or move the meeting?
These questions and others should be evaluated and agreed upon by the team, including whether the event should take place in person.
"It's really redesigning how meetings are done," says Warwick.
Make It Flexible
You might have thought in the past that your organization's basic event practices were set in stone, only to have 2020 teach the lesson that every plan can be changed. Building in the ability to move any meeting at any time is an important element for your new plan. "What could happen that would make you change your event from hybrid to all-virtual? Or from hybrid to fully live?" asks CWT's Wendel. "It's now about being nimble, more agile." Prior to 2020, Wendel's group used forecasts to determine the appropriate number of staff for each event, checking in with clients quarterly or monthly. "It's weekly now, and sometimes even subweekly, because the ground is constantly shifting," she says. "And those meeting protocols have to change, too." All the moving pieces, she notes, have doubled and even tripled the amount of communication each event generates, as layers of complexity have been added to the process.
All in Agreement
The final piece is getting all stakeholders to sign off on the plan, communicating it to everyone involved and getting them — including attendees — to agree to follow it. "First you have to have the executives at your organization buy in, because they ultimately are responsible for the brand exposure, whether it's an association or a corporation," says Warwick. "They're responsible financially and from a legal perspective. Get them to agree to your approach first, and then broaden it." Once your plan is in place, all venues, subcontractors, staff, attendees — anyone touching the event — should read it and sign on, too. It's also wise to require a commitment to the event's code of conduct. For guidance, refer to the EIC's sample code, which can be tailored to your needs.
Enforce the Rules
Event hosts need to be ready to enforce their protocols, or else the plan is useless. It takes empathy to deal with uncooperative participants, notes Mark Herrera, director of education and life safety at the International Association of Venue Managers. "Remember that if anything is directed at us, it really isn't us personally, it's who we represent," he says. "The individual who uses great empathy in handling the situation will succeed."
A gentle approach might mean saying, "I can totally understand, but we have to take all of these necessary precautions," says Herrera. "In order to protect people and to continue having events, this is something we have to enforce. We want to set the stage for successful events moving.
Guest blogger: Sarah J.F. Braley, Managing Editor. Sally oversees the print editions of NMG's magazines, along with covering key beats. Sally joined M&C in 1994 as a senior editor, after spending eight years at New Jersey Monthly magazine. She holds a master's degree from the Medill School of Journalism at Northwestern University and a B.A. in Journalism (with minors in French, Greek and psychology) from the University of Massachusetts at Amherst. She grew up in and now lives in New Jersey with her family and crazy dog. A book lover who has mastered the art of walking while reading, she finished 80 books last year alone.