ONE INDUSTRY, 40+ SEGMENTS, ONE SHOW The entire spectrum of the foodservice industry calls NRA Show® their own. From commercial to non-commercial, chain to independent, QSR to fine-dining—as well as supermarkets, convenience stores, dealers and distributors—NRA Show is the only event where every segment comes with BIG BUDGETS, BIG IDEAS, and BIG PLANS—plans to learn, connect and spend.. We hope you have a great and extremely productive show - we are excited for all our clients that will be attending but lets face it - you can't just spend ALL your time in your booth - get out and enjoy the sites!! Here is a GREAT way to see our Chicago city during the NRA show and it is FREE!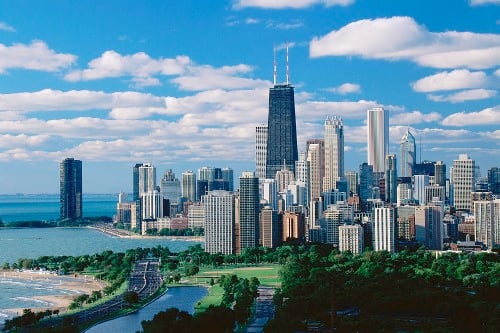 Completely FREE and uniquely customized to your own interests, Chicago Greeter is a year-round service that offers visitors the opportunity to explore Chicago on a free guided walk of the city.
With 77 distinct communities in Chicago, there's no limit to what you can discover – from rich histories to diverse cultural traditions, and hidden treasures to local landmarks. Taste, shop and explore the neighborhoods with a friendly local as your guide and let them introduce you to the city in a whole new light.

See sides of the city you may not have adventured out to on your own, while learning to navigate the streets and public transportation system and taking away a truly authentic Chicago experience.

CHICAGO GREETER: HOW TO REGISTER

Visit the website ChicagoGreeter.com at least 10 business days before you plan to be in Chicago
Register for a solo trip or for a group of up to six people and select neighborhoods or interest areas of your choice
Receive email confirmation that you've been paired with a Greeter

On the day of your visit, your Greeter will welcome you downtown then take you on a 2-4 hour sightseeing walk. Set off by foot and travel to the surrounding areas by bus or train with a transit pass provided complimentary

This incredibly popular service is offered in 10 languages and covers over 25 neighborhoods and 40 interest areas. Chicago offers something for everyone – get an insider introduction with personalized itineraries that can range from:

Architectural Highlights
Explore The Loop – birthplace of modern architecture – and see the evolution of the skyscraper. Discover ornate mansions in Wicker Park, gothic architecture in Hyde Park and gold-domed churches in Ukrainian Village. Or see the work of legendary architects in Bronzeville.

Fun for Families
Play with public art such as the splashy Crown Fountain or Cloud Gate (also known as 'the Bean') in Millennium Park or the iconic Picasso in The Loop. Connect with the great outdoors at a nature preserve in North Park or check out the animals in the always-free zoo and farm in Lincoln Park. Let loose at Navy Pier and the Chicago Children's Museum in Streeterville. Take snapshots of the wooden scoreboard at the ballpark in Wrigleyville.

Fun for Foodies
The city's culinary scene is hotter than ever! Check out the trendsetters on "Restaurant Row" in the West Loop, sip on craft cocktails in Logan Square, try local cheeses at a farmers market, or seek out classics like the Chicago-style hot dog. Discover ethnic eats like the jibarito in the Puerto Rican stronghold Humboldt Park and the delicious diversity of West Ridge, from Kosher bakeries to Indian/Pakistani storefronts on Devon Avenue.

Gay Chicago
Chicago is proud to be home to one of the world's most active and welcoming lesbian, gay, bisexual and transgender communities. Explore the many LGBT-friendly businesses, restaurants and bars in Boystown (part of Lakeview) and Andersonville. Visit the Center on Halsted, the largest and most comprehensive LGBT community center in the Midwest.

Ethnic Chicago
Immerse yourself in vibrant cultures in ethnic enclaves such as Chinatown (the fourth largest in the U.S.), the heart of the city's Mexican American community in Pilsen and the bastion of Greek heritage that is Greektown. Visit Southeast Asian shops, grocers and restaurants on Argyle Street in Uptown, or head to Milwaukee Avenue, the heart of Polish Chicago. Discover the Swedish roots of Andersonville and the German-American roots of Lincoln Square and Wicker Park, now home to trendy boutiques and restaurants.

Greeter's Choice
Not sure what to choose? The most popular type of Greeter visit is a one-of-a-kind experience that lets your Greeter choose from his or her must-sees in Chicago. Leave the sightseeing up to them and enjoy the ride.

Chicagoans love their city and want to show it off! Through Chicago Greeter, a team of over 200 enthusiastic volunteer residents are ready to let you in on their secrets, share their favorites and show you around just as if you were a visiting friend.

CHICAGO INSTAGREETER: AN IMPROMPTU OPTION

InstaGreeter gives visitors the stellar Chicago Greeter experience without the need to pre-register. These FREE hour-long guided walks are perfect as a last minute alternative if you didn't register in advance or don't have time for a full Greeter visit. Just drop into the meeting locations during open hours:

The Loop InstaGreeter
Chicago Cultural Center: Randolph Street Lobby, 77 E. Randolph
Offered year-round. Departing every half hour on Fridays/Saturdays 10am-3pm and Sundays 11am-2pm.

MILLENNIUM PARK GREETER: FREE PARK GUIDES

Experience stunning architecture, beautiful landscapes and innovative and interactive public art on a FREE guided walk of Chicago's 24.5-acre, award-winning Millennium Park. Catch the Millennium Park Greeter (open seasonally) twice daily – no advance registration required.

Millennium Park Greeter
Chicago Cultural Center: Randolph Street Lobby, 77 E. Randolph
Offered daily from May 27 to October 10, 2016 with departures twice a day at 11:30am and 1pm.

Ready to start exploring Chicago? You'll find all you need to get a head start on your planning with our interactive Neighborhood Guide & Map.

Related Listings

Related Articles
If you have any other tips - please forward them to us for next year's blog post!! In the meantime, if you need help with rental trade show exhibit in CHICAGO - please give us a call!