From a spaceplane to a color-changing car,
CES 2022
not only brought to light innovations from around the globe at its in-person and digital event, held Jan. 5-7 in Las Vegas, but is also likely to serve as a blueprint for producing large-scale trade shows this year.
The world's most influential technology trade show welcomed over 2,300 exhibitors, including
900 startups launching innovative products in digital health, artificial intelligence, automotive, NFT and digital assets, just to name a few.
Tens of thousands attended the show and, by all accounts, there was strong engagement on the showfloor.
The show's footprint extended across 11 venues, including the West, North and Central halls of the Las Vegas Convention Center, Venetian Expo and Aria, among others. Although the attendance was lower than previous years, tens of thousands of industry members from 119 countries participated, and by all accounts, engagement on the showfloor was strong.
"CES 2022 furthered global business this week, as our industry gathered – many for the first time in two years – to collaborate, forge partnerships, make deals and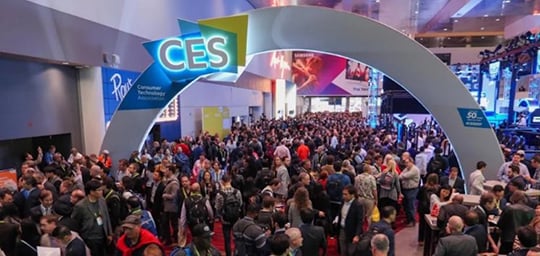 advance the economy," said Karen Chupka, executive vice president, CES. "After two years of not being able to connect in person, we were thrilled to welcome our industry back together again face-to-face to experience the latest innovation at CES 2022."
Amid the rise of Omicron and exhibitor cancellations during the holidays, the Consumer Technology Association (CTA), which owns and produces the show, decided to end it a day early but still go ahead with a physical event. "We talked to medical advisors. We've put the right measures in place and we knew that 90 percent of companies were still there and wanted us to hold this event," Chupka explained. "It shows the value of trade shows that over 2,300 companies came, and it was a great show for them."
Strict Health Protocols
All exhibitors and attendees had to be fully vaccinated and were required to show digital or physical proof of their COVID-19 vaccination, with no waivers or exceptions. U.S. attendees were encouraged to use the Health Pass feature of the CLEAR app. As an added layer of protection, attendees received BinaxNOW COVID-19 Self Test kits during badge pickup so that they could self-test before entering the showfloor, although testing wasn't required.
"We decided to ensure that people had access to self-tests to be able to test in their rooms," Chupka said. "We also moved the badge pickup locations off-site because we wanted people not coming to the convention center if they were not feeling well."
CES 2022 had a plethora of health and safety measures in place, including:
Masks were required in all indoor areas and on buses and shuttles;

Attendees were encouraged to put a sticker on their badge indicating their preferred mode of engagement: green for handshakes, yellow for elbow and fist-bumps, and red for no touching;

Potentially crowded areas were redesigned with social distancing in mind;

Food was served in containers;

Lots of hand sanitizing stations were available;

Free RT-PCR tests for attendees who required a test to return to their international destination.
"I feel like it's pretty safe," said Cameron Davidov, exhibitor with New York-based Taste Boosters, which was introducing its flavor-improving spoon at the show. "We launched at the end of 2020, so once we were accepted into Eureka Park, we were very excited to go, and we're glad we came."
Manageable, Exciting Showfloor
Smaller crowds made it easier to get up close and personal with high-profile exhibits like the Dream Chaser spaceplane by Sierra Space or to try the Owo vest that lets you feel in the metaverse.
"You can get into anything," said attendee Ted Oiler with Ohio-based Kelly Technology. Initially concerned about how productive the show would be, he appreciated shorter lines and the opportunity for deeper dives with exhibitors. He added, "It has been good. Real relationships are made face-to-face."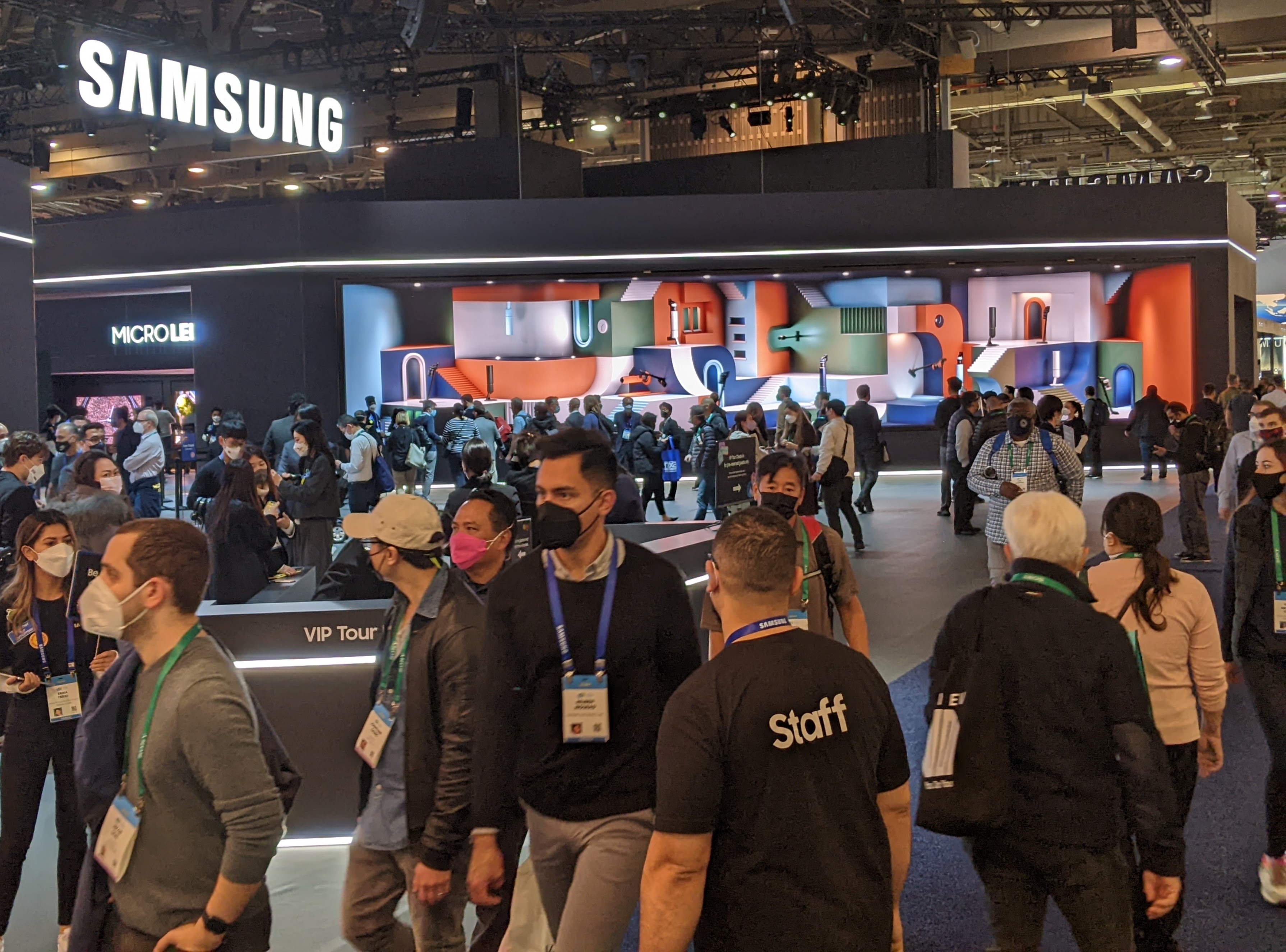 Mind-blowing exhibit design still is the hallmark of CES. At the BMW pavilion, attendees could not only take a video of a color-changing car but also create unique digital vehicles in the My Modes immersive art installation set to the music of Hans Zimmer. Designer Paola Mera explained: "Your presence emits one-dimensional particles and reveals the surreal vision vehicle unique to you. It's produced by a generative system so no two experiences are the same."
At the Hyundai MOBIS exhibit, attendees had the opportunity to step into M. Vision Town, the company's metaverse space, and let their avatar "test drive" each concept vehicle's capabilities. "CES has been busy for us," said Exhibitor Erik Alvarado. "People are blown away by our eco-friendly mobility technology and want to know the cost and the release date."
Blueprint for Trade Shows in 2022?
Industry leaders are looking to CES as an indicator that large-scale events can be held safely and effectively under current conditions. U.S. Travel Association President and CEO Roger Dow stated, "By staging an influential live event that safely convenes thousands of global professionals across the technology, business and political spectrum, CES is nothing short of a model for how business trade events can and should take place in 2022. It is our sincere hope that other professional event organizers will follow their lead this year."
Several large trade shows, including National Retail Federation, World of Concrete, Surf Expo and PCMA Convening Leaders have already run or are set to return in January with proper safety protocols in place. SHOT Show, also scheduled for January in Las Vegas, is currently on track to have the biggest show in its history, according to show management.
Guest Blogger: Anna Huddleston - https://www.tsnn.com/news/ces-first-show-many-kicking-2022-health-safety-mind