The trade show industry has come roaring back, and CES, which kicks off on January 5, 2023, at the Las Vegas Convention Center, will be no different. The Consumer Technology Association ( CTA) reports that CES 2023 will likely be the largest in-person, audited business event in the U.S. since early 2020. The show footprint is on track to grow more than 40% from CES 2022.  "People are excited to head back to Las Vegas for CES 2023, and it will rock," Gary Shapiro, President and CEO of CTA, said. "We are optimistic we can hit our attendance goal of 100,000, which would make it the largest independently audited post-pandemic tech event. This year's show will feature keynotes from tech visionaries and the opportunity to see and touch the tech that's shaking up industries and changing our lives for the better."
The last time CES broke a six-figure attendance was in January 2020, weeks before the world came to a screeching halt due to the COVID-19 pandemic. In 2021, still in a COVID standstill, the show was entirely virtual. Then in January 2022, as the country dealt with a surge of the omicron variant, only 44,000 were in attendance, and CTA made the difficult decision to cut the show short by a day. 
CES and
Trade Show Executive
accolades go hand-in-hand. CES has been ranked in the Gold 100 13 times for its 2007 to 2019 shows and every Gold 100 edition except for the 2022 edition, which ranked 2021 shows. CES was held virtually in 2021, so that edition didn't qualify for the Gold 100. CES has also ranked in the Fastest 50 three times for its 2018, 2012 and 2011 show years. As of now, three keynotes have been announced: John Deere, plus AMD and BMW will offer pre-show keynotes.
For this 2023 CES Show, The Tradeshow Network Marketing Group announced that it will provide complimentary design renderings for trade show exhibits to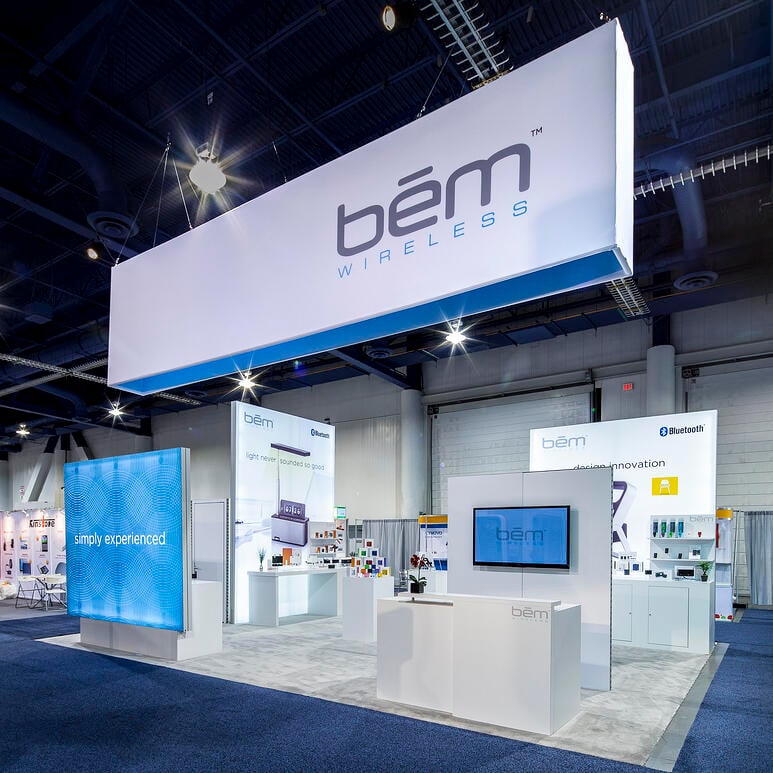 qualified businesses and organizations looking to upgrade their 20 x 20+ trade show display. Each custom exhibit design is geared to the client's specific needs, including their objectives for trade show marketing, brand image, budget, and booth space and location.
CES 2023
What is there to look forward to for CES 2023? A footprint growth of 40% indoors and out, with more than 200 sessions featuring over 750 speakers. CES takes over the 2.5 million-square-foot Las Vegas Convention Center and spills over to other venues throughout Las Vegas, including the Venetian Expo and C Space at Aria.  This show sets the tone for the technology industry with news, product announcements and trends, and offers a glimpse of innovations to be rolled out. Attendees can expect to be wowed by new TVs, laptops, robots, electric, self-driving cars, digital health care, sustainability and the metaverse.
At this juncture, there are more than 1,300 confirmed exhibitors, a goal of 100,000 attendees, with one-third traveling internationally to attend, and four curated floor tours, including automotive, startup, health care, and new for 2023 the metaverse. Excitement for the show is building. In mid-October, over 100 exhibiting companies, more than 1,000 attendees, and global media gathered at CES Unveiled events in Paris and Amsterdam.
Health and safety will continue to be a focus of CES, and attendees are encouraged to get a flu shot as well as COVID vaccine and booster as well as a home self-test for COVID before arriving in Las Vegas. On-site, masks will be encouraged but not required on the show floor, and self-tests will be available. In addition, aisles will be widened, and some convention center doors will remain open to help with mitigation. 
Global brands, including Abbott, Amazon, AMD, BMW, Google, John Deere, LG, Qualcomm, Roku, Samsung, Sony, Stellantis and Verizon have committed to CES. They will be launching new products and displaying innovative technologies.
Sessions will be cutting-edge and not limited to just the show floor. Advancements in transportation and mobility, digital health, metaverse and sustainability presented by the leading visionaries are sure to create a buzz. And new in 2023 will be sessions focused on the creator economy, including NFTs and Web3.
Coinciding with the important trend of being hybrid, a digital experience will also be offered. It will include more than 75 conference sessions and keynotes, digital activations, and a network of CES exhibitors, media and attendees.
The CES 2023 tracks include: 
Transportation and Mobility
The automotive sector will be bigger than ever at CES 2023, with nearly 300 exhibitors in a sold-out West Hall. The exhibits in West Hall will cover almost 25% more floor space than 2022, featuring the latest in self-driving tech, electric vehicles and personal mobility devices.
Digital Health
Companies including Abbott, LOTTE Healthcare, MedWand Solutions and Omron Healthcare contribute to a larger and more diverse digital health category. Attendees will discover the tools and technologies lowering costs, improving health equity and saving lives as patients seek ways to empower themselves and take control of their care and well-being.
Web3/Metaverse
A new Web3 category will feature activations from SK and others, focusing on how associated technologies — including those for metaverse and cryptocurrency—can revolutionize how we live, work and play in an immersive, inclusive and distributed virtual universe.
Sustainability
Sustainability will be front and center for hundreds of exhibitors at CES. Global brands like John Deere and startups will demonstrate how tech innovation can conserve energy and increase power generation, address food shortages and create more sustainable agricultural systems, improve resilience and recovery from natural disasters, power smart cities, support access to clean water and more.
Human Security for All
Partnering with the World Academy of Art and Science, CES will spotlight how technology helps people tackle the world's most pressing problems. Support of the United Nations efforts to advance Human Security for All will be a theme throughout the show, from conference programming to keynotes highlighting innovation and products improving the lives of people around the world.
  Visit CES.tech for all CES 2023 updates and registration details. Reach the CES team at (703) 907-7600 or via the contact page. https://tradeshowexecutive.com/ces-2023-100000-in-attendance