Let's face it - exhibiting at a trade show event can be expensive. So I am providing you some tips to help keep some of the overall costs down or at a minimum to maximize your trade show booth experience.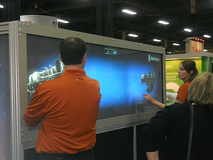 Here are some of my ideas:
1. Makes your booth look HUGE by renting two 10x10 spaces ACROSS from each other in a major aisle on the corner. That way you can gather people from both sides and you only need to purchase/rent two 10' booths.
2. Use only personable trade show booth staff personnel that engage with enthusiasm - don't send the people that do not want to be there.
3. Stand out - a good way to easily identify a company is to have your trade show staff color code their attire. Wearing the same color tailored shirts, slacks and even sneakers are ways of branding your trade show booth staff.
4. Be consistent with your messaging and brand and everything you do.
5. Do something to attract visitors to your trade show booth. Use presentations, live presenters, demonstrations, anything that is interactive and interesting and possibly fun!
6. Offer privacy and comfort on the trade show floor.
7. Always have a plan and set of objectives clearly mapped out prior to the event.
8. Always collect as much information from the prospect that you can while at the show.
9. Always follow-up on your leads - can be a variety of ways.
10. Always conduct a post-event meeting with your team to see how you can improve upon your trade show results next year.