What methods (s) do you use or plan to use to collect and follow up on leads from trade shows?
Here is a chart from the
"Future of Events," BtoB, September 2010.
We do not recommend just collecting business cards for follow-up contact information. We recommend an electronic means or even better a survey form so that you take advantage of collecting detailed information (or as much as you can) while you have that person in front of you. Yes - it is a trade-off in terms of spending too much time with one person, but there can be a balance!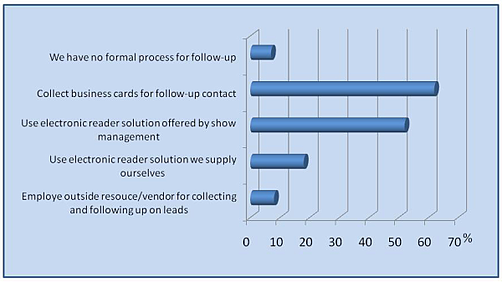 We strongly encourage our clients to have a plan in place before your event begins on how you are going to identify and track key prospects. This way when the show is over you can fairly easily conduct a follow-up call on those leads that are most important.
Most clients make the mistake of trying to call everyone - you just cannot do it! Call the important leads (if a survey is used then you can easily identify who is a HOT lead) and maybe use an email or direct mail piece to nurture the other leads through your sales process.
This is a face-to-face meeting at your booth with this person - take advantage of collecting the most information that you can and follow-up appropriately.