Investing in promotional products is a wise decision for any business owner, whether they prefer distributing personalized water bottles or handing out pens engraved with a company's logo. These products can not only provide exposure for a business among its preexisting consumer base, but they can also spread brand awareness to customer groups that have never heard of the company.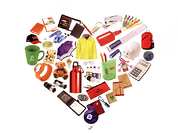 While there are many benefits to providing promotional products, one of their greatest draws is their ability to leave a long-lasting impact on recipients. Some consumers may quickly lose products, but others keep their items in their homes, offices and cars for extended periods of time. Although they may not be aware, these consumers are being exposed to company logos every time they enter these spaces or use these products.
Promotional products stay in homes for several months
Whether consumers have been given promotional calendars or they've received t-shirts with a company logo, they are likely to keep the item for several months, according to research conducted by the Advertising Specialty Institute. On average, recipients kept promotional items for six and a half months, though the length of time was typically connected to the perceived usefulness of the object. For example, the study indicated that promotional calendars were kept for the longest length of time - typically nine months - while writing instruments were kept for the shortest, at just over five months.
A separate study conducted by the Promotional Products Association International found that a large majority of recipients had at least one business product in their homes, with 91 percent of survey respondents indicating that they had at least one item in their kitchen alone. Because these products are kept for extended periods of time, companies have a greater chance of spreading their brand among consumers in a variety of demographic groups.
Long-lasting products lead to greater exposure
Products that consumers perceive to have greater use will last much longer, the ASI Global Advertising Specialties Impressions Study found. According to the findings, 77 percent of Americans keep distributed items because they believe them to be useful. As more Americans keep these products, businesses are ensuring their advertisements are seen over and over again. Even if items merely sit on a desk or along the dash of a car, each time the consumer or friends of the consumer see the logo, they will be left with a lasting impression of the brand.
Nearly 86 percent of individuals polled worldwide reported that they remember the company whose item they received, according to the study. This means that as items remain in an individual's home - even if the person does not interact with it on a daily basis - they will not forget the brand on the product. This is especially true for items that may see heavy traffic, including office items that could be displayed in an individual's workspace, clothing products or bags that a consumer could tote to a number of locations, and drinkware that could be easily carried around.
Consumers pass along items they do not use
While not all consumers keep the products they are given, a substantial number passes products on to other individuals. The ASI study found that 63 percent of people in the U.S. who were given an item they did not want gave the product to somebody else. In this case, the product has already doubled its exposure, which may lead to more business for a company. Passing along items may also allow the item to spread to a new demographic of individuals not initially targeted by the brand. For example, if a college student received an item from a career fair - where the company was likely targeting younger individuals - and gives it to his or her parent, the brand has effectively extended its reach into two completely separate groups, both of which are likely to remember the business moving forward.
Guest Blogger Myron Corporation. For more than 60 years, Myron Corporation has been a global leader in the personalized business gifts industry. Known for the quality of our products, expertise, service and promotional value, we have helped over 1 million businesses strengthen and grow relationships through the use of business gifts.