For companies not accustomed to advertising or trade show exhibiting, turning a basic marketing message into an ad or a trade show display that can draw attention can be a challenge. It may be tempting to just do it yourself rather than pay for professional writing and design, but making the right impression is worth the extra investment. You can only stand out from the crowd when your exhibit, ads and other promotional materials work together to reach the right audience with the right message and brand image.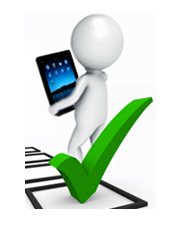 In fact, advertising in a trade publication in advance of a show can help drive traffic to your booth. According to research conducted by the Center for Exhibition Industry Research (CEIR), 63 percent of trade show attendees surveyed indicated that industry publications were an important source of information in choosing which shows to attend, right behind emails from colleagues and word of mouth.
When the American Roller Bearing Company wanted to raise awareness of their products for heavy-duty industries like steel, rock crushing and mining, they decided to attend trade shows where their customers – heavy equipment manufacturers – were exhibiting. The company sells through distributors so their objective was not to make direct sales, but to reinforce their brand and to demonstrate their commitment and expertise in each industry.
For their first year at a major show in the wind energy industry, ARB reserved a small 10 x 10 space and used rental exhibit materials. According to Mark Ader, "I was looking for my booth and walked right past it." That experience was a turning point to convincing him that ARB needed to "cast a bigger shadow" at trade shows. Their competitors had larger, more elaborate exhibits, so ARB worked with The Tradeshow Network Marketing Group to develop a custom 20 x 20 booth design that would increase the impact of their visuals and differentiate their company from their competitors.
"You should set measurable objectives for each show you select and focus on just a few key messages that will appeal to that specific audience, whether for visual panels for your exhibit or an ad in a trade journal or show catalog," explains Karin Roberts, director of marketing for The Tradeshow Network Marketing Group. For American Roller Bearings' 100th anniversary, The Tradeshow Network Marketing Group created a visual timeline depicting ARB's growth through the years. With the anniversary behind them, the exhibit visuals now highlight products specific to each industry.
"The new booth design has really made a big impact," Ader explains. "We are privately held, so it is important that our exhibit conveys the size and strength of our company. Our customers are dealing with very large corporations who make decisions on which roller bearings to use in their equipment. We need to be recognized as understanding and meeting the industry's needs."
The next step in conveying a stronger brand image was to rework the professional journal advertisement that ARB had created in-house. The Tradeshow Network Marketing Group worked with them to incorporate their historic logo with contemporary visuals of the specialized roller bearings they offer and streamlined messages on their products, services and quality certification.
CEIR research found that 70 percent of attendees rely on traditional media such as exhibition catalogs for event information, with only 24 percent using mobile devices for that purpose. An article on cmo.com, 13 Major Marketing Trends for 2013, reinforces the importance of print media and TV. The article states, "Conventional advertising and commercials still represent the largest chunk of the marketplace—about twice as much as digital media advertising in terms of total dollars spent." So while it may be trendy to go digital, conveying a strong image in print is still critical.
ARB's original print ad was the equivalent of a one-page sell sheet with a lot of text, but no call to action or a way to get in touch. The reworked ad is straightforward, with an emphasis on the specialized types of "anti-friction" bearings, and targeted to the audience, in this case, the wind energy industry. ARB decided to use their website and email address as the contact points, as their offices are spread throughout the U.S.
With the goal of raising awareness, rather than generating leads, the wind ad did its job. Six weeks after the ad ran, ARB exhibited at the wind energy show and made a contact that resulted in a $300,000 order. Ader credits their pre-show planning and promotion, as well as activities at the booth, for helping to draw qualified visitors. Their exhibit staff also visits booths of potential end-users, as well as their direct customers of equipment manufacturers to get their name out.
"Getting attendees to your booth requires a lot of effort. A good ad will reinforce your image, but the most successful exhibitors will spend months preparing for the show and contacting clients and prospects with compelling reasons to visit their exhibit," Roberts says. "When it all comes together, the return on investment can be huge."
Download the full case study with examples: