Paying for a booth space at your next associations trade show event is easy. You look at the map and you figure out how much of your marketing budget needs to be applied to this tactic - a 10x20 space or a 20x20 island space seems to give you the best return on your investment. After that the real fun starts! Planning your booth design, the graphics and messaging, and who will help generate the leads in that event. Here are some simple yet strategic trade show marketing tips that you can use for your next event!
1. Give yourself more time to succeed.
Stop thinking of trade shows as just three days in the exhibit hall; in order to reach your true potential, you must focus on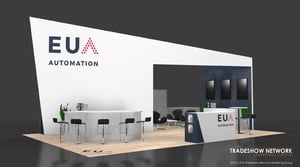 fully maximizing all of the time you spend on trade shows before (event selection, goal setting, pre-show marketing, and more), during (encounters in your booth and outside of it), and after (follow up, evaluation, etc.) you visit the convention city.
2. Don't be afraid of the growing use of technology.
Some people say that social media, video conferencing, and other technologies will cause trade shows to slowly fade away, as people may choose to meet virtually instead of face to face to save time and money, given the option. However, statistics show that the trade show industry is thriving and is projected to continue gaining traction for the foreseeable future. By embracing technology instead of fearing it, we can use these technologies to build anticipation and excitement for our time together in person and we can use these technologies to create more engaging and memorable experiences for our guests.
3. Start pre-show marketing early and shift your focus to your audience, not yourself.
Once you've made your contacts aware that you're participating in a trade show, you don't have to keep pressuring them to visit your booth. Instead, use your pre-show marketing time more wisely: Get to know them and their trade show goals, help them understand what makes your clients (and you, by extension) awesome, and equip them to have the best possible experience—which, if you did a good job with each of the other pre-show marketing steps, will definitely include you.
4. Give your team members the training they need to do their best work on-site.
A quick overview of logistics and "be a good booth staffer" tips won't empower your team to engage your audience effectively or represent your company well; instead, your booth staffers (and extended trade show team members) need to understand why you're participating in a trade show and how they can contribute to your success, as well as what specific strategic actions they should take to progress the sales process or advance your other goals. After all, 85 percent of an exhibitor's success depends on the actions of their booth staffers—don't you want yours to be well-prepared?
5. Embrace diversity in your trade show team.
Trade shows touch every aspect of business (and life!)—whatever your passion, you can find "your people" at a trade show. So, instead of only including your sales and marketing team members, invite a well-rounded group of professionals from various parts of your business to contribute. The key is to match their on-site responsibilities with their strengths and interests, and then to provide the necessary training to fill any gaps.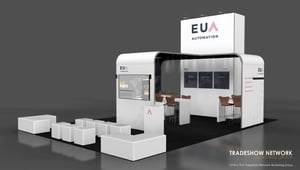 6. Keep two audiences in mind when you design your booth, literature, and other key components.
Your design elements should help two audiences: your event-specific target audience and your team members. For example, your audience needs to see your display and instantly know whether or not they're in the right place, while your team needs to see your display and be reminded of the facts and stories they need to share with each booth visitor.
7. If you aren't going to follow up in a timely manner, don't be surprised when your hottest leads buy from someone else.
After a trade show, many professionals wait to follow up because they don't want to bother their booth visitors. However, these professionals are forgetting about the "summer camp" effect. No matter how "in love" someone is—with a favorite trade show exhibitor or a summer camp crush—that feeling will fade within two weeks if you don't nurture your relationship. And as a result, they're prioritizing the wrong people.
Your hottest leads will be eagerly awaiting your continued communication, while others are likely to ignore your messages until it's convenient, regardless of when you send them. If you're prioritizing the others, you won't bother anyone—but you also won't win any deals, and your hot leads will likely buy from someone who did reach out.
8. Find purpose in every networking opportunity.
Any time you meet someone at a trade show or otherwise, you can squeeze some value out of your interaction. An early morning jog with a peer can be a great time to reflect on your career and how you'll shape your legacy. A late night of bar hopping with a prospect can be a great time to learn more of their "favorites" to incorporate in your rapport-building campaigns and to show enough of the real you that you solidify your preferred status in their mind. Even completing a community service project with an industry contact who doesn't end up being a good fit can result in a great story, if nothing else.
9. Approach each trade show differently from how you approach day-to-day sales and marketing.
In real life, if you try to contact a prospect seven times in three days, they'll block your number. At many trade shows, it would be hard not to achieve this frequency of interaction (even without trying, due to close proximity and various shared agenda items). Add in the right event-specific strategies and many exhibitors can compress three to six months of their long-term sales cycle into a three-day show.
Guest Blogger: Robyn Davis is the owner of When I Need Help, an Atlanta-based company that provides strategic training and consulting for trade show exhibitors. She founded the company in 2009 and works with individual exhibitors and event organizers to increase productivity plus attendee and exhibitor retention, create positive networking opportunities and panels, and more.
A version of this story appeared in the Winter 2018 issue of BizBash. https://www.bizbash.com/association/article/13234104/9-tips-for-creating-an-effective-trade-show-presence