Trade shows in the food industry can be tricky. When you attend a culinary event, you are among hundreds of vendors who all take the same pride in their food as you do. Therefore, you'll want to incorporate creative ways to make your food business stand out among the crowd. Here are nine trade show tips to keep in mind as you prepare for your next food festival or catering conference that will make you the star of the show.
1. Presentation Is Key
Everyone wants to stand out from the crowd and you'll have to step up your display game to keep up. We recommend taking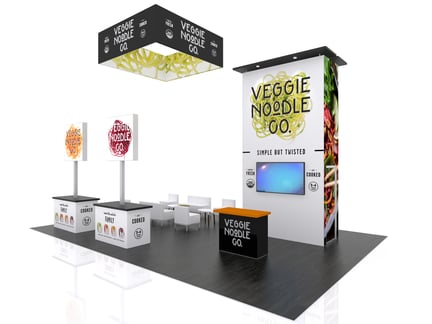 advantage of vertical real estate. Attendees will be able to spot your tall booth graphics from afar making it easier to find you and your tasty samples.
The best presentations create an environment that aligns with your unique brand personality so that attendees not only want to step into your booth but will remember you out of the hundreds of others. Feel free to get creative with your display but be cautious not to overcrowd your booth as it can appear chaotic.
2. Pay Attention to Product Placement & Display
The challenge of a trade show is to provide an immersive experience within the parameters of your booth. You're at an advantage since the experience is enhanced by food, which triggers all five senses. Entice people to try your food by by creating displays that play to people's senses.
Consider a demonstration for to enhance the visual and auditory appeal. Preparing your food in front of attendees is sure to contribute to the creation of an immersive experience and there's nothing like the smell of fresh food to draw a crowd. Leveraging the smell factor can be a powerful tool to draw visitors to your booth.
3. Make Your Space Efficient
Booths are not designed to be limited by square footage. Whether you are in a 10X10, 10X20 or 20X20 booth, you can use shelves, hanging banners, tabletop displays and other trade show booth modifications to add extra space or increase functionality.
Leave enough space for food prepping, sanitation, proper disposal, sampling and product display. Be mindful of the space you need and don't forget about the logistics, such as what kind of equipment is allowed, your electrical needs, space considerations, etc. Ask yourself if it's wise to use space with an elaborate food serving station.
4. Highlight Your Brand
Trade shows are an opportunity to build brand awareness, which can boost your marketing efforts. Customize all of your disposable packaging such as napkins, paper cups and anything that your budget allows for.
It's important that your booth design, brand values, culture and personality align. Whether your brand is fun, all-natural, relaxed or sophisticated, your presentation should reflect this. Show people what you want them to remember about your brand or product. By building brand awareness, you can learn new ways to market, gain feedback, scope out the competition and gain insights on growing your business.
5. Don't Forego Sanitation
In a sea full of food experts, sanitation is the last thing to sacrifice. Make space in your booth for garbage disposal, utensil storage, wash stations and anything else you may need to ensure that your trade show booth is compliant with health inspection guidelines. It can get crowded and overwhelming at a trade show, so you'll want to be extra mindful of cleanliness and make sure your staff is on the same page. More than anything, this practice is to ensure health safety and preserve your reputation as a professional high-grade kitchen.
6. Bring a Team of Experts
A well-trained, knowledgeable and personable staff is key to inviting and keeping attendees inside your booth. Your team will also be networking for your business, so you want a team that can promote your brand in the best way possible. Most importantly, train your team to know the specifics of your products and not just the pricing.
7. Step Outside of Your Booth
Not all networking opportunities will arrive at your booth, and you are limiting yourself by waiting for others to come to you. Don't be afraid to leave your space; the best place for you is in front of your booth, where you can interact with as many attendees as possible. More importantly, take advantage of the networking opportunities away from your booth. You never know who you could end up striking up a conversation with at lunch.
8. Be Mindful of Sampling
Keep your samples small, neat and accessible. It's industry best practice to use bite-sized portions rather than small plates, even if you showcase less food. When you hand out bite-size samples, you can make an impression on everyone who passes by. It's key to determine food preferences among your demographics before the event to create a delicious, crowd-pleasing array of samples. The most important thing to consider is how much food you'll need so that you don't run out halfway through the event. As the day approaches, contact show organizers to get an accurate headcount.
9. Determine Specific Goals
Last but not least, we recommend determining your goals ahead of time. Is your goal to grow your contact list or would you prefer to form enough of a connection to set up vendor appointments?
Take a look at exhibitors and attendees to determine if you can reach your target audience. Do you want to introduce people to your food, sell a specific product, or find new business partnerships? Make a list of your goals and create a strategic plan for each one. Preparation, presentation and networking are all key in ensuring a successful experience.
As two of the largest trade shows in the industry approach, it is especially important to keep all of these tips in mind so that you are well-prepared for success. If you are a trade show newbie, the National Restaurant Association show or the Sweets & Snacks Expo are great opportunities to get you started.