In an exhibit hall full of brands all vying for the attention of the right buyers, it can be hard for many exhibitors stand out from the pack, especially at large shows where it's easy to get swallowed in a sea of booths and sensory overload. That's why staying abreast of the latest exhibit trends that best support your marketing strategy can go a long way in helping you get your fair share of attention on the expo floor. We consulted a few bright minds in the world of trade show exhibit design to get their ideas about the newest, out-of-box design trends worth implementing in your next expo booth.
1. Use Lightweight and Alternative Materials
Instead of solid walls and heavy pillars, more exhibit builders are using lighter and alternative external elements such as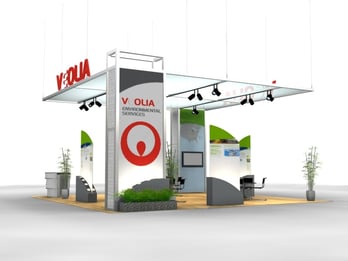 fabrics, cardboard, paper and wood to cover lightweight structures. Not only do these exterior components create a fresher, more on-trend look; they can also be changed out at will, depending on a company's brand message at different events.
"In the past, we had this operational mode where things were solid and meant to show strength and longevity," says Saul Stokes, national design director at MC2, a brand experience solutions agency. "Now the materials don't necessarily have to live on for any length of time, and materials such as cardboard, paper or fabric allow us to do that, where the structure itself remains but the pieces applied to it may be more temporary."
This allows an exhibitor to change out the exterior elements at will while making the booth lighter to help cut back on shipping, drayage, installation, dismantle and storage costs, he added.
Walk the aisles of any major show these days and you'll likely see exhibits sporting new and creative ways of stretching, bending and twisting fabrics as well as combinations of different materials with visual elements, such as fabric with breakouts of video imagery peeking through to create a less solid look, Stokes says.
"The brilliancy of the prints is very intense now, so we're able to print materials as graphic work such as faux brick or stainless steel," he says. "You can also play with translucencies, for example, portions that are translucent and portions that are solid, so you can do things with tones and textures that are very different than what you were able to do a few years ago."
Many exhibit builders are also using Silicone Edge Graphics, which are high-resolution dye-sublimated graphics printed on special tension fabric. Easy to put up and take down, SEG can be printed with beautiful imagery to complement a company's marketing messages while serving as an extension of their booth space.
This durable, dry-cleanable material also gives exhibitors flexibility from show to show by enabling them to use the same framework with reprinted graphics depending on the audience and what campaign they're targeting at a particular show.
2. Integrate New Technologies
LED screens of all sizes, shapes and configurations have become ubiquitous at trade shows. Once reserved for exhibitors with bigger budgets and footprints, this staple technology has since become more democratized and as a result, become a useful tool for even modestly sized and resourced exhibitors.
Not only are exhibitors using LED screens as billboards to bring brand stories to life but also as design materials to enhance the composition of booth environments, says Todd Sussman, vice president of design at Derse.
"LED is all over the place now, whether it's running video content or utilizing patterns, used as an accent light, as moving surfaces or buried media," Sussman says. "Although it's a lot more affordable than it used to be, it's still not really inexpensive. But the bang for your buck and the flexibility that you get far outweigh the costs."
While technology can be a great way to enhance your booth presence and marketing messages, face-to-face marketers should distinguish between choosing technology for novelty's sake versus how that technology can be leveraged to help tell their brand story, suggests Pete Riddell, executive creative director of customer engagement for Derse.
"It's not about picking the newest or shiniest whatever, it's about the best story that I can tell this audience and telling it as engagingly as possible," Riddell says. "Then all the tech and the design trends become much more relevant."
3. Opt for Modular or Hybrid Structures
While still on-trend, modular display systems have proven their staying power in the exhibit world. According to Sussman, more exhibitors are purchasing or renting modular systems or creating hybrid environments by incorporating modular pieces into their existing booth structures. This allows for more versatile and flexible booth environments compared to entirely custom constructions.
"People in the exhibit industry are making big investments in purchasing modular frame systems that they can use for their rental offerings, so while they used to be fairly trendy, they're pretty much everywhere now," Sussman explains.
Besides acting as a blank canvas that can be put together in a wide variety of designs and configurations, modular aluminum frame systems can also be reused over and over, making them more sustainable than many custom booth designs that may break down and need to be repaired with new components or replaced with new builds, explains Adam Deming, exhibit design manager at Skyline.
"Our clients are usually looking for a configurable space that can pack light and tight and be more cost-effective through shipping and storage," Deming says. "A modular booth supports these benefits while also allowing for re-use and configuration to smaller booth spaces."
4. Try Out Unique Surfaces, Flooring and Walls
To make exhibit environments unforgettable, exhibitors are experimenting with decorative components such as mirrored surfaces, which help trick the eye and/or reflect the booth environment to give the appearance of an expanded space.
"LG at CES this year had mirrored surfaces that made the video wall in front of their space seems absolutely endless," Sussman says.
Instead of traditional carpeted floors, designers are also experimenting with different flooring materials such as Vinyl and European features such as raised floors.
"As the price points and availability of some of these flooring materials start to be more obtainable, [they] will stay on trend for a little while," Sussman explains.
Another design trend showing up at trade shows is living walls, which add a pop of greenery using plants such as preserved moss. This accent feature can be configured in a variety of shapes and sizes and gives an exhibit environment a warm feel.
5. Create Memorable and Unexpected Experiences
It's not enough to have an exhibit anymore; it's about telling a story within your space and engaging attendees who enter it.
As such, exhibitors must be willing to step away from strict brand rules to surprise attendees and leave a lasting impression, suggests Greg Mathieson, Skyline's senior exhibit designer.
"Adherence to brand guidelines is important to preserve the integrity of a brand, but it can also result in predictability," Mathieson says. "Sometimes those rules need to be broken in order to create a memorable experience that may not be possible within guidelines that are developed mainly for print and digital media."
Focus more on the energetic feel you're trying to create rather than getting stuck in the architectural aspects and then ask what roles the physical elements need to play in the experience overall, Stokes recommends.
"What is it that takes place [in the exhibit], what is the vibe of the marketing happening there, why do you have a 3D branded space, for example?" Stokes says.
At the end of the day, a trade show exhibit is simply another tool for helping a company tell its brand story.
"We're in an age of infinite choice and scarcity of attention, and what is a trade show other than infinite choice and scarcity of attention?" Riddell asks. "Successful exhibitors have to ask themselves if what they're doing is worth the attention of the audience."
Lisa Plummer Savas - https://www.tsnn.com/news/5-ways-make-your-exhibit-stand-out-crowd