With the COVID-19 pandemic hanging over the event industry's head for more than a year now, creating safe in-person meetings and conferences has become a laser point-of-focus for meeting and conference planners. To meet that demand, event tech companies have been rising to the occasion with new and contactless software tools to provide peace of mind for attendees, exhibitors, event staff and planners alike. Here are a few to consider as organizations welcome back groups in person:
Konduko Kontactless
Launched in 2013, Swiss-based Konduko provides Kontactless Smart Event technologies that enable attendee engagement, pre-show planning, AI-powered matchmaking and digital lead capture at large events and exhibitions, entirely without physical contact.
To ensure an engaging lead-capture experience for both in-person and virtual exhibitors and attendees, Event Tech Live's UK & Europe show will be taking Konduko's award-winning hybrid event solutions for a spin when it converges November 1-5 in London.
"We are pleased to be partnering with ETL and showcasing our new hybrid platform," said Matthew Harris, Kondu
ko CEO and founder. "We will bring together ETL attendees and exhibitors before, during and after the actual show in a way that allows them to share their experiences – whether they attend in-person or virtually. This is our new 'FollowMe' concept."
This solution allows in-person and virtual attendees to connect, make real-time show suggestions and engage with all of ETL's exhibitors, regardless of how or when they decide to attend.
Meanwhile, digital exhibitors can be part of the virtual show or have a physical presence through Konduko's "Exhibitor not Present' solution that enables them to capture leads in-person or virtually during or after the event.
"Hybrid events are becoming a staple of the events world and with ETL this November we are looking to combine the powerful experience of a live, physical event with the practicalities and convenience of a virtual show," said Adam Parry, ETL show organizer. "I'm really happy to have Konduko on board to help us do this – its technology will be a welcome addition to the ETL family and will mean all our exhibitors and attendees will get a first-class hybrid experience."
Visit GO! By GES
First implemented at the London Mayoral elections on May 11, the technology is the latest "digital passport" on the market. The arrival comes as organizers are forced to discern who is vaccinated when adhering to the latest CDC guidelines.
"Working with organisers and venue clients, we understood the urgent need to verify the vaccination status or test results to allow for safe openings of live events," said Gerard Conway, director of event intelligence at GES EMEA. "Visit GO! realizes this by connecting the health state with an attendee's badge. An additional advantage is that attendees can be tested before arriving at the event, reducing the number of on-site tests required."
As a bonus, the app uses web-based technology so that it can be accessed via url without the need to be downloaded.
SymptomSense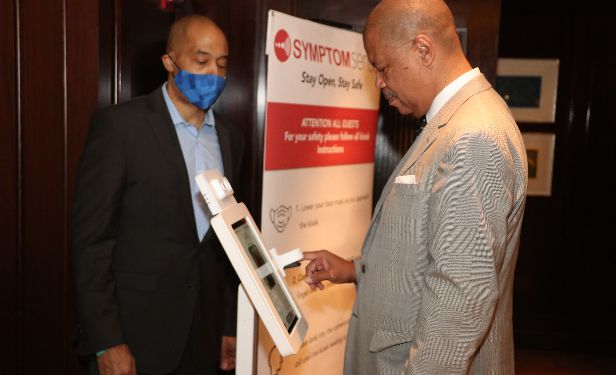 While popular at venues and airports already, the gates are big and hard to ship. Enter a kiosk that fits into a car trunk making the same measurements. In a demonstration, the device cleared Peterson of COVID in about five seconds. With vaccination requirements a political hot potato, the technology could be a workaround to ensure attendees (anywhere to 20-40% are likely based off of national vaccine averages) who have yet to receive a full dosage are free from the virus.
Looking to go smaller, an app is in the works to work in conjunction with the kiosk, which prints a QR code for proof of entry and re-entry.
Event Farm Safety Toolkit
Amid vaccine roll out and companies gearing up for in-person experiences again, engagement technology company Event Farm has been staying ahead of the post-pandemic curve with its recent unveiling of its Safety toolkit. Launched in February, it comprises purposefully built applications to keep event staff and attendees safe at every touchpoint at in-person events of all sizes.
Key features include:
Contactless check-in:

Gets attendees checked-in quickly at a safe distance and sends an automated welcome text that provides additional event information without an app download or physical event program.

Virtual queuing system:

Allows attendees to save their spot in a virtual line for product pick-ups or health screenings and texts them when it's their turn.

Contact tracing:

Administers access control at check-in locations for a detailed log of who went where during the event.

Attendee messaging:

Sends text messages to your attendees or segmented groups of attendees with important event updates or any important safety alerts.

Staff, vendor and volunteer management:

Administers staff and vendor check-in and access control at the event to ensure only certified and authorized personnel are on-site.
According to Ashley Taylor, project manager for the dance, music and culture event, URBANITE, Event Farm's Safety toolkit was key to pulling off a safe 350-person event May 1-2, 2021 at the University of Illinois' Memorial Stadium.
"With the Event Safety Toolkit, we implemented safety protocols at every attendee interaction, giving us confidence that nothing was overlooked," Taylor said. "The Toolkit also helped to maintain order within the event and minimized exposure issues such as overcrowding at check-in."
Greet Health
If one thing is true over the past 15 months, no one likes to be part of the mask police. And let's face facts: masks won't be going away without a fight, making enforcement all the more challenging as more than 100 million Americans are in the process of being fully vaccinated.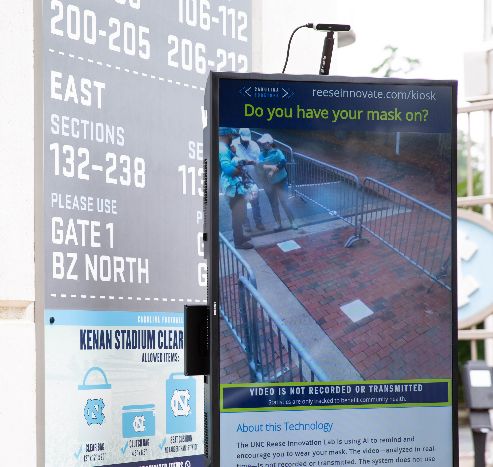 Enter Greet Health, a new technology emerging from the University of North Carolina's Reese Innovation Lab. Through artificial intelligence and Lenovo hardware, Greet Health is designed to manage crowd flow while monitoring face coverings.
Chief Innovation Officer Steven King, as associate professor at UNC School of Media, describes the product as a gentle reminder to not only wear masks, but do so properly by covering your nose.
Already a key component for welcoming students back to the Chapel Hill campus and into the Tar Heels' football games, Greet Health is now being propped up as a way to assist meetings going forward. At football games, the kiosks were deployed at entrance gates and concession stands, King said.
The National Association of Broadcasts plans to use the technology as part of its measures for in-person events — where King plans to be in attendance.
Should an attendee be flagged for not masking up, Greet Health can send visual and audio signals to prod the offender to follow the rules without a giant fuss erupting.
"We're about communicating to large audiences moving through a space in an efficient way," explained King, who previously assisted Liberia's ministry of information to create a data visualization dashboard to enable better decisions during the Ebola outbreak.
King believes that masks will be part of events for the foreseeable future. While Greet Health is not an all-in-one solution to stopping the spread of COVID, he said it is a technology that can be used alongside others to create a safe space.