Trade shows present an excellent opportunity for companies of all sizes to showcase new products, gather feedback from current customers and move prospects down the sales funnel. Events are an extremely valuable investment for marketing teams, as 92 percent of trade show attendees expect to learn about new products and services in their industry at each show. So valuable, that according to the Center for Exhibition Industry Research's 2017 How the Exhibit Dollar is Spent Report, exhibitor spending in the U.S. stood at a hefty $25 billion in 2017.
With that size of budget allocation, it's safe to assume that CMOs expect a big return on investment. That assumption would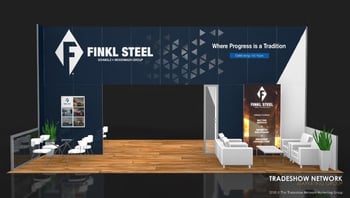 be incorrect, though, as a shocking 70 percent оf еxhіbіtоrѕ set no ѕресіfіс оbjесtіvеѕ or goals fоr their trаdе ѕhоw exhibits, according to CEIR. That equates to 17.5 billion marketing dollars each year, and it's money that revenue-driven teams cannot afford to waste. With the competitive landscape only becoming more crowded, event marketers must find a way to measure and prove ROI if they hope to hold onto their budgets. There is a vast spectrum of indicators that can be used to measure performance. The raw data from events can be placed in context and used to establish crucial insights that can better the event in the future. Below is a list of five ways that event teams can show the impact of trade shows on the sales pipeline, leads, and ultimately revenue.

1. The number of strategic meetings
Strategic meetings undoubtedly have an influence on the revenue and top line. With ROI being a big concern to CMOs, event marketers are often tasked with finding ways to maximize the number of meetings. The number of meetings secured at events and trade shows is often the fine line that dictates success or failure, because every lead brought in and every opportunity successfully converted ties back to the number of meetings scheduled.

2. Influenced revenue
Strategic meetings fulfill a number of requirements. They allow for building better trust, validation, confidence and, more importantly, informed decision-making. By increasing the number of these interactions at shows, sales teams are able to not only shorten sales cycles but influence greater revenue. By increasing the number of strategic meetings, sales teams can advance deals faster and therefore contribute increased revenue. A metric like revenue-generated-per-meeting helps in accurate attribution and setting measurable targets for event teams.

3. Average deal size
Success from events and trade shows is not always measured by the number of deals closed. Revenue targets can be better achieved by simply focusing on opportunities that facilitate larger deals, but this is not always a possibility. More often than not, opportunities with higher deal sizes have lower success rates and often take longer to close. Keeping an eye on the average deal size can often serve as an early indicator of the type of prospect event marketers are pursuing and can help you point them in the direction of deals that are closer to the ideal customer persona.

4. Resource utilization
Meeting spaces and booths are two of the biggest components of the budget making it increasingly vital for meeting managers to assess and assign meeting spaces based on requirements. Moreover, it also becomes important for them to account for walk-ins and ad-hoc meetings.

Companies also spend a big part of their budgets sending their executives and small and medium-sized enterprises to conferences in the hopes of meeting prospects, building relationships and ultimately building a credible business. Additionally, the presence of C-suite decision-makers can shorten sales cycles. A lot rests on the assumption that these resources are being utilized appropriately. Therefore, it is important to include high-priority meetings on their schedules in order to maximize impact.

Overall, analyzing meeting resource utilization can speak volumes on how effectively the budget is being used and can additionally provide insights on the areas that require further investment and those that can be done without.

5. Meeting effectiveness
Scheduling meetings are one thing, but converting them into opportunities is a different subject altogether. Meeting effectiveness highlights which sales representatives are most effective at closing deals -- arguably one of the most essential functions of your sales team. Moreover, this also gives you a better understanding of a representative's strengths and weaknesses and helps you decide if you should train or reassign him/her to handle a different phase of the sales cycle.

In the end, your executive team wants to know how much top-line revenue was brought in at each event. Attributing those returns is one of the hardest parts of an event marketer's job. Implementing a metrics-driven approach to establishing trade show ROI is an excellent place to start, and presenting above-average results from trade show activities will help justify the investment in events, encouraging the leadership team to increase budget allocations in the future.

Guest Blogger: Ravi Chalaka, CMO at Jifflenow, is a marketing and business development expert who creates and executes business strategies, generating demand and raising brand/product awareness in competitive markets. As vice president of marketing at both large and small technology companies, Ravi built strong teams and brands and enabled faster revenue growth for a wide range of solutions based on big data, SaaS, AI and IoT software.
http://www.successfulmeetings.com/Strategy/SM-How-To/Measure-Trade-Show-ROI-Jifflenow/