It is an unfortunate fact that tradeshows are places of extreme excess. Multiple resources, hundreds of man hours and millions of dollars are wasted on show floors across the country every day. You are paying for plenty of it. Maybe it's the pressure of too many deadlines, shrinking budgets or an overworked staff that causes exhibit marketing professionals to neglect or forget important processes and procedures that are required for a show to run smoothly and stay on budget. There certainly are an overwhelming number of tiny details to oversee before, during and after the show.
When multiple departments share in the planning and execution of the program there is ample room for error if good communication procedures are not practiced. Below is a list of the most common budget busting habits, if immediately eliminated from your tradeshow program, could save you money and reduce waste.
Habit #1: Neglecting to inventory exhibit properties before the show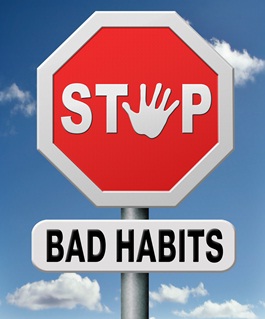 Believe me when I tell this. You don't want to get to the show and find out that your counter is missing one leg, three lightbulbs are burned out or there's a huge wine stain on your white carpet. Not setting up your exhibit before it ships to the show can cause huge headaches and trigger extra expenses when surprises are discovered during installation. Getting any help from the show decorator for last minute emergencies will cost you dearly. Rushing around looking for a quick fix at the closest hardware store will not be cheap. By taking a critical look at your display, graphics and accessories a few months before the booth ships to the show, you will have plenty of time to order what's missing, fix what's broken and clean what's dirty.
Set up your display before the show and take a critical look at your graphics. Are the messages relevant and the products current? Get up to speed on the timelines required by your suppliers for creating new graphics. Waiting until the last minute to design and produce the new panels for your display or the banner for your retractable pull up stand can add expensive rush charges to the cost. It never fails that rushing to meet a tight deadline usually results in mistakes that you are unable to correct in time. Give your design team ample time to be creative and deliver quality ideas. Don't forget that you will need at least one extra day to review a proof by email and maybe two days if you want a test strip delivered to you for color matching. A good policy is to count backwards the number of days you need for design, proofing, production and shipping, add two more days, then give those deadline dates to your staff and service providers as a guide.
When is the last time you updated your display structure? It might be time to change up your exhibit and buy a new display. Creative advances have been made in display design and construction materials. Converting an aging structure to a more modern or sustainable option can reduce exhibiting costs substantially. The latest styles use lightweight extrusions, retractable panels and fabric graphics that can save you money in a variety of ways. New, innovative engineering allows for compact shipping.
The lighter shipping weight of the latest substrates, the collapsibility of the new designs and the small sized shipping containers combine to reduce costly freight and drayage fees. In addition, it takes less time to install and dismantle these new exhibits, so your labor expenses could be cut in half.
Since we're talking about cost cutting, have you ever considered reducing the size of your booth space? If you book a peninsula space instead of an island or take a 10×20 booth instead of a 10×30 you will save thousands of dollars. If you are concerned that your image may be tarnished if you scale down, try it every other show for half the savings. Put the money you save by reducing your booth size into a high profile sponsorship at the show. If you aren't concerned with saving money, but would like to increase your visibility, consider spreading three 10×10 booths around the floor with three different themes to hit your targets three times instead of one.
Habit #2: Waiting until the last minute to order services
Nothing will drive costs up or wreck your budget like forgetting to order services or shipping properties late. These common blunders can easily be eliminated by assigning someone to open and read the exhibit kit as soon as it is available. Convention decorators and show services companies are getting rich off your mistakes. Here are ways to avoid extra expenses.
Take advantage of all early-bird discounts and call to confirm fax orders were received. This will save you up to 15 percent.
Don't miss the notification requirements if you are hiring an outside contractor for I&D. Failing to file the necessary form 30 days prior to the set-up date will prevent your crew from working the show and require you to use the show labor at a much higher cost.
Send a drawing of your electrical floor plan along with your electric order form for clarification. The electrical lines must be laid before the carpet can go down, so if the electrical installation is delayed your labor will be standing around on the clock with nothing to do.
Don't forget to order the pad with the carpet.
Consider buying plants locally, bringing your own portable vacuum and cleaning supplies, or buying carpet you can throw away after the show, because ordering these from show services is ridiculously expensive.
Plan your shipping strategies well in advance to avoid last minute overnight rush charges.Ship all properties advance to the warehouse so your cases and crates will be in the booth ready to install. This allows you to pinpoint your labor start time for maximum efficiency.
Confirm the weight of everything you ship. Without confirmation you have no leverage to dispute overcharges on your shipping and drayage bill.
Don't forget to budget for lift gates, forklifts, driver wait times and special delivery extras.
Assign someone to file the bill of lading at the service desk before leaving the show and wait for acknowledgement that it was received and is correct. This oversight can trigger huge expenses when your freight is forced. Any mistakes on the paperwork will cause your shipper to be turned away and the decorator's preferred Freight Company will ship your properties instead. You could even be stuck paying for the services of both shippers.
Habit #3: Not assigning someone to meet the installers at the booth before they begin
This one omission in your exhibit plan can add thousands of dollars in extra fees to your labor bill. This real-life scenario illustrates how this vicious money wasting cycle unfolds.
Your installers arrive on time and unpacks your crates. They cannot find the set-up instructions. Every case is emptied, but no instructions, pictures or drawings are found to tell them how you want the display configured. There is no company representative in sight and no one answers the cell phone number they were given.
Four guys, each getting paid $75 an hour, stand around for 30 minutes waiting for instructions. The electrical lines are laid so they decide to install the carpet. No pad is listed on the work order and your representative is not there to notice that mistake. They begin erecting the display as best they can. They are not sure where the counters should go so they take a guess. It's too bad that your computer monitors will not reach the electric outlets.
There are multiple sets of graphics with no indication as to which set should be used for this particular show. They try the cell phone again. No luck. Four hours later, as the installers are putting the finishing touches on the booth your representative finally arrives. She proceeds to loudly complain that the display is set up wrong and the graphics are not correct. She demands that the graphics be changed and the display be taken apart and put up correctly. Too bad the empty crates were sent to the warehouse and this crew has another booth to erect elsewhere. Here is a recap outlining how this one oversight could cost your company an estimated $2,700 more than you budgeted for.
30 minutes of labor time lost when four guys waited around for instructions.
Representative locates a set of instructions and pays to have them faxed to the show.
Labor must pull the carpet so the electrician can move the lines.
The electrician is busy. One hour later he moves the lines. Cha-ching!
The carpet pad, which was never ordered, is now purchased at the day-of-show pricing.
Labor installs pad and retapes carpet.
The display is disassembled, moved and reconfigured.
The counters are moved and the monitors relocated.
Another 4-hour minimum is required for the labor crew to make the changes.
There will be another drayage fee to retrieve the crates containing the other set of graphics that were already taken back to the warehouse.
It is now 5:15 so overtime pay kicks in. You are now charged time-and-a-half times four.
Reduce your stress and preserve your budget (and maybe your job) by assigning a representative to meet the foreman at the booth before your hired installation labor crew starts the job. Here are a few other tips for saving time and money.
Send a copy of the assembly instructions and floor plan to the installers two weeks ahead of the show.
Include photos showing exactly how the booth and graphics should look when installed.
Label your graphics clearly for easy retrieval.
Put a duplicate copy of the assembly drawings and instructions in your crates. Provide an additional copy to your representative to bring to the show.
Put all your graphic artwork files on a disc and bring it to the show in case any graphics are lost or damaged so you can quickly get them reprinted at your location.
Double check all booth service orders for errors a week before the show.
Habit #4: Not establishing rules of conduct for booth staff
What would you do if your top salesperson arrived at the booth one hour after the show opened? Would you be upset if that person was drunk? Would it matter to you if the entire staff left the booth before the show closed even though customers were still on the floor? Unfortunately these scenarios can be witnessed every day at shows all across the country. These unacceptable behaviors inconvenience customers, frustrate prospects, cost you money and tarnish your company image.
When you send your staff off to an exciting city to work a show for three days, the nightlife is tempting, the boutiques are beckoning and the lure of the golf course is strong. It would be a good idea to outline some company policies for your team that cover behavior both during work hours and on personal time. They are, after all, getting paid and representing you the entire time they are away, so reinforce their purpose by dictating specific work hours, adding a curfew and reminding them that their actions reflect back on the company.
A little bit of sales training wouldn't hurt either. Give your staff a clear purpose for being there by establishing a list of goals to accomplish at the show. Inject a little competition into their duties and offer incentives for exceptional performance. Develop a concise sales presentation for each person to use. By scripting your marketing message and selling propositions you will guarantee that every attendee who enters your booth leaves with consistent information about your company, products and services. Make lead generation a priority.
Habit #5: Bringing too many giveaways to the show
It is difficult to calculate how many brochures, flyers, sales slicks and giveaways you should bring to the show. Most exhibitors overestimate the number needed. When it comes to collateral it makes sense to create an inexpensive marketing flyer with a show special on one-side and company contact information on the other and save your expensive full color brochures for hot prospects. Two hundred pieces for every one thousand attendees is a good rule of thumb. Increase that number if you've trained your staff to distribute the collateral to every prospect they engage, otherwise collateral will lay on the table until someone happens to pick it up.
This scenario is similar when dealing with giveaways. The sheer volume of T-shirts, pens, calculators, bags or Post-It notes is usually excessive. Stick with one memorable freebie. The other problem is that too often the distribution methods are faulty and wasteful. If you've ever seen enthusiastic salespeople mindlessly handing out trinkets at the edge of their booth without asking even one qualifying question, then you've experienced this phenomenon. Companies seem to have forgotten that the purpose of a premium gift is to reward the prospect for giving you something you want. When attendees give you a lead, watch a video, participate in a demonstration or take a survey the giveaway serves as a small token of thanks. Use them; don't waste them.
In addition, boxes of literature and giveaways are expensive to ship, take up a lot of space in the booth and are often stacked unattractively in view of attendees. You could rent an accessible storage space which allows you to retrieve your supplies as you need them, but this will cost you $150-$200 per day. Here's a great reason to scale back. It is not uncommon for booth staff to conveniently forget to ship back boxes full of color catalogs, company brochures and freebies, because they did not pass them out at the show and don't want to bring home the telltale evidence. These items end up in the trash.
Susan Ratliff is The Exhibit Expert, published author, entertaining speaker, event producer and founder of an award-winning portable display company. Contact Susan to speak to your group, to consult or for portable tradeshow display products: Susan@SusanRatliff.com or www.SusanRatliffPresents.com.
View entire article at: http://www.exhibitcitynews.com/5-budget-busting-habits-exhibitors-should-avoid/