At the moment, a few buzzy topics include augmented and virtual reality, general and voice-based artificial intelligence, and smart home devices. And, with the dawn of 5G -- a cloud-based high-speed wireless network -- tech innovation won't be slowing down anytime soon. In fact, a Deloitte study notes that many marketing firms are ramping up their information technology processes because of it. With all the technologies out there, it's hard to cut through online chatter and determine which innovations are mostly just hype and which might actually change the way we market. To give you a bird's eye view of some of the most buzzed-about innovations that could impact marketers in the near or distant future, I've collected 45 stats related to four types of emerging technology.
Augmented and Virtual Reality
For years, researchers have hypothesized that virtual reality, which provides viewers a completely immersive and interactive 360-degree visual experience, will hold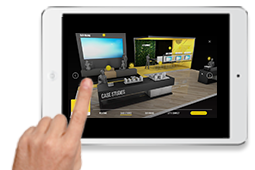 the best opportunities in gaming, entertainment, and academic industries.
Meanwhile, experts have also thought that augmented reality, a partially immersive but still interactive experience, will thrive in the world of branding and marketing.
We have already seen these AR and VR predictions come to fruition as the gaming industry continues to announce games for VR headsets and brands have used AR to allow customers to preview products -- such as furniture -- in their own homes.
Here are 14 stats that demonstrate the growth and opportunities of AR and VR.
Image Source: GlobalWebIndex
Artificial Intelligence
Artificial intelligence is so prevalent in 2019 that many of us don't even notice all the ways we interact with it on a given day. In fact, all of the other technologies on this list require some type of AI algorithm to work smoothly. If you're less familiar with AI, here are 12 stats to keep in mind:
Voice Assistants and Smart Speakers
While voice assistants are technically a segment of AI, they've become so prominent in the emerging media world that they deserve their own section of stats.
Data Source: Lucid Software
Image Source: Loup Ventures
Source: Adobe
Smart Devices and Appliances
While you may not realize the significance that smart appliances and devices could have on marketing, this is something that I and my colleagues have been paying close attention to. Although this space is still young, it's already seemingly providing interesting opportunities to bigger brands.
As you can imagine, devices like smart TVs could provide great potential for content marketing and branded media, However, a more unique example of an appliance that could provide brand potential is the smart refrigerator.
"I'm excited to see how a smart fridge that can tell me when my avocados are about to spoil can be leveraged by a brand to give me information that might serve me in that particular information, says Amanda Zantal-Wiener, a senior content strategist who creates content for HubSpot that covers news and trends.
But, Zantal-Weiner's excitement doesn't end at smart-home appliances. She's also fascinated by the world of smart cars
"Until we start to see self-driving cars on the road, the idea of connected cars can also be used to help me do more than mindlessly scroll through my phone when I'm using a ride-hailing service, by serving as a distribution channel for real-time, relevant information during that trip. Everything is connected, and I'm excited to see which brands are able to adapt to that earlier on in a way that actually helps customers," Zantal-Wiener explains.
While the smart appliance space is still fairly nascent and harder to report on statistically at the moment, here are a few interesting stats that highlight why you should keep these technologies on your radar.
Image Source: eMarketer
Navigating the Future of Marketing
Yes, creating voice assistant skills, leveraging AI, and building branded AR/VR experiences might be pretty inaccessible and costly to your company right now and in the near future.
But, if you want to continue to innovate your brand, or be a competitive marketer in the far future, you'll want to keep up with how technology and marketing possibilities are evolving. By keeping up with marketing innovation news, you'll be more prepared to adopt new technologies when they are accessible in the future.
For some detailed guides on emerging technologies that could or are already impacting brands, check out blog posts on artificial intelligence, voice technology, Snapchat, smart devices, and chatbots, and video game marketing -- which can leverage of few of the technologies noted above.
Written by Pamela Bump - @PamelaBump https://blog.hubspot.com/marketing/emerging-technology-stats?