When you are thinking about exhibiting at a trade show, the cost is one of your primary concerns. While the cost of the booth itself is the first thing that comes to mind for many trade show hopefuls, you also need to think about the costs of show services, including electricity, Wi-Fi, materials handling, etc., personnel costs, including staff pay, overtime pay, travel, lodging, and meals and trade show collateral, such as company t-shirts and other giveaway items.
The bottom line: Attending a trade show is expensive. The good news, though, is that the main expenses are easy to identify. Budgeting for them, however, can be a bit trickier. Since these expenses aren't ones that you deal with on a regular basis, coming up with the money for them can be challenging. To make it a little bit easier, we've put together this list of tips for trade show budgeting.
Come Up with a Cost Estimate
The exact cost for setting up a booth at a trade show varies. There are, however, averages that you can use to come up with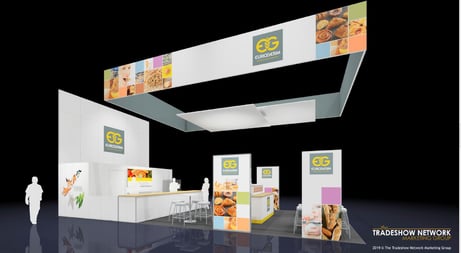 an estimate. On average, venues charge $138 per square foot of floor space for booths. If you plan on setting up a 10-foot by 10-foot booth, that is 100 square feet. Multiply that by $138 and you will come up with an average cost of $13,800 for your booth space.
Now, let's take that a little bit further. Again, this is just a rough estimate but the average overall cost of exhibiting at a trade show is around three times the cost of your booth space. For the example 10x10 booth above, you would multiply $13,800 by 3 to come up with a total of $41,400.
This number will, of course, vary. If you know exactly how much the fee will be for renting your booth, use that number instead of calculating based on the average $138 per square foot. If you have exact amounts for things like electricity and Wi-Fi, include those figures as well. On average, though, you should budget for three times the cost of your booth rental.
Allocate Your Costs
Now that you have an idea of how much exhibiting at a trade show will cost, you need to figure out exactly where all of that money will go. According to EXHIBITOR, your budget should be broken roughly down as follows.
Your booth space should take up the biggest part of your budget. Plan to spend roughly 35 percent of your budget on it. This leaves you a little bit of wiggle room in case it ends up costing more than you anticipated. Next up is travel and lodging. Allocate 14 percent of your budget for flights, hotels, etc. The costs of travel and lodging have been on the rise for the past three decades, so plan on dedicating a significant amount to these expenses.
Since you will likely need to pay extra for things like electricity, plumbing, Wi-Fi, materials handling, etc., set aside about 13 percent of your budget for show services. It also takes money to design and construct an appealing exhibit, so plan to allocate 11 percent of your budget to that.
Do you need to ship building materials or other supplies to the venue? Plan on spending 10 percent of your budget to get everything where it needs to go. Allocate another 10 percent for graphic design, production and promotion. Include your swag and giveaway items–including custom t-shirts, tote bags, etc.–in this part of your budget. And don't forget to start working on these items well in advance to ensure that they are ready in time for the event.
Guest Blogger: Jenny Bloom and I am the Marketing Manager at Shirtmax, a provider of top quality wholesale apparel.