Planning out your trade show strategy for 2017 can be a huge task. You are driven by trying to drum up business for your sales team to close but they don't like going to trade show events and working the trade show display but they want the leads. How can salespeople and marketers get back on the same page? The answer lies in having crucial conversations around Sales' pain points and identifying content that can address these needs.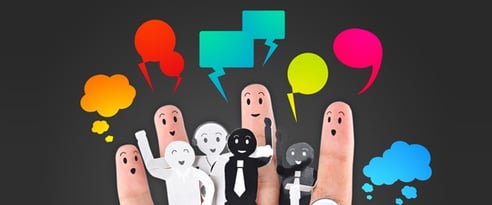 Consider the top three challenges sales professionals identified in the survey:
Getting a response from a prospect
Closing deals
Engaging multiple decision makers at a company
For Sales and Marketing to work together in the new year and make these sticking points easier, have these three content conversations ASAP.
1) The "How to Engage More Prospects" Conversation
40% of sales professionals reported that their biggest challenge is simply getting their prospects to respond. If you are a salesperson who does your own prospecting and would like to engage more buyers, you owe it to yourself to ask Marketing what type of content performs the best. Chances are, they'll be happy to talk to you about where they've found success.
Questions to Ask
What piece of content has the highest conversion rate so far this year? Your marketing team is working hard to increase the number of sales qualified leads they can hand over to you, so they know very well which pieces of their content are performing the best. They are likely thinking about performance as a conversion measurement -- that is to say the percentage of visitors to a landing page that ends up in the marketing funnel. By framing your question this way, you are speaking their language.
Which persona does the piece target? Marketing teams typically develop their content based on target personas. This will immediately tell you which type of prospect is going to be your best bet.
Where does this high-performing piece of content sit in the marketing funnel? By learning the stage of the marketing funnel the content targets -- top, middle, or bottom -- you will have a better understanding of the type of engagement you can expect to have with prospects with whom you share this content. A top of the funnel piece will tend to prompt a more general and exploratory conversation, while a bottom of the funnel piece will hone in on a specific pain point, setting you up for a sale. The answer to this question tell you whether you can use the content to source a brand new prospect or close one you have been working for a while.
2) The "How to Close More Deals" Conversation
The second biggest self-reported challenge for salespeople is closing business.
Having a conversation with Marketing about closing a deal may seem counterintuitive, but this sort of collaboration will improve your ability to handle certain objections. It will also help Marketing better understand the typical objections you face, which will in turn help them refine their content development in a way that will naturally improve lead quality.
Questions to Ask
What content do we have to ease implementation concerns? When a prospect begins to question if it will be difficult to implement your solution, what they want most is assurance. They want to know exactly what the barriers to entry will be. Odds are that your product marketing team has thought through many of these, and has content that addresses common concerns.
What is the most eye-popping result that makes the buy a no-brainer? Your marketing peers have the benefit of supporting the entire sales force, not just your individual book of business. By asking this question, you will discover which piece of content covers the most amazing solution promises across the business. Think of ways you can use this newfound golden nugget of information to close the deals you are working on.
Who is the best customer I can connect my prospect with? Your marketing team has built great case studies, but sometimes you need more than that. A perfect fit customer whose story resonates with your prospect is occasionally necessary to get the deal done. Ask your marketing team who the right customer is and to help you connect them with your prospect.
3) The "Help! My Deal Just Got More Complicated" Conversation
The third most pressing challenge for salespeople according to the report is engaging with multiple decision makers. It happens to the best of us. We are rolling right along, moving our prospect through our sales process with ease ... when it becomes clear that our prospect is not the sole decision maker.
How can Marketing possibly help you untangle the newly-discovered deal complexity?
Question to Ask
Do we have anything for these new decision makers? The marketing team has developed multiple personas that address all the potential influencers in a deal cycle. They are frequently broken out by user buyer, economic buyer, and executive buyer. Marketing has likely built content for each -- ask for content that specifically appeals to all roles on your decision team.
This discussion is probably the trickiest but has the potential to be the most rewarding. While Marketing creates content for different buyer personas, they may not have experienced the nuance and reality of handling a diverse group of decision makers firsthand. By asking them to help you, you are helping them -- after this conversation, they will be able to better understand how content targeted for different buying types fits together. Good for you and your deal, and good for every member of the sales force that runs into similar complexity.
If you are prospecting on your own, or working through a complicated deal, or simply need a little assistance on your close, the best place to find help is in your company's marketing content. Get the conversation started with Marketing to close more business, and do your part to help out the entire sales team along the way.
Guest Blogger: Joel Capperella | @joelcapperella