Last month, Core-apps celebrated its 10th anniversary as a company. While a decade of success is a proud accomplishment for any company, it might as well be 100 years in the world of technology, which changes on a nearly weekly basis these days. In honor of this significant milestone for Core-apps (which was acquired by Community Brands earlier this year, but will live on as a brand under the Community Brands' umbrella), TSNN talked with Wayne Crawford, Core-apps' veteran vice president of sales, to get his thoughts on the top 10 technologies that have changed trade shows over the last 10 years.
1) Event Apps
In many ways, these have replaced print materials — so they're not only green, but they save money for trade show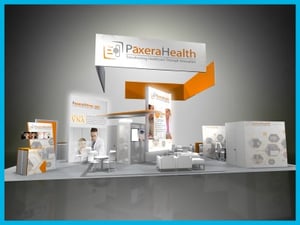 organizers and keep attendees from having to lug around large directories. Essentially, they put all the relevant information in the hands of attendees.
2) Floor Plans and Booth Routing
Electronic floor plans have been around for 20 years, but have really come a long way. They've gone from a basic CAD (computer-aided design) system to a more advanced system with better user interface, and better search-ability in terms of looking at exhibitors, products, videos and press releases.
There's now a built-in ability to route from sessions to places on the exhibit floor and vice versa, or from exhibitors on the floor to other exhibitors. You could also, depending on the technology, put in a list of favorite exhibitors and have the advanced routing system give you routing throughout an expo facility.
The routing features have really improved a lot over the last three to five years, helping the user find the exhibitors and products they want to find, as well as navigate educational sessions.
3) Heat Mapping
A lot of event organizers, particularly large ones, have jumped on the bandwagon for heat mapping in the last five to seven years. It provides a good snapshot into traffic flow, exhibitor and product interest, and also event session and special-feature interest.
We've seen that event organizers will often do it once—and it's not an inexpensive proposition—and may not do it again. If you're an event organizer that goes to the same facility year after year, it can give you good data on how to lay out your floor plan, perhaps leading you to price locations differently based on ROI. But if you rotate between different cities, it's harder to provide really good information that's actionable.
While heat mapping is a very cool feature, it's not for everybody. It's one of those things that got a lot of adoption very quickly, but repeat users has stabilized.
4) Event Management Systems
In the context of expo management systems, this can include the floor plan, exhibitor lists and the ability for exhibitors to list a lot of information about their participation in the event. It's a pretty broad category, because you can also put in things like attendee matching tools, or the financial management of an event.
I absolutely see these systems as essential. I've been around long enough to have seen everything from paper floor plans on the wall with pushpins and notes, to basic CAD based online floor plan management, to now much more advanced systems with graphical user interfaces. We now have the ability to do a lot of interesting and powerful things on the back end with reporting and analytics.
5) Audience Polling
It continues to get better and better. Yet it's affected by one of the inherent issues with our industry, which is that Wi-Fi and even cell connectivity in conference and convention centers has lagged behind. When you get a high concentration of people in one place for a temporary period of time, it taxes the connectivity. The tech of those quick connections has gotten better, but has a way to go.
Audience polling has increased a lot in popularity. A lot of cool systems out there provide real-time interfaces of polling that don't require as much system architecture as they used to. They've become more reliable and more of a mainstay, and I think they'll continue to approve.
6) Kiosks
The most common type of kiosk is a way-finding kiosk, which would include things like the exhibit floor plan and session room maps, but also lists of searchable things like exhibitors, products, conference centers, etc. to help you navigate your way around the show. It's a lot of the same information that's in expo management system or in the mobile apps, but it's in a format where someone could walk up and use it.
Typically, event organizers contract with someone who'd provide that software and service, and often the AV provider will do the hardware. Kiosks are interesting in that they really took off about five years ago and then plateaued. A lot of people predicted it would be a feature that would start to die off as cell devices and apps got better for people's personal cell devices, but not so. I wouldn't say this is an area that continues to grow, but it's still very much in the mix.
7) Beacons
Beacons can be used in a number of ways, and are super cool. You could use them to do heat mapping, but also for things like measuring check-ins at a session, or providing a proximity alert from a nearby exhibitor to an attendee walking down an aisle that prompts them to stop by.
They started to take off five to seven years ago, and while I don't think they've plateaued, I'd say the demand for them has stabilized somewhat.
8) Live Event Analytics
Analytics is a very broad category, but to me this is something that has taken off in the last five or so years and is going to continue to accelerate. Being able to provide information both to the organizer (on the behavior of the exhibitors and attendees) and to exhibitors (on how people are reacting with products) is becoming possible, and working its way into event technology systems. The more that data gets integrated, the more information there will be on how to market an event, how to position an event, how to promote it to attendees and more.
It's going to accelerate exponentially in terms of data that is available, and what people in all roles of the events industry will be able to do with it. Think of Amazon or Google collecting data; those companies are way ahead of the tech players in our space, but we'll get there in terms of the tools to collect and analyze data.
Of course, that's a trade off with privacy concerns. But being able to better produce events that meet the target audience is something that's possible by collecting and analyzing data.
9) Chatbots
The events industry is a little behind Amazon's Alexa, but applications like that are now being worked into the mainstream event space. We're seeing chatbots on mobile apps, event websites and at info stations that are voice-activated on the showfloor.
This is an area that will grow dramatically over the next few years. The exciting thing is that now it's in its infancy. You have maybe 100 questions that get asked by most attendees at events. As long as those answers to the questions are provided in advance and fed to the system, it provides a really good experience.
Where the gap is right now is those next 500 questions that are super specific that might take a bit of artificial intelligence for a bot to answer. Those things will be developed over the next few years. Taking AI and AI applications and melding them into event tech platforms will drive a lot of cool engagement for attendees in the future.
10) Augmented Reality
We love augmented reality and predict it will be the future of how attendees consume things like products from a B2B standpoint. Pokémon Go is not what anybody is going for here — AR is going to be a real B2B accelerator in terms of exhibitors being able to show off more information about specific products they bring to events, or products they can't afford to bring to an event can be shown or augmented through mobile devices.
AR has been around for five or so years, but it's just now coming to the event space. It has a ton of different use cases, from the ability to enhance a conference center with pop-ups with additional information, or how you interact with a speaker to get information about them, or an exhibitor providing a 3-D model with exploded CAD diagrams.
The cool thing is that mobile device hardware manufacturers and the operating system producers, like Apple and Android, are now starting to build this standard into the devices — so the event-specific technologies will be able to leverage that technology and hardware to provide better experiences.
Guest Blogger: Kelsey Ogletree - https://www.tsnn.com/news/10-10-technologies-changed-trade-shows-over-last-decade