Online Exhibit Management, Graphics, and Show Storage
We provide comprehensive trade show services, including exhibit design, exhibit installation and dismantle, trade show logistics, exhibit storage, exhibit management and trade show marketing services – all designed to help you make the most of your trade show schedule.
Trade Show Management Services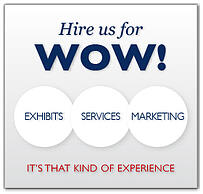 We provide all-inclusive trade show services or just the specific services you require. Our team manages hundreds of trade shows a year. No matter the size of your company, we treat you like our only account by assigning an account manager to you. Not only do you have direct contact with this person at the office, but also we provide cell phone numbers in case of emergency. After all, problems do come up after normal working hours and the show goes on!
Online Inventory and Show Management
From communication to budgeting, every detail in the preparation of your events can be managed easily with our online resources for clients. You can order new products and services, review your show asset inventory, run budget reports, and track invoices – all accessible 24/7 and in real time. So whether you're in the corporate office or on the road, our online management services give you greater control and help manage your expenses.